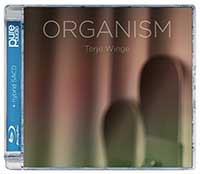 Organism, is a Pure Audio Blu-ray Disc that contains three pieces for organ by three contemporary Norwegian composers that have appeared in the past twenty years.
Kjell Mark Karlsen: Sonata "De profundis", Op. 142 (21:13)
Trygve Madsen: Le Tombeau de Dupré, Op. 62 (22:30)
Kjell Flem: Ecclesia in mundo (25:35)
Kjell Mark Karlsen is a very versatile musician who has mastered the gamut of keyboard instruments as well as the oboe and recorder. An accomplished organist, Karlsen's work for this "king of instruments" is strongly influenced by the Lutheran church music tradition. "De profundis" takes its title from Psalm 130 (De profundis clamavi ad te, Domine) and in this case, is the opening movement of an organ sonata. It is followed by "Monodi," from the Greek monodos or someone singing alone, and has a funereal theme. The finale is "Aus tiefer Not," Martin Luther's German translation of "De profundis," and is in the form of a toccata that features a hymn-like theme.
Trygve Madsen is the dean of this group and has written in nearly every musical genre. As judged by the title of this five-movement work, Madsen frequently pays homage to his musical forebears, in this case French organist/composer Marcel Dupré. This piece takes the form of the traditional French organ symphony in which the composer fashions an opening musical theme with notes on the letters of MARCEL and has a fourth movement "Cantabile" that has echoes of Bach's famous "air."
The concluding and longest work on this program is Kjell Flem's "Ecclesia in mundo." Its three movements are clearly informed by its connection with the Christian church as suggested by the title of the first movement that is derived from "Ecclesia in mundo huius temporis," also known as the Pastoral Constitution. The second movement, "Communion," refers to the usually contemplative organ music that is played during the act itself. The piece concludes with "Jubilus" that as its title suggests builds to a grand finale.
It was certainly wise on 2L's part to entrust these three works to Terje Winge who is a well-recognized master of the organ in Norway and has been concertizing for more than four decades. His close connection with these pieces is obvious and is reflected in what must be considered definitive performances on the Alesund Church's magnificent instrument.
The Audio
A digital master recorded in DXD audio (352.8kHz/24-bit) contained the additional channels that constitute both Auro-3D and Dolby Atmos immersive soundtracks as well as the usual 5.1 DTS-HD Master Audio and 2-channel LPCM (both at 192kHz/24-bit resolution). Looking at the photos in the program booklet, it is clear that the microphone array was overhead enabling the spacious nature of all of the sound versions. While I cannot reproduce native Auro-3D or Dolby Atmos in my system, I was able to hear the latter as Dolby TrueHD 7.1 and in spite of being "only" 48kHz/24-bit, this was my preferred listening mode for recreating the spacious soundstage of the organ
The Supplements
Extras included a great-sounding hybrid multi-channel SACD and mShuttle downloads in MP3 and MQA formats. As is usually the case with 2L, a generous program booklet provides background essays on composers and their works, the soloist, program tracks, performing and production credits, and recording session photos.
The Final Assessment
Fanciers of organ recitals should surely relish this Pure Audio Blu-ray Disc with its outstanding sound and virtuoso performances of repertory that might well be unfamiliar yet sound familiar at the same time. Highly recommended.
Organism [Terje Winge] (TheaterByte Blu-ray Audio Review)
PCM 2.0 Stereo (192kHz/24-bit) | DTS-HD MA 5.1 (192kHz/24-bit) Dolby Atmos (48kHz) | Auro-3D 9.1 (96kHz/24-bit) | DSD (SACD) |mShuttle (mp3/MQA)
Audio
Summary
Organism offers an outstanding program of contemporary organ music written by Norwegian composers and performers.
What people say... Login to rate
Be the first to leave a review.
Show more