"Family Business"
Magic always comes with a price. Well, so do secrets, they can weigh on the heart and create more problems than the truth solves.  And this week's episode makes that abundantly clear.
Aha! The Snow Queen has a name. Both her identity and master plan have been revealed. Ingrid, as she was once known, is just a misunderstood little girl underneath that frosty exterior. Like most people, she just wants to be loved, but the way she's going about it is abominable. She plans to turn everyone in Storybrooke against each other, by using their insecurities against them. Belle's was the first victim, perhaps even the guinea pig, who knows what would've happened if Rumpel hadn't stepped in to saver her. Too bad her knight shining armor isn't all he's cracked up to be.
Belle was given one of her most interesting story threads yet. And as it turns out she has her own surprising connection to Arendelle. Through flashbacks Belle's past is fleshed out and made relevant. We finally know how she lost her mother, which coincidentally revealed why it's so important to her to become a hero. Her past brought her face to face with Anna and the Snow Queen. And she still has those memories! Strange when so many others have lost theirs.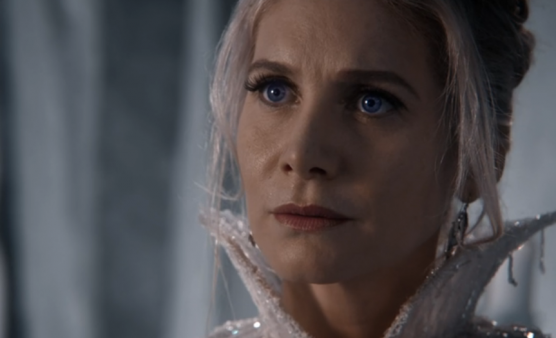 After attacking Rumpel with his own dagger, Belle is forced to confront the secret she's been hiding. It all comes rushing out, the dam that held it in broke. Rumpel held a sobbing Belle, in a tender embrace as she poured her heart out apologizing for the secrets she's held back. That was his opening, to volunteer his own misguided deeds. But he didn't. Rumpel let that opportunity pass, just like the coward he is. Some people never change. Of course that's what makes him so fun to watch, his constant lies, change of heart and bitterly complicated past.
Regina, however, has truly transformed. Otherwise how could she suggest Robin Hood fall back in love with Marian? True loves kiss is apparently the only way to save her. Regina had her moments, but was not the highlight of this week's show. Belle and the girls from Arendelle took center stage with an interesting bit from Emma.
You know how everyone in Storybrooke ends up being related in strange, initially unfathomable ways? In a shocking twist of events, Emma is somehow connected to the sisters from Frozen. She's a dead ringer for one of their lost aunts. But what does that mean? For the Snow Queen it means they're all one big family. Ingrid has been watching over Emma since she was a child, first as a foster mom, then as a caring pen pal/proud parent, saving every crayon doodle Emma sent. It would be sweet, if it weren't so creepy.
Ingrid's distorted worldview stems from her childhood mommy issues. She felt unloved by her parents, tossed out by her own mother because she was different. Maybe Ingrid sees an opportunity to be the mother she never had, to mentor Elsa and Emma, as her own. I almost feel sorry for her.
This brings up an interesting point — don't all of our characters have mommy or daddy issues to some degree? Regina and Zelena clearly had mommy issues, which turned them evil. Emma has issues with the way she grew up on her own without parents. Even Henry had to deal with the fact that his mom gave him up for adoption. I could go on, but you get the point. Perhaps this is because whether we like them or not our parents (or lack thereof) affect how we turn out. Family is a powerful motivator, and perhaps stronger magic than we realize.
Aurora Snow Says:
Episode Rating:
[Rating:4/5]