Aspect Ratio: 2.35:1
Video Codec: AVC/MPEG-4
Resolution: 1080p/24
Audio Codec: French DTS-HD Master Audio 5.1 (48kHz/24-bit)
Subtitles: English
Region: A
Rating: Not Rated
Discs: 1
Studio: Criterion
Release Date: December 1, 2009
List Price: $39.95

[amazon-product align="center"]B002PHVGYA[/amazon-product]
Purchase A Christmas Tale [The Criterion Collection] on Blu-ray at CD Universe
Shop with us for more Blu-ray releases at Amazon.com
Overall

The Film

Video Quality

Audio Quality

Supplemental Materials


Click thumbnails for high-resolution 1920X1080p screen captures
More Screen Captures (21 Total)
(Screen captures are lightly compressed with lossy JPEG and thus are meant as a general representation of the content and do not fully reveal the capabilities of the Blu-ray format)
The Film

Despite its festive title, Arnaud Desplechin's film, A Christmas Tale, is far more than your everyday yuletide offering. It does share a gathering of family members around the holiday season in common with many films in the genre, but beyond that it has not much else in common with the rest of the crowd. A Christmas Tale is a story of bad blood, literally and figuratively, as the Vuillard family gather in the dreary Northern French town of Robaix in the family home to the news of the matriarch, Junon (Catherine Deneuve), being diagnosed with a rare form of cancer requiring a bone marrow transplant from one of her children or grandchildren.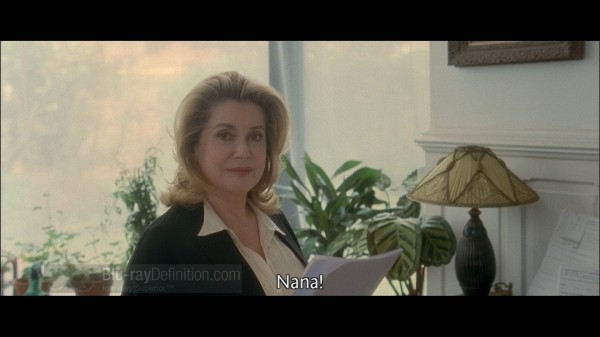 The problem, it turns out, is that the only one who can save her is her eldest son and middle child, Henri (Mathieu Amalric), who had been banished from the family by his older sister Elizabeth (Anne Consigny) five-years earlier. Junon doesn't care for him much either. The get together at the family home for Christmastime will be the first time the family has been all together in years. Ivan (Melvil Poupaud), the youngest child, has been trying to play peacemaker, and he arrives with his wife Sylvia (Chiara Mastroianni) and their two sons. Elizabeth is dealing with an overwhelming malaise, made worse by the onset of her son Paul's (Emile Berling) mental illness. She also has a husband who travels often for business. On the periphery of the family is Simon (Laurent Capelluto), Junon's nephew and cousin to the three siblings who has been harboring a crush on Ivan's wife Sylvia for years and Henri's Jewish girlfriend Faunia (Emannuelle Devos).
Once the family is all gathered together, it doesn't take very long for the fireworks to start, just like any good dysfunctional family reunion. The perpetual inebriate Henri doesn't help his cause to get back into the good grace of his sister Elizabeth with his wild behavior. Junon resolutely accepts her condition and the fact that it is the son she has always despised that she must now turn to, to save her life. Faunia acts as a cynical outside observer of the whole affair, seemingly amused by the poor behavior of the whole lot, and poor Simon just sulks around listlessly.
One of the greatest scenes in the film comes when Juno and Henri share a cigarette on the porch. Henri says to Junon, "You still don't love me?" "I never did." "Neither did I." It's quite telling in this family, the blood is bad and there is bad blood, but after years of squabbling a mother and son can sit down on a porch and share a pleasant conversation about never loving each other. Still, in the end, Henri comes through to save his mother's life. What Desplechin never really let's the viewer know, however, is if Henri is doing it simply for the joy of knowing that there is the very real chance that his marrow may kill Junon or for  redemption. The family's history has been set by the loss years earlier of the eldest son in childhood from the same cancer now claiming Junon and Henri was conceived in an attempt to create a donor, but he was not a match.
Desplechin uses multiple techniques to get his story across in A Christmas Tale and the end result is a feeling of being off kilter at first, but also being more drawn in to the odd world of the Vuillard clan. Multiple characters recite the story from their own point of view, skewing the believability of how events unfolded. There is even a third person omniscient narrator. Different camera techniques are used as well, from shaky handheld cameras, to fisheye lenses and silhouette puppet shows representing characters in the film; this is not your ordinary Christmas drama.
The messy world of A Christmas Tale even pours over into its soundtrack that jumps everywhere from Vivaldi harpsichord pieces to the jazz of Charles Mingus or some modern hip-hop.  It all somehow makes sense in this iPhone world of information overload with overworked and overstressed people that such juxtapositions would seem more an afterthought than a misfit in this paean to the dysfunctional.
Video Quality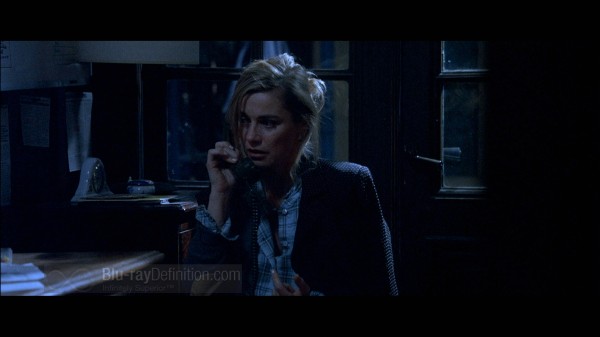 A Christmas Tale is presented in its original aspect ratio of 2.35:1. The high definition transfer was supervised and approved by director Arnaud Desplechin. It was created from a 35mm interpositive. Dirt, debris, and scratches were manually removed using MTI's DRS system and Pixel Farm's PFClean system, while Digital Vision's DVNR system was used for small dirt grain, and noise reduction.
The AVC/MPEG-4 1080p24 transfer shows a great amount of detail and a strong natural grain structure is retained. Shadow delineation is solid, with only some slight black crush, but overall detail in darker scenes remains strong nonetheless. Grain level is consistent throughout the film, white levels are strong, but they never clip and flesh tones are spot on. This is a marvelously film-like presentation from Criterion.
Audio Quality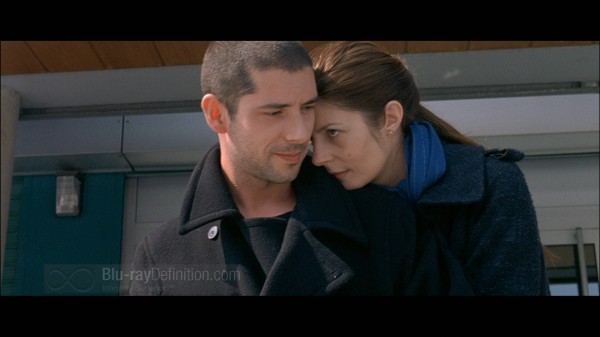 This is a fully digital soundtrack and the audio for this Blu-ray release was mastered at 24-bit from the original digital audio master files using Pro Tools HD. The soundtrack is provided on this release in a French DTS-HD Master Audio 5.1 (48kHz/24-bit) configuration. Dialogue is clean and free from any audible distortions, lows extend down to the upper low frequency range and surround channels are used for low-level ambience and atmospheric sound effects. The film's music sounds smooth and airy with a punchy midrange.
Supplemental Materials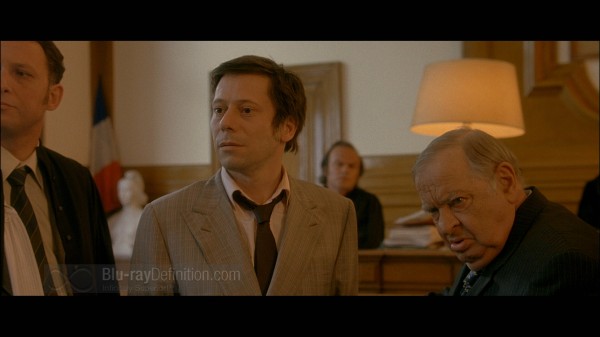 This Criterion Collection release of A Christmas Tale contains a booklet with a detailed essay on the film by the film critic Philip Lopate, cast and crew listings, and production stills. Additionally, there are new high definition video supplements that add much value to this already splendid release.
The supplements provided on this release are:
L'aimée (1.85:1; 1080i/60) — This hour-long documentary by Desplechin documents the selling of the director's family home and in many ways looks forward to A Christmas Tale in its frank look at family.
Arnaud's Tale (1.78:1; 1080p/24; 0:35.59) — This new and exclusive featurette brings together the cast and filmmakers for interview segments in which they reminisce on the making of A Christmas Tale.
Original Trailer (1.78:1; 1080p/24)
American Release Trailer (2.35:1; 1080p/24)
The Definitive Word
Overall: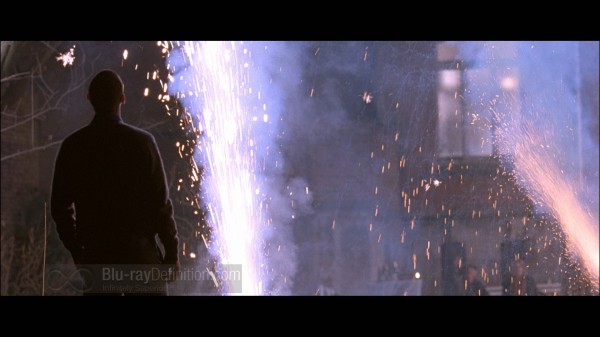 If you're looking for a so-called "holiday film" that goes beyond the typical clichés of lighthearted Christmas fare laden with holiday jingles and stories that are forgotten as soon as they are over, then look no farther than A Christmas Tale. Its name is deceptive. This is a film that doesn't bother to bog itself down in religious pondering, far-fetched miracles or commercial trappings; this is human drama and struggle wrapped up in the messy bow of the one time of year when people tend to get together with all of their family members. Criterion has also done a marvelous job, as usual, bringing A Christmas Tale to Blu-ray and if you're not watching this at home on Blu-ray Disc, then you are missing something special. Period.

BestBuy.com:
Purchase A Christmas Tale [The Criterion Collection] on Blu-ray at CD Universe
Shop with us for more Blu-ray releases at Amazon.com