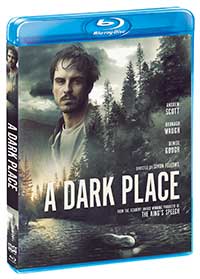 A Dark Place is a mystery/thriller set in the heart of Trumpland, as director Simon Fellows (Until Death, Malice in Wonderland) lets us know early on in the opening scenes as the camera pans across a dilapidated building with a crumbling Trump-Pence sign. We're in rural Pennsylvania, steel country, the original name of the film. This is the land of forgotten dreams, limited opportunities, and even more limited population. It's in this small-town cast of characters we first meet Donald Devlin (Andrew Scott), a developmentally-challenged sanitation worker and his co-worker, Donna Reutzel (Bronagh Waugh) on their daily garbage pickup rounds going through what we can only guess is their usual mundane banter and bickering over the rules. Donna fails to put the lid back down on a garbage bin and Donald refuses to drive off until she goes back and closes it.
The central mystery of the story soon comes into view when a local boy is found dead in a creek and the authorities immediately rule it an accidental drowning. This being a town where everybody knows everybody, Donald, during one of the garbage pickup rounds, approaches the grieving mother against Donna's protestations, to offer his condolences, and what the mother tells him sets Donald on an obsessive path to prove that the boy didn't drown accidentally. His unauthorized, and often dangerous, put him at odds with the local sheriff and violent townsfolk that believe Donald himself to be the killer.
There is so much in A Dark Place for one to seek their teeth into and for most of the film, Fellows keeps us engaged in this small-town Gothic. The screenplay does go awry in many places, however. For instance, the backstory of Donald's obsession with his daughter's mother, Linda (Denise Gough), whom he tells everyone he dated, when in fact it was a drunken one-night stand that resulted in a pregnancy, feels more shoehorned in to bolster the character than a necessary side story. Some of the ways in which Donald breaks the law to further his investigation also seem out of touch with the otherwise reality-grounded story.
The Video
A Dark Place was shot on the Arri Alexa Mini with Angenieux Optimo 15-40mm & 28-76mm, P+S Technik Leica R, and Duclos Leica R 70-180mm lenses. It arrives on Blu-ray framed at 2.35:1 in an AVC 1080p encodement from Shout! Factory. Though it is digitally sourced, the image looks generally organic and filmic, with good detail and a palette that portrays the dreary, grey existence of rural steel country.
The Audio
A Dark Place gets a DTS-HD Master Audio 5.1 mix on Blu-ray that is subtle and often extremely quiet. The film doesn't call for much activity in the mix, so it is front-heavy, dialogue-driven, and only subtly atmospheric and limited dynamic range and low-end extension, but it gets the job done.
The Supplements
A Dark Place – Behind the Scenes (2.35:1; 1080p; 00:10:19)
Theatrical Trailer (2.35:1; 1080p; 00:02:03)
The Final Assessment
An uneven crime thriller set in rural Pennsylvania, A Dark Place is uneven but filled with startling moments, beautiful cinematography, and an array of characters caught in the existence of a forgotten America. The Blu-ray from Shout! Factory looks gorgeous.
A Dark Place is out on Blu-ray & DVD May 21, 2019 from Shout! Factory
---
Bedlam Productions | Zero Gravity Management | Shout! Factory
Studios & Distributors
$22.97
MSRP
English DTS-HD MA 5.1
Audio
English DTS-HD MA 2.0 Stereo
Secondary Audio
Summary
A mentally-challenged sanitation worker in a rural steel town in Pennsylvania becomes obsessed with uncovering what he believes to be the truth about a young boy who drowned in a local creek in this uneven American-Gothic murder mystery set in the heart of Trumplandia.
What people say... Login to rate
Be the first to leave a review.
Show more