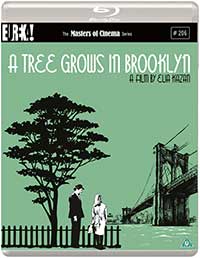 Elia Kazan, who gave American cinema such classic and idealistic works as A Streetcar Named Desire, On the Waterfront, and East of Eden, began his feature film directorial career in 1945 with his adaptation of the beloved Betty Smith novel A Tree Grows in Brooklyn. The film was of the few Hollywood movies during World War II to not take on the war directly, but to also go back in time to America's brief history and take on real life problems rather than just produce an escapist film of bygone days.
Set in the Brooklyn tenements of the early 1900s, the story tells of the lower-class  Nolan family, mainly an aspirational young girl named Francie (Peggy Ann Garner), who dreams of "learning everything in the world" by reading her way through the library and one day maybe becoming a writer, her hardworking mother Katie (Dorothy McGuire), younger brother Neeley (Ted Donaldson), who doesn't care much for school or learning, and her father, alcoholic, big dreamer, and sometimes singer who never made it in the big time, Johnny (James Dunn). There's also the flamboyant Aunt Sissy (Joan Blondell), who is well ahead of her time as far as how women should behave for the time and is often reminded as such by her sister Katie ("you say funny things").
The film is an intimate portrait of the hard choices people living just above the poverty line often to have to make – a situation that has sadly not changed much in what is often described as the richest country in the world. Katie must help her family navigate the difficulties of their situation, exacerbated by husband Johnny's "sickness," but throughout, Francie, ever the optimist, maintains her artistic spirit and even buys in, at first skeptically, to her father's plan to get her into one of the better public schools. Unfortunately, and as is often the case with family's that struggle, just as Francie begins to blossom, life throws the entire family a curve that puts her progress in jeopardy.
Looked at through today's lens, the film one can see the obvious constraints placed on people of certain social status and on women who were meant to act a certain way and only attain a certain amount of education. Katie's sister is constantly criticized for being married too many times and making too many men like her. Francie raises the ire of her mother for being too poetic and artistically inclined. Kazan grants what would become his signature monologue on societal injustice and social structure to the grandmother who offers her reasoning why the children should continue reading Shakespeare and the ability for one to move beyond the social status of one's father in America through education and work, a speech that will take on a dark irony later on in the film.
Visually, the film is quite cramped, staying mostly indoors, sort of a precursor to the 1950s TV sitcoms such as the Honeymooners or a 1960s British kitchen sink drama like Saturday Night and Sunday Morning. This nearly claustrophobic feeling works to both help with the underlining quaintness of the film and punctuate the constraints the family is under. It's a brilliant feature debut from Kazan and one that has all of the signatures of his style.
The Video
Eureka Entertainment brings the 1945 classic to Blu-ray on their Masters of Cinema imprint in an AVC 1080p encodement from a new 2K restoration taken from a 4K scan. The film is framed in its original 1.37:1 aspect ratio and, of course, presented in its original black & white. While it looks sparklingly clean, it may be a bit too clean for my tastes. Grain suppression looks to be a little heavy handed in this restoration, wiping out textures on clothing and in faces. The faces on the kids, with their young and nearly flawless skin to begin with, looks extremely waxy, but things look stranger still with the grandmother and father, whose suit looks a smooth black and face shows only the deepest of crevices. Otherwise, contrast, black levels, and white levels look brilliant, but this hardly looks like a film from 1945 – or anything shot on film for that matter.
The Audio
The original monaural soundtrack is included in LPCM 2.0 and it is effective for a drama from 1945 with very little noise, hiss or crackly and clear enough dialogue.
The Supplements
On-disc extras are minimal, but good, especially the mixed audio commentary that is very detailed on the characters, actors, and filming. The booklet has three essays and oroginal press materials that all offer a lot of insight into the film and its history.
Audio commentary by Richard Schickel, Elia Kazan, Ted Donaldson, and Norman Lloyd
The Making of A Tree Grows in Brooklyn (1.33:1; upscaled 1080i)
An Appreciation of Dorothy McGuire (1.33:1; upscaled 1080i)
Hollywood Star Time – Episode 4, (January 27, 1946) (1.33:1; 1080p)
Booklet: Essay by Kat Ellinger (2019); Elia Kazan's A Tree Grows in Brooklyn by Phil Hoad (2019); 'A Sentimental Fairytale?' Elia Kazan's Directorial Debut by Philip Kemp (2019); Original Press Campaign Book (1945)
The Final Assessment
This is a must-have film for any cinephile. While it may not be the absolute best in Elia Kazan's long catalogue of work, it is a brilliant debut and a strong film all around. This Masters of Cinema release comes with a new restoration on Blu-ray that is a bit heavy-hand in DNR, but may appeal to grain haters.
A Tree Grows in Brooklyn is out on Blu-ray in the UK 22 July 2019 from Eureka Entertainment
---
Twentieth Century Fox | Eureka Entertainment
Studios & Distributors
Tess Slesinger (screen play) | Frank Davis (screen play) | Betty Smith (adapted from the novel by) | Anita Loos (contributor to dialogue) (uncredited)
Writer
English LPCM 2.0 Mono
Audio
Summary
A lower-class family in the Brooklyn tenements of the early 1900s must deal with the obstacles of poverty, exacerbated by the patriarch's (James Dunn) alcoholism as the family's young daughter Francie (Peggy Ann Garner) dreams of being educated and becoming writer is met with resistance from her hardworking mother Katie (Dorothy McGuire) in this beloved 1945 wartime feature debut from director Elia Kazan. This new restoration presented on Blu-ray by Eureka Entertainment's Masters of Cinema imprint looks to be scrubbed a bit too clean, but non-videophiles may not object.
What people say... Login to rate
Be the first to leave a review.
Show more