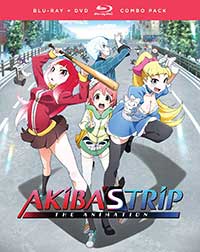 Perhaps it is fitting that the Akiba's Trip video game series be turned into an anime series by animation studio Gonzo, the name of which also happens to be a category of porn, given the plot device it employs, which also plays into the obvious wordplay in its English title. This wacky ecchi series set in Japan's Akihabara follows male protagonist Denkigai Tamotsu, an otaku through and through, who is settling in for a normal, relaxing day of gameplay and collecting items when the area is attacked by deadly demons known a Bugged Ones.
The odd, mysterious, baseball bat-wielding girl Mayonaka Matome swoops in and saves him, but just a little too late. Tamotsu was bitten and is now a half-Bugged One and, as it turns out, Matome is a high level Bugged One herself. She is working to save the town from the other Bugged ones trying to destroy it. Along with his sister Niwaka and a moe cosplayer he met in a collectibles store, Ahokainen Arisa, the group form "Electric Mayonnaise" to do battle against the Bugged Ones and defend Akihabara. They also discover that the bugged ones can be weakened by striping their clothes and exposing them to the open air. You can guess how many of the battles proceed from there on.
Akiba's Trip, an obvious play on words in English anyway, is not the first series to employ this "stripping your opponents in battle" plot device. In fact, this plot device isn't even one of the most outrageous I've come across – that crown may arguably go to the lactation fetish series The Qwaser of Stigmata. What sets this apart is, even though the stripping is a part of the plot, it doesn't dominate the story.
Much of Akiba's Trip evolves around the interactions between the characters and the comedy less so the ecchi and fan service. Some ridiculous battle take place, but this could very well just be an over-the-top slice of life series with some paranormal and ecchi thrown in. Add in the superbly done character designs and artwork and this is a fun series, albeit one for the 18 and older otaku crowd.
The Video
Akiba's Trip: The Animation comes with a satisfying AVC 1080p encodement on Blu-ray that is colorful, bright, crisp, and free from any distracting flaws.
The Audio
Akiba's Trip: The Animation is brought to Blu-ray with the original Japanese-language track mixed in stereo in a Dolby TrueHD 2.0 track along with an English dub from Funimation in Dolby TrueHD 5.1. Both mixes are solidly done, with the nod for convincing wackiness going to the Japanese voice cast, but the English actors putting in a decent effort.
The Supplements
They've includedan audio commentary for the first episode of Akiba's Trip: The Animation, but everything else, of which there is very little, is standard promotional fare as well as the usual textless opening.
DVDs with series in standard definition
Trip 1 Commentary
Promo Videos
Textless Opening Song
Funimation Trailers
The Final Assessment
I'm glad I was finally able to get to Akiba's Trip: The Animation series. I have a lot anime on the backburner, but this one was laying around for a while on the to do list. It's a fun, quick-paced and funny series with superb visuals. I haven' played any of the games, but if they're as fun as watching this series, then they must be fantastic.
Akiba's Trip: The Animation [The Complete Series] is out on Blu-ray + DVD Combo Pack from Funimation February 13, 2018
Funimation Entertainment
Distributor
$64.98
MSRP
Japanese Dolby TrueHD 2.0 Stereo
Audio
English Dolby TrueHD 5.1
Secondary Audio
Summary
An otaku gets trapped in Akihabara after he is attacked by dangerous creatures known as Bugged Ones and joins forces with his sister, a foreign cosplay girl, and a strange, baseball battle-wielding girl who saved him to help battle them and save the city in this quirky, fast-paced ecchi adaptation of the popular gaming series.
What people say... Login to rate
Be the first to leave a review.
Show more