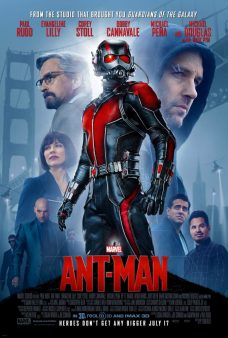 –
The Movie

Director Peyton Reed (The Break-Up; Bring it On) has taken his comedic sensibilities and channeled them into Marvel's latest big screen superhero adventure, Ant-Man. Much less dark and serious in tone than these sorts of films have become over the past couple of decades (just think The Dark Knight or The Amazing Spider-Man 2), Ant-Man hits you right from the opening with its whimsy.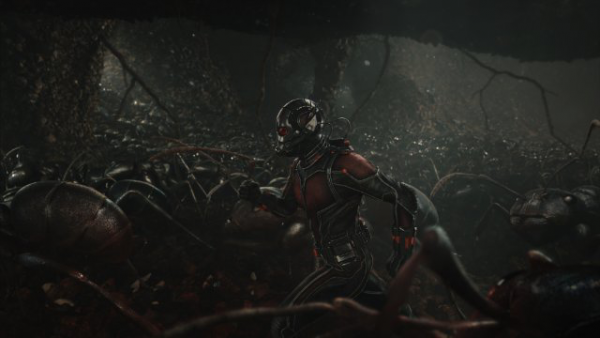 Paul Rudd (TV's Parks & Recreation; Anchorman 2: The Legend Continues), plays ex-con Scott Lang who's just out of prison after doing a few years behind bars for a major Robin Hood-type heist, and now he's looking for a way to redeem himself and get back into his young daughter Cassie's (Abby Ryder Fortson) life, but his ex-wife Maggie (Judy Greer; Jurassic World), now engaged to a cop, Paxton (Bobby Cannavale; TV's Boardwalk Empire), doesn't want him around.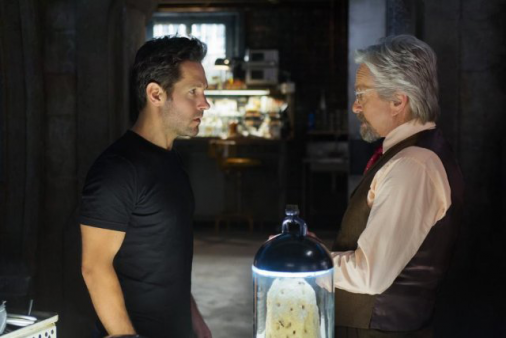 With no real opportunities for an ex-con to get work and prove himself to his ex, Scott falls back on what he knows, a life of crime, gathering around him his old cellmate Luis (Michael Peña, TV's Gracepoint; Caesar Chavez), and Luis' criminally minded friends, a hacker named Kurt (David Dastmalchian) and Dave (T.I.). Luis finds out about a major score – an old rich guy's mansion that will be empty for the weekend, so they decide to burgle it. The mansion turns out to be the home of retired scientific genius Dr. Hank Pym (Michael Douglas; Beyond the Reach; And So it Goes) who, unbeknownst to Scott, has been luring him there to his house all along in order to get him to steal an advanced super-suit he has locked away. Scott does steal the suit, and the suit allows Scott to shrink down to minuscule size but retain super-strength.
Dr. Pym needs Scott to use the suit to break into the company Pym founded, now under the control of his young protege Darren Cross (Corey Stoll; Anesthesia; TV's The Strain), in order to steal a new updated version of the super-suit that can be used to destroy the world. Scott now has a choice – after being arrested trying to return the suit he wants no part of – he can either go back to prison and never get to be a part of his daughter's life, or he can help Pym. He chooses the latter, allowing Pym and Pym's estranged daughter Hope (Evangeline Lilly; The Hobbit: The Battle of the Five Armies) to mentor him in the suit's uses, on how to master controlling ants to do his bidding, and how to pull off what will be the biggest heist of his life.
Ant-Man is a wild and crazy ride from the beginning to the end. Peyton Reed, who hasn't done anything but TV work since 2006's The Break-Up, shows an amazing command over the cinematic realm in this film. From the visual aspects (you'll be in awe at the CGI work as Ant-Man charges ahead with a swarm of ants at his beck and call), to the effortless combination of the slapstick and action elements. This is a film that will seriously have you letting out belly laughs as you sit at the edge of your seat from the thrills. A couple such moments come during Ant-Man's action-packed final act, such as when Ant-Man and his nemesis Yellowjacket square off while in their diminutive states; Yellowjack yells "I will disintegrate you!" as the home button on an iPod is hit and Siri obligingly responds "Playing 'Disintegration' by The Cure" and when the camera pans out, we hear only a low, muffled sound and see that they are actually inside a briefcase, the awesome, special effects-laden battle scene is nowhere to be found.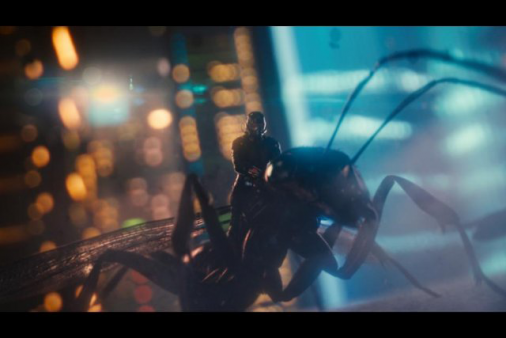 Paul Rudd's casting in the role of Ant-Man was a turn of genius. Admittedly, I was skeptical when I heard Rudd was being cast in the role of a superhero, but having seen just how funny this film is, he fits the part perfectly. He has that sort of easygoing, good guy charm, and has built a career playing parts in silly movies. Maybe he's a bit typecast, but in this case, that typecasting works to perfection. He also manages to summon a bit of gravitas as well in some of the more intensive action sequences.
If you're going to head out with the family for some fun movie-going entertainment, then Ant-Man is the way to go. Marvel's Ant-Man is pure joyful spectacle: it's funny, energetic, and even manages to fold in references to the Marvel Universe. Highly recommended.

Our Movie Rating
[Rating:4.5/5]