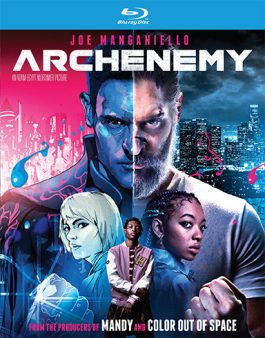 From writer/director Adam Egypt Mortimer comes Archenemy, a sort of neon-noir crime fantasy that blends live action with animated sequences.
Max Fist (Joe Manganiello) is a violent drunkard and homeless man who claims to anyone who will listen that he is actually an alien superhero from a planet called Chromium who lost all his powers when he fell to Earth and was in a battle with his archenemy Cleo (Amy Seimetz) whom he believes followed him through a portal to Earth. No one believes his story except a street-smart kid named Hamster (Skylan Brooks) who listens to his story and shares it on a viral news site. Meanwhile, when Hamster's sister Indigo (Zolee Griggs) gets involved in a drug deal gone awry and her boss, simply known as 'The Manager' (Glenn Howerton) wants her dead, Max gets involved to help save her and Hamster, leaving a violent trail behind him and putting doubts in Hamster's head about his story about being him being an honorable hero.
While Manganiello seems perfectly cast in the role of anti-hero here playing fist as perfectly brutish and unhinged and Mortimer provides a stunning visual pallet of neon-noir crime drama, shadowy urban streets mixed with vibrant sci-fi/fantasy neon animation flashback sequences set in what may or may not be the delusional fantasy worlds of Chromium, the film ultimately does not rise to the impactful heights it seems to desperately be trying to reach. Ultimately, the film ends in a strange, almost uplifting way after taking us on a dire, gritty journey. This gets an A+ for originality, but a C- for execution.


The Video
Archenemy hits Blu-ray from RLJE Films in a 2.39:1 AVC 1080p encodement. It's a strong Blu-ray release that doesn't suffer from any major issues like banding or edge enhancement. There is some noise, particularly in the animated segments, that appears to be an artistic choice. The animated sequences look quite vibrant and 'pop' nicely as well.
The Audio
The strongest part of this Archenemy Blu-ray release is the lossless DTS-HD Master Audio 5.1 audio mix that engulfs you in the buzzing score from Matt Hill and some solid foley effects mixed through the surround channels with great dynamics.
The Supplements
Only this brief making of featurette featuring some cast and crew interviews is included on this barebones release.
The Making of Archenemy (1080p; 00:06: 52)
The Final Assessment
Archenemy doesn't quite live up to its promise and potential but is a visually inventive neon-noir action drama that looks and sounds great in this barebones Blu-ray release from RLJE Films.
---
If you found this review useful please consider clicking the button below and donating to help keep TheaterByte funded and to allow us to continue posting great content.
---
Archenemy is out on Blu-ray February 16, 2021 from RLJE Films
---
Studios & Distributors: SpectreVision | Head Gear Films | Legion M | Metrol Technology | 3:59 | Almost Never Films Inc. | RLJE Films
Director: Adam Egypt Mortimer
Written By: Adam Egypt Mortimer | Luke Passmore
Run Time: 90 Mins.
Street Date: 16 February 2021
Aspect Ratio: 2.39:1
Video Format: AVC 1080p
Primary Audio: English DTS-HD MA 5.1
Subtitles: English SDH | French | Spanish