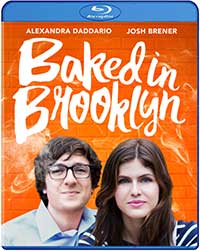 In this semi-autobiographical indie film from screenwriter David Shapiro, Josh Brener stars as neurotic, pill-popping college grad David who shortly after meeting the beautiful law firm intern Kate (Alexandra Daddario, TV's American Horror Story) loses his job and decides to start a weed delivery service on the on the internet. Soon he finds himself with a girlfriend in Kate whose own job stopped paying her for internship, is no longer onboard with his business plans, a group of friends who are annoyed they can't spend time with him anymore, and an increasing clientele. Fears of being caught by the police and increased domestic stress begin to take their toll on David.
Although Baked in Brooklyn has its comedic moments – certainly the scene where David meets his weed connection for the first time and starts rambling on about whether there are lower prices for when the weed is in season is one of the funnier moments – Baked in Brooklyn is your basic indie rom-com with a little drug use thrown into the mix. In fact, the believability factor of the beautiful and seemingly career-driven Kate hanging around this nerdy guy claiming to be a writer, but really only spiraling down a rabbit hole of drug abuse and felony convictions is zilch. I often wonder where I can find this magical portal to the alternate universe where films are made, you know the kind where ugly, loser guys always manage to get the successful, gorgeous women? Or, maybe the other universe where guys get women forty or fifty years younger than they are, but that's a gripe for another day and other films.
Baked in Brooklyn tries to be clever, but really it only exposes one thing, the privilege of being a white guy in America. Yeah, as one scene in Baked in Brooklyn shows, when David goes to get his delivery from his Latino connection and escapes by seconds from getting busted by the cops, the reality is, THAT is the reality. A neurotic Jewish guy can find it funny or hip to lose his well-paying job and just sidetrack into selling a little weed to earn some cash with little risk involved while dating his gorgeous law school grad girlfriend until they both sort out their lives. For people of color, however, things aren't so simple.
The Video
Baked in Brooklyn comes to Blu-ray in an AVC 1080p encodement that looks good for an indie film. There's a hint of softness that keeps it from being completely crisp, but the colors are lifelike and shadow detail is nuanced, even if black levels are a bit washed out.
The Audio
Baked in Brooklyn comes with a lossless DTS-HD Master Audio 5.1 mix and a Dolby Digital 2.0 stereo mix. The 5.1 mix is surprisingly good for this kind of film. It has a lot of atmospheric effects and the AAA soundtrack has wide stereo imaging that really fills the channels. There isn't much low end to speak of, but the midrange is punchy and dialogue is full and clear.
The Supplements
Only the theatrical trailer (HD) and other Well Go USA trailers are included.
The Final Assessment
Skip this film unless you're into cliché hipster druggie films with little original to say about anything. Even the title Baked in Brooklyn tries to capitalize on Brooklyn's growing cool factor, but it doesn't spend much time at all touring the sites of Brooklyn.
Baked in Brooklyn (TheaterByte Blu-ray Review)
Red Crown Productions | Well Go USA Entertainment
Studios & Distributors
$29.98
MSRP
English DTS-HD MA 5.1
Audio
English DD 2.0 Stereo
Secondary Audio
Summary
A hazy hipster stoner romantic comedy that brings nothing original to the genre, Baked in Brooklyn has a few comedic gems baked in to its funny brownie, but not enough to save it.
What people say... Login to rate
Be the first to leave a review.
Show more