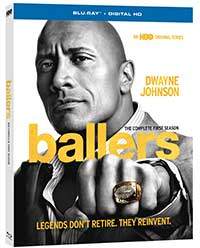 With Entourage long gone, HBO needed a half-hour, comedy for "bros" to take its place. In steps Ballers, headlined by Dwayne "The Rock" Johnson. While this series does nothing innovative whatsoever, it is certainly hilarious and has a good mix of comedy and drama.
Johnson plays retired NFL superstar Spencer Strasmore who has some money trouble he is trying to keep under wraps, but is also trying to reinvent himself, ironically, as a financial manager for the current crop of bad boy footballers in sunny Miami. When he's not learning the ropes of the trade with his colleague and
often unhinged heavy drinker Joe (Rob Corddry), Spencer is trying to wrangle his inner circle of players and keep them from self-destructing. Spencer's circle of clients include Ricky (former pro-football player John David Washington) a talented, superstar wide receiver who has a penchant for getting into bad situations like bar brawls or getting caught with his teammate's moms; Charles (Omar Miller) a retired defensive lineman who is struggling to adjust to "civilian life" as a car salesman and Vernon (Donovan Carter), a rookie contract player with a great, low-key personality who is letting is childhood friend squander his fortunes.
Like one of the early HBO original series 1st & Ten, which also happened to be about football, Ballers has its share of gratuitous sex and nudity. Actually, by today's standards, 1st & Ten was G-rated compared to Ballers, which falls in line with HBO's boob quotient. That aside, the series is darn funny, and Dwayne Johnson provides a solid foundation for the comedy while also putting in some good dramatic turns where it's needed.
The Video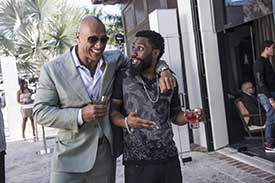 Ballers is shot digitally on the ARRI AMIRA and comes to Blu-ray in an AVC 1080p encodement from HBO. The image looks flawless and presents a bright, organic appearance that easily evokes the sunny surrounding of Miami.
The Audio
Ballers comes with a solid English DTS-HD Master Audio 5.1 mix that, while it isn't aggressive, has lots of clearly audible and balanced atmospheric effects mixed into the surround channels and good stereo imaging, plus the dialogue is natural and the low-end is nicely extended, which helps bolster the hip-hop soundtrack during the numerous sequences at parties and strip clubs.
The Supplements
It's very slim pickings on this release for extras, but the Inside the Episodes featurettes are a cool way to get a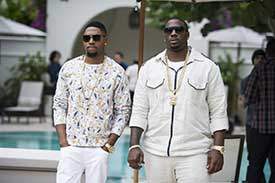 glimpse of how the series was put together and to catch some interviews with the cast and crew.
iTunes Digital HD Digital Copy + Digital HD UltraViolet
Episode Previews
Inside the Episodes (1.78:1; 1080i/60)
The Final Assessment
HBO has a winner with the edgy yet fun Ballers. It doesn't mix things up or offer any surprises, but it scores a touchdown, and that's all it needs to do.
Ballers: The Complete First Season (TheaterByte Blu-ray Review)
HBO Home Entertainment
Studios & Distributors
$34.98
MSRP
English DTS-HD MA 5.1 | French DTS 5.1 | German DTS 5.1 | Spanish DTS 2.0
Audio
English SDH | French | Spanish |German | Danish | Finnish | Norwegian | Swedish
Subtitles
What people say... Login to rate
Be the first to leave a review.
Show more