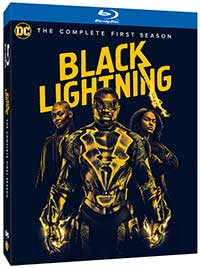 Warner Bros. and DC Comics resurrected the iconic black superhero Black Lightning, a product of the Civil Rights Era, to join its DC television universe of superheroes alongside The Flash, Arrow, and Legends of Tomorrow.
Jefferson Pierce (Cress Williams) is the father of two daughters and principal of a charter school that serves as an inspiration for the under served children of the crime-ridden neighborhood. Jefferson is also harboring a secret – he has superpower that allow his body to harness electricity and use it. Nine years earlier, Jefferson was using those powers to help protect his neighborhood from the crime and drug violence that was taking hold, before he was thought to be killed. Now, nearly a decade later, with the crime syndicate the One Hundred taking over, police violence against the black youths rampant, Jefferson decides to once again harness his powers and don his costume as the superpowered vigilante Black Lightning.
The series has some cool action sequences and okay visual effects, but I have to admit upfront that I had two attempts at watching this series – first during its original broadcast, then on Netflix — before finally getting through it to do this review.
It's a slow starting series that tries to tackle a lot of important issues surrounding race, violence, and drugs. The problem is that you can sense that they are trying to make an issues series, and they don't meld into the storylines organically. The series does begin to turn around a little at the half-way point, but this comes after some early plot points were completely abandoned. For example, one character's love interest just vanishes from the story without mention. Another character becomes an unlikely villain in an obvious effort to add some much-needed tension to the series.
The Video
Black Lightning hit Blu-ray in an AVC 1080p encodement framed in its original 1.78:1. The HD source looks solid and most of the issues with compression noise and black levels that can be spotted in the original broadcasts or streams are gone, but there are still some minor issues with banding that may be an in-camera issue.
The Audio
Black Lightning gets an English DTS-HD Master Audio 5.1 mix as the sole audio option. While the sound is a step up over lossy broadcasts and streaming versions with better clarity, high-end, and dynamics, it isn't a great mix by any means. The sound effects tend to just sound loud, but not distinct, and the surround channels carry mainly low-level atmospherics.
The Supplements
Digital Copy
Art Imitating Life: The Pilot Episode (1.78:1; 1080p/24; 00:05:02)
A Family of Strength (1.78:1; 1080p/24; 00:07:09)
Gag Reel (1.78:1; 1080p/24; 00:02:15)
Deleted Scenes (1.78:1; 1080p/24; 00:32:38)
2017 Comic-Con Panel (1.78:1; 1080i/60; 00:17:25)
Visit Georgia Promos
The Final Assessment
Black Lightning was a series I was excited to see given that I completely lost interest in Arrow and this one looked like it had potential. I was very disappointed in the first season, but there are a lot of things that can be improved on and potentially make for a better second season.
Black Lighting [The Complete First Season] is out on Blu-ray and DVD from Warner Bros. June 26, 2018
[amazon_link asins='B07BX9GK96,B07CDVZ479′ template='ProductCarousel' store='theaterbyte-20′ marketplace='US' link_id='72d99115-7f12-11e8-afe4-4bebb0e76bcd']
Berlanti Productions | DC Entertainment | Warner Bros. Television | The CW Network (The CW) | Warner Home Video
Studios & Distributors
Salim Akil (creator) | Mara Brock Akil (creator)
Writer
English DTS-HD MA 5.1
Audio
Summary
A black father and principal at a charter school who also has the supernatural power to harness electricity, becomes the electrified vigilante Black Lightning in order to save his neighborhood from the drug dealers, killer cops, and crime taking over. A slow starter that picks up pace in the second half, this latest addition to DC's television universe has lots of potential for a second season.
What people say... Login to rate
Be the first to leave a review.
Show more