Mouse-Over cover art for details –
The Film
[Rating:5/5]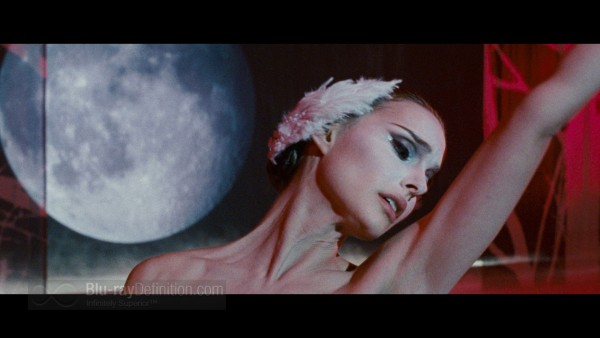 I've been familiar with Tchaikovsky's ballet Swan Lake from a musical standpoint for my entire adult life, beginning sometime in my mid-teens, actually. As I've never been a ballet fan, the dance aspect has never been a part of my Swan Lake experience, but I do know the story, therefore it was of great interest to me when I found that a psychological thriller of sorts was being made surrounding the story of Swan Lake.
Black Swan is a dazzling, hypnotic roller coaster ride of dance, music, and horror, anchored by a superb, Oscar-winning performance by the great Natalie Portman. She has been impressing us with her acting skills ever since she was 12 playing a hitman's prodigy in Léon (AKA The Professional, to US audiences). This is the role that finally put her in the elite crowd.
Nina (Portman) is a sheltered but driven dancer with a New York City ballet company who still lives with her mother (Barbara Hershey). When Nina is given the role of a lifetime, the role of the Swan Queen in Swan Lake, replacing the company's aging prima ballerina (Winona Ryder) she is ecstatic. Her innocence and perfection of style are perfect to play the White Swan, but the role also requires her to play the seductress, the Black Swan, which she doesn't quite have in her. A friendship with the company's new bad girl Lily (Mila Kunis) changes things. Nina and Lily get closer and Nina becomes more and more like the Black Swan, but also fearful that Lily is trying to steal her position. The stresses of the role begin to weigh on Nina, causing her dreamworlds and reality to collide with shocking consequences.
Brilliantly choreographed, filmed and acted, Black Swan is a study in light and dark, not only visually, but of both sides of the human psyche. This is one film you won't want to miss.
Video Quality
[Rating:4/5]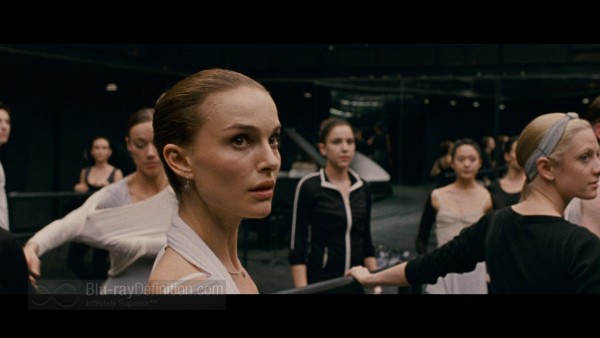 Black Swan is a grainy, textured, and atmospheric film. This doesn't always bring out all of the intricate details of the film's elaborate costumes and set design, but the AVC/MPEG-4 1080p transfer looks rather film-like nonetheless. I detected just a slight bit of harshness in some of the darker areas, but not enough to detract from the the otherwise organic look of the film.
Audio Quality
[Rating:5/5]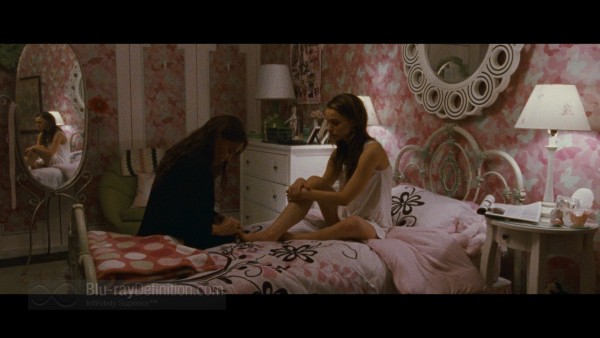 The DTS-HD Master Audio 5.1 soundtrack is splendid. Tchaikovsky's ballet, which forms the basis of the score, comes across brilliantly, with good ambience, nice instrumental separation, and smooth sounding strings. Dialogue is clear and there is plenty of motion in the mix, with the surrounds used for lots of discrete and atmospheric effects to follow the action around on the screen.
Supplemental Materials
[Rating:3/5]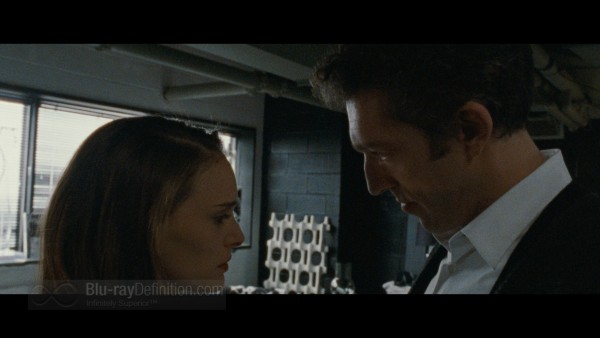 The supplements provide lots of time with the stars of the film, particularly Portman, and the filmmakers. They offer lots of insight into the creative process and the hard work that went into this production.
The supplements provided with this release are:
Black Swan Metamorphosis (1.78:1; 1080p/24)
Theatrical Trailer (2.40:1; 1080p/24; Dolby Digital 5.1)
Ballet (1.78:1; 1080p/24; 0:02.33)
Production Design (1.78:1; 1080p/24; 0:04.00)
Costume Design (1.78:1; 1080p/24; 0:04.00)
Profile: Natalie Portman (1.78:1; 1080p/24; 0:03.16)
Profile: Darren Aronofsky (1.78:1; 1080p/24; 0:02.48)
Conversation: Preparing for the Role (1.78:1; 1080p/24; 0:03.53) – Natalie Portman discusses her dance training for the role.
Conversation: Dancing with the Camera (1.78:1; 1080p/24; 0:01.35) – Portman again discusses dancing along with the camera for Black Swan.
Fox Movie Channel Presents: In Character with Natalie Portman (1.33:1; 480i/60; 0:05.56)
Fox Movie Channel Presents: In Character with Winona Ryder (1.33:1; 480i/60; 0:02.17)
Fox Movie Channel Presents: In Character with Barbara Hershey (1.33:1; 480i/60; 0:03.37)
Fox Movie Channel Presents: In Character with Vincent Cassel (1.33:1; 480i/60; 0:04.43)
Fox Movie Channel Presents: Direct Effect Darren Aronofsky (1.33:1; 480i/60; 0:06.23)
BD Live
Digital Copy
The Definitive Word
Overall:
[Rating:4.5/5]
Black Swan is a marvelously layered, excellently delivered piece of psychological thriller/horror meets ballet; it's Tchaikovsky on acid. Portman is riveting, the cinematography is beautiful and the twists are impossible to see coming. What are you waiting for? Go out and get it!
Additional Screen Captures
[amazon-product align="right"]B0041KKYEW[/amazon-product]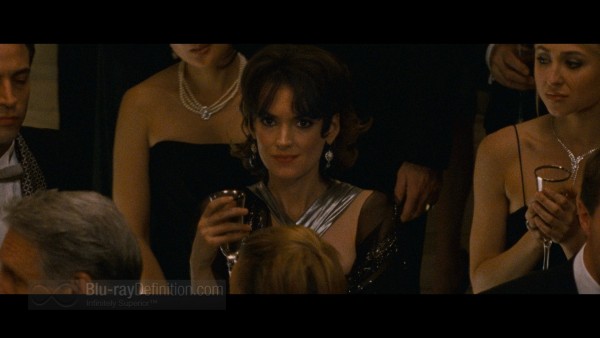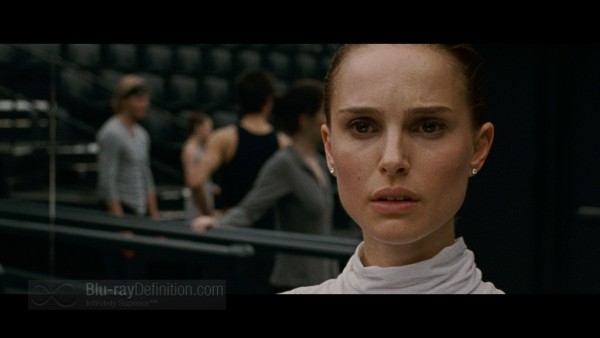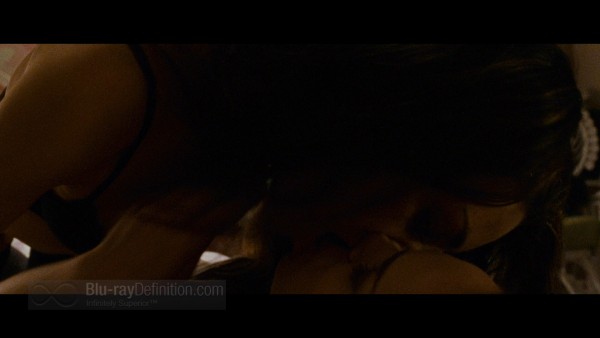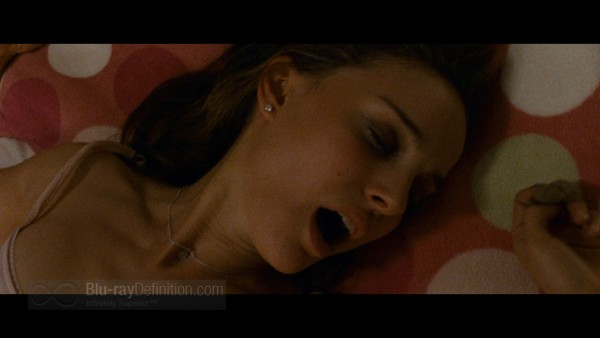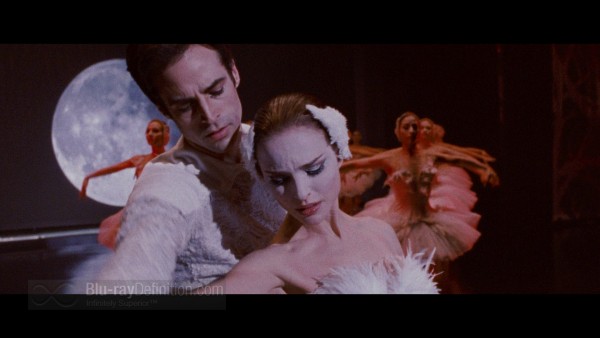 [amazon-product align="right"]B0041KKYEW[/amazon-product]