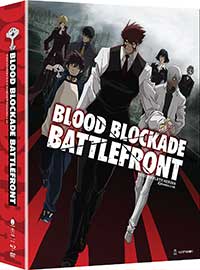 The staff credits on Blood Blockade Battlefront read like an otaku dream list, with character designers (Sugiura Koji, Kawamoto Toshihiro) who worked on such projects as Cowboy Bebop, Eureka Seven, Blood: The Last Vampire, and Escaflowne, and an art director (Kimura Shinji) from Golgo 13: The Professional and My Neighbor Totoro. Helming it all is one of the few female directors in the business, Matsumoto Rie (Heartcatch Precure! Hana no Miyako de Fashion Show…Desu ka!?). With a lineup like that, it would be easy for Blood Blockade to  fail to live up to the hype, but it doesn't. What we get is a raucous, cutting edge blend of action, comedy and supernatural action that walks the line between Cowboy Bebop and Golgo: 13 – and it's looks beautiful while doing it.
The story is set in a sort of dystopian version of New York City, now called Hellsalem's Lot, some time after a strange paranormal event has taken place and opened a portal that has caused creatures from a parallel universe to be able to cross over into ours, and vice versa. Male protagonist Leonardo Watch, an average pizza delivery boy, confronted with one of the monsters from "Beyond" was given the so-called "All Seeing Eyes of the Gods" at the expense of his sickly younger sister losing hers. Distraught by his cowardice during this life altering confrontation, Leonardo moves to Hellsalem's Lot, the gritty former New York City, now a motley mixture of humans, monsters, magic, crime, and the mundaneness of humanity. He finds himself recruited into Libra, a secret group of super-powered humans sworn to fight the bad monsters from Beyond and other criminals that wreak havoc on the city.
Blood Blockade Battlefront is strong on a number of fronts, not the least of which is the gorgeous animation and designs. It's incredibly detailed and innovative. But we also have a good mixture of comedy, action, and sci-fi and an appealing array characters in Blood Blockade. The story arc isn't necessarily tightly woven, but the kinetic energy and imagery keep things moving so quickly that we get through the 12 episodes in a breeze and the stories are easy to follow.
The Video
The digital animation for Blood Blockade Battlefront looks excellent. It arrives on Blu-ray from Funimation in an AVC 1080p encodement and it shows little issues outside of the rare hint of color banding, and I do mean rare. The colors really "pop" nicely without looking completely pushed, it's sharp without showing any stairstepping around edges, and noise is not a problem.
The Audio
The audio for Blood Blockade Battlefront is excellent, and I don't often say that for Funimation releases. Yes, I still have to bump my normal listening levels up about 8db over usual, but the dynamic range is there still, and overall, both the Japanese stereo track in Dolby TrueHD 2.0 and the English dub in TrueHD 5.1 sound superb. The 5.1 mix actually makes use of the surround channels with an abundance of solid discrete effects, and, given this is an action series, it's very aggressive. The Japanese cast put in a better performance, but the 5.1 mix is more enjoyable to listen to from an audio perspective, particularly given the various musical genres the score goes through and how well balanced it all is.
The Supplements
The collection of supplements is good. We even get episode 10.5 and a couple of brief English "featurettes" with the cast and crew. The Ltd. Edition comes in the chipboard slipcase with 10 art cards included.
2 x DVDs of the series included
10 collectible art cards (Limited Edition Only)
Chipboard slipcover (Limited Edition)
Episode 10.5 – "Even These are the Worst and the Best Days Ever" (Japanese & English)
Funimation Short: with Aaron Dismuke and Ian Sinclair (1.78:1; 1080p/24; 00:03:02)
Funimation Short: with Michah Solusod and Mike McFarland (1.78:1; 1080p/24; 00:03:02)
Textless Opening Song – "Hello, world!"
Textless Closing Song – "Sugar Song & Bitter Step"
Promotional Videos (1.78:1; 1080p/24; 00:07:40; Japanese)
TV Spots (1.78:1; 1080p/24; 00:00:49; Japanese)
Blu-ray/DVD Promos (1.78:1; 1080p/24; 00:02:12; Japanese)
S. Trailer (1.78:1; 1080p/24; 00:01:50)
Funimation Trailers
The Final Assessment
It's witty and it's innovative with smash you in the face graphics and whiplash action. Blood Blockade Battlefront is a cool series from a group of creators with A-list bona fides.
Blood Blockade Battlefront: The Complete Series – Ltd. Ed. (TheaterByte Blu-ray Review)
Bones/Funimation Entertainment
Studios & Distributors
Japanese Dolby TrueHD 2.0 Stereo
Audio
English Dolby TrueHD 5.1
Secondary Audio
Summary
With its wit, kinetic action and blaze of beautiful animation Blood Blockade Battlefront from the studio that brought us Space Dandy and Fullmetal Alchemist will be your new favorite anime series.
What people say... Login to rate
Be the first to leave a review.
Show more