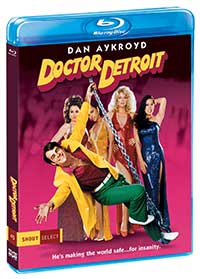 Of all the outrageous comedies perpetrated on the public by alumni of the original SNL cast in the 1980s, Dan Aykroyd's Doctor Detroit has to be one of the most outrageous and, depending on how you look at it, either totally forgettable or one of the most memorably awful.
In the film Aykroyd plays uptight Chicago college professor Clifford Skridlow who is roped into a flashy and dangerous life of crime by a pimp named Smooth Walker (Howard Hesseman). Walker finds himself in a bind with his main rival Mom (Kate Murtagh) and her goons and fabricates a dangerous out-of-town strongman named "Doctor Detroit" who controls him to scare Mom off. When he spots the timid and somewhat naïve Skridlow out to dinner, Walker figures he can easily entice him to pose as "the Doctor" by using his bevvy of beautiful women of the night and by showing him a wild, drug and booze-fueled night out on the town. It works, and Skridlow becomes hooked on both the women, whom he has a genuine affection for, and this new wild lifestyle he's never experienced before.
It's not long before Skridlow finds himself having to rescue one of the women from charges prostitution charges, in one of Aykroyd's most over-the-top improvisations of the movie as he crafts a character that is a cross between Colonel Sanders and Huey Long. When confronted by Mom and her thugs, he begins to design a persona that is part street pimp, part Mr. Hyde and starts to revel in his role as protector of the women.
Doctor Detroit is held together by the rocking '80s soundtrack that features songs by Devo and even a cameo musical performance by the Godfather of Soul himself James Brown. Though Aykroyd does his best to bring the comedy, much of the material in this film feels forced, but director Michael Pressman keeps the energy level at 11 throughout the film putting it in that category of crazy '80s comedies similar to Bachelor Party.
This slideshow requires JavaScript.
The Video
The 1983 vintage Doctor Detroit was shot on 35mm and looks about as good as it can given its age and genre. After an opening credit sequence that looks a little rough, the image settles in for a decent presentation that is clean with a natural looking layer of grain and good color reproduction. There is some unavoidable film softness and the occasional rough patches, but this comedy has likely never looked better since it was last released.
The Audio
IMDb lists Doctor Detroit as having an original stereo mix, but this Blu-ray release from Shout! Factory lists a DTS-HD Master Audio 2.0 Mono mix, and if it is in stereo, it's an extremely narrow stereo field soundfield. It sounds like mono to my ears, but it still sounds good and presents the dialogue cleanly and the '80s soundtrack with good dynamics and 'punch'.
The Supplements
The best of the lot in the special features is the very listenable audio commentary and the new interview with director Michael Pressman. Other inclusions of interest are the archival audio press kit, which would have been sent around on two LPs to various radio stations around the country with interview snippets and more.
Audio commentary with director Michael Pressman and pop culture historian Russell Dyball (New)
Interview with director Michael Pressman (1.78:1; 1080p/24; 00:24:35) (New)
Radio Free Detroit: Inside the Doctor Detroit Audio Press Kit
Theatrical Trailers (1.33:1; 1080i/60; 00:03:49)
TV Spots (1.33:1; 1080i/60; 00:01:01)
Radio Spots (00:04:14)
Photo Gallery (1080i/60; 00:08:18)
The Final Assessment
An outrageous, so-bad-maybe-it's-good '80s comedy that never lets off of the gas pedal, this 1983 flick from Dan Aykroyd is high energy, but just not too great beyond its pop culture reference points.
Doctor Detroit is out on Blu-ray April 24, 2018 from Shout! Factory
Black Rhino Productions | Brillstein Company | Universal Pictures | Shout! Factory
Studios & Distributors
Bruce Jay Friedman (story) | Carl Gottlieb | Robert Boris (writer) | Bruce Jay Friedman (writer)
Writer
English DTS-HD MA 2.0 Mono
Audio
Summary
After being conned into posing as a tough street pimp, a nerdy college professor (Dan Aykroyd) finds himself enjoying his life on the streets and having a genuine affection for the women he protects. The film is full of kinetic energy, a stellar '80s musical soundtrack, and a cameo performance by James Brown, but its over-the-top, forced comedy wears thin quickly.
What people say... Login to rate
Be the first to leave a review.
Show more