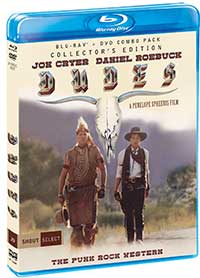 Shout Select is releasing Penelope Spheeris' 1987 punk-western-comedy-adventure Dudes in a Collector's Edition Blu-ray + DVD set. The director is probably best known for her rock documentaries The Decline of Western Civilization (1981) and The Decline of Western Civilization Part II: The Metal Years (1988) about punk rock and glam metal respectively; and the 1992 comedy Wayne's World starring Mike Myers and Dana Carvey based on their popular SNL skit. With Dudes, Spheeris channeled her reputation as a "rock and roll anthropologist" into oddball teen-aimed adventure that is notable for standing out from the more saccharine John Hughes films of the era and for featuring the not-quite-a-big-star-yet Flea (Red Hot Chili Peppers).
Jon Cryer (who was still in his being confused for Matthew Broderick period) stars along with Daniel Roebuck as New York City punk rocker friends Grant (Cryer) and Biscuit (Roebuck) who, along with their other buddy Milo (Flea) decide to pack everything up and move to California, taking a road trip across the country in their sky blue Volkswagen bug. The trio run into trouble along the way when they camp out and come across a group of rednecks led by the tattooed Missoula (Lee Ving) looking to kill themselves some Mexicans. Missoula kills Milo instead. With local police not believing their story, Grant decides the two will hunt them down themselves. Along the way the city boys embrace the cowboy lifestyle, meet up with an Elvis-impersonating rodeo clown, befriend a beautiful woman named Jessie (Catherine Mary Stewart) in Wyoming, herself a transplant from Chicago, and commune with the spirits of dead Native Americans slaughtered by Union Soldiers.
Dudes is not an easy film to pin down due to both Randall Jahnson's scattered screenplay and Spheeris' documentary style of direction. While it starts off as any ordinary crazy kids out on an adventure sort of film, the tangents it goes off on detract from any discernible story arc. The Native American dream sequences are just unnecessary at best and insulting at worst. It also becomes increasingly hard to accept that the growing number of characters incorporated into this story are willing to aid these two "city slickers" or "dudes" on their hunt to murder a few guys.
That said, the soundtrack is killer combining all of Spheeris' strength in her research and the era's best hair metal, hardcore punk, and Gothic new wave to give the action good kick and atmosphere.
The Video
Dudes gets a 1.85:1 AVC 1080p encodement on Bu-ray from Shout Select. The image 30-year-old 35mm film source looks decent given its vintage and the indie status of this film, but it is still a bit rough around the edges. There aren't too many scenes where some splotches of source damage can't be seen and darker scenes tip a bit toward noisiness.
The Audio
This Shout Select release brings the Dudes soundtrack to Blu-ray in a DTS-HD 2.0 mix. It provides clean dialogue and wide stereo imaging with lots of air and midrange punch and it really roars with the hair metal and punk rock soundtrack.
The Supplements
This Shout! release on the Shout Select imprint comes with a strong set of new HD interviews with the cast, two of the conducted by director Penelope Spheeris herself. An archival 'making of' tags along as well as the trailer and a photo gallery. The interviews make for excellent viewing.
DVD
Jon Cryer Interviewed by Penelope Spheeris (1.78:1; 1080p/24; 00:31:42)
Flea Interviewed by Penelope Spheeris (1.78:1; 1080p/24; 00:26:05)
Catherine Mary Stewart Interview (1.78:1; 1080p/24; 00:13:01)
Daniel Roebuck Interviewed by Penelope Spheeris (1.78:1; 1080p/24; 00:25:15)
Randall Jahnson and Miguel Tejada-Flores Interview (1.78:1; 1080p/24; 00:14:12)
Theatrical Trailer (1.33:1; 1080p/24; 00:02:25)
Vintage Featurette — Making of Dudes (1.33:1; upscaled 1080i/60; 00:06:50)
Photo Gallery (1080p/24; 00:07:39)
The Final Assessment
Dudes is an exercise in the absurdity of big 1980s filmmaking. It is at its heart a rock and roll movie of its era – one big pointless thing that makes a lot of noise and looks good doing it. Maybe that is the point. This Shout Select release on Blu-ray + DVD is a well rounded reissue with an excellent selection of special features.
Own Dudes [Collector's Edition] October 10, 2017 from Shout Select
[amazon_auto_links id="105291"]
Vista Organization | Shout! Factory
Studios & Distributors
Penelope Spheeris
Director
$29.93
MSRP
English DTS-HD MA 2.0
Audio
Summary
Two punk rock city "dudes" (Jon Cryer, Daniel Roebuck) go native and seek revenge during a trip out West after their friend (Red Hot Chili Peppers' Flea) is killed by a group of rednecks in this meandering 1987 rock-western-adventure-comedy from Penelope Spheeris, best known for her The Decline of Western Civilization rock documentaries and big screen SNL skit adaptation Wayne's World.
What people say... Login to rate
Be the first to leave a review.
Show more