Elvis Costello has always been an acquired taste for me, and I presume for many others. The musical chameleon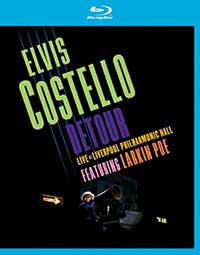 has charted the musical territories of Bruce Springsteen imitator, torch songs, and even Paul McCartney-esque pop tunes. In his 2015 tour, Costello strips his music down to the core, performing completely solo, either with just guitar or piano, sounding raw, urgent, and like an elder statesman who has finally found a moment to stop and look back on his accomplishments, but still isn't quite happy with them. On Detour: Live at Liverpool Philharmonic Hall, Costello reworks some of his most classic works like "Watching the Detectives" or "Alison" into emotionally charged, post-modern mayhem, that can stand up to the more produced sheen of their studio versions. In between songs, he chats to the audience, offering up funny anecdotes from his life and career. Costello is joined on several tracks by Rebecca and Megan Lovell of Larkin Poe.
The track list:
Intro
Red Shoes
Watch Your Step
Accidents Will Happen
Church Underground
'45
Shipbuilding
I Can't Stand Up For Falling Down
Walkin' My Baby Back Home
Ghost Train
When I Was Cruel No.2
Watching The Detectives
If I Had A Hammer
Pads, Paws, And Claws
That's Not The Part Of Him You're Leaving
Down On The Bottom
Blame It On Cain
Alison
A Good Year For The Roses
Side By Side
Jimmie Standing In The Rain
Peace Love And Understanding
Golden Tom – Silver Judas (Credits)
The Video
A1080i high-definition production in 1.85:1 encoded in AVC on Blu-ray looks pristine, with good contrast even in the sometimes dimly lit stage production.
The Audio
The audio is provided in two solid tracks, a DTS-HD Master Audio 5.1 mix that is very ambient and nicely balanced and punchy in the midrange without being grating in the high frequencies, and a LPCM 2.0 stereo offering that is a little less engaging but still good. Since the show is mostly just Costello and his guitar, there isn't much panning to speak of, but the reverberation sounds natural and vocals are clear.
The Supplements
The disc comes with four bonus tracks:
Love Field
Either Side of the Same Town
Brilliant Mistake
Ascension Day
The Final Assessment
I've never fully been a convert to the music of Elvis Costello; I'm more of a casual fan, but there are flashes of brilliance in this raw concert performance that make it a compelling and different look at this veteran singer/songwriter.
Elvis Costello: Detour — Live at Liverpool Philharmonic Hall (TheaterByte Blu-ray Review)
Not Rated
Rating Certificate
Eagle Rock
Studios & Distributors
12 February 2016
Release Date
DTS-HD MA 5.1, LPCM 2.0 Stereo
Audio
Summary
Detour is stripped down yet raw and emotional concert video that will appeal to Costello fans.
What people say... Login to rate
Be the first to leave a review.
Show more