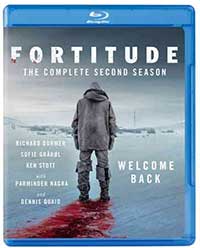 The second season of this British Euro-Noir series adds Dennis Quaid for a season that picks up with the violence that began in this isolated fictional arctic village in season one immediately. In the first season a mystery started and this quaint village experienced its first murder ever starting not only a murder mystery, but also a medical one. Season two opens up with the mystery of a beheaded corpse found in the frozen tundra and a growing infectious disease unearthed by the changing climate. Doctor Khatri (Parminder Nagra) is studying a parasite that is causing people to turn violent, but she's also hiding something. The governor of Fortitude, Hildur Odegard (Sofie Gråbøl) is pushed out of her position by the powers that be back in Oslo and replaced by a man working clandestinely for a powerful pharmaceutical company. Meanwhile a killer is on the loose in the village that must be stopped.
The second season of this dark science thriller is a bit scattershot in its story and begins to feel like it's jumping the shark. Dennis Quaid does not fit in well at all with the rest of the characters in this tightly woven, character-driven series and feels like he was wedged in for star power more than to advance the narrative. He's gruff, his backstory is unclear, and he really doesn't serve much of a purpose. Sheriff Dan Anderssen (Richard Dormer) has been turned into a raving lunatic for this second season. Stanley Tucci's role is seriously missed.
While the atmosphere and "noir" nature of the series is still satisfying, the second season feels like it has taken a shift toward SyFy's defunct series Helix tapping into more sci-fi horror than the crime drama roots that made it successful in its first season. Given the unexpected twists and events of season two, it will still be interesting to see if the series can recover and get back on a more solid footing for a third season.
The Video
Fortitude is shot in HD on the Arri Alexa M and Arri Alexa Plus and arrives on Blu-ray in an AVC 1080p encodement. The color palette is de-saturated and bland with lots of cool tones and white snow. This isn't a series that 'pops', but it looks solid and crisp in this release. Some areas have some slight banding, but apart from that it is an issue free release with little noise, excellent contrast and strong nuance.
The Audio
Fortitude gets a stereo DTS-HD Master Audio mix that is basic, but gets the job done. The atmospherics of the cold arctic town may have been well served with a 5.1 mix, but here the dialogue is really the focus and it comes through cleanly.
The Supplements
None of the on-disc extras are really required viewing and they feel more like run-of-the-mill promo material. That said, it's cool to see some real scientific experts brought in to discuss some of the topics touched on in this "science" thriller.
The Story So Far: Fortitude (HD, 00:11:40)
Investigate Fortitude Part 1: Climate Change & Human Health (HD, 00:04:01)
Investigate Fortitude Part 2: From Wildlife Behavior to Pathogens (HD, 00:04:33)
Investigate Fortitude Part 3: Emerging Infectious Diseases (HD, 00:04:52)
Investigate Fortitude Part 4: Creating a Healthy Future (HD, 00:04:18)
The Final Assessment
A somewhat disappointing yet not wholly non-entertaining second season of this science thriller, Fortitude: Season 2 adds new characters and a new mystery while increasing the biological threat. It feels like more horror than crime thriller the second time around and the character development suffers, but the elements are still there for the makings of a solid series.
[amazon_auto_links id="103030"]
Fifty Fathoms Productions | Sky Atlantic | Tiger Aspect Productions | Amazon Studios
Studios & Distributors
Simon Donald (Created By)
Writer
English DTS-HD MA 2.0 Stereo
Audio
Summary
Dennis Quaid throws off the balance in the second season of this Euro-Noir science thriller that kicks off with the mystery of a headless corpse found in the snowy tundra.The Blu-ray looks great.
What people say... Login to rate
Be the first to leave a review.
Show more