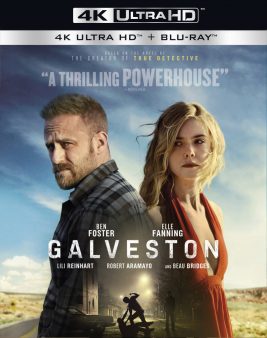 The indie crime/thriller Galveston (based upon a novel by Nic Pizzolatto) by director Mélanie Laurent stars Ben Foster (Leave No Trace, Hostiles) as a crime world hitman, Roy, who is finds out he is dying. Sent on a job by his boss Stan (Beau Bridges) that turns out to be a setup, Roy ends up rescuing a young prostitute named Rocky (Elle Fanning) from the scene and the two head to his hometown of Galveston, Texas where he begins to plot his revenge.
Before they make it to Galveston, however, the pair divert to Orange, Louisiana, where Rocky grabs her younger sister from their stepfather whom she presumably shoots dead. It's an act that will have consequences later in the film as Roy and Rocky, who begin to form a bond, hide out in a sleazy no tell motel in Galveston.
Laurent's film is gritty and spends much of its time visually in murky shadows and aurally in mumbling, whisper-level conversations or aggressive shouting. This is indicative of many things wrong with the film. It just never seems to be able to find a balance in what it wants to be. The relationship between Roy and Rocky teeters between that of concerned protector and sleazy older man who wants to have a ripe young hooker all to himself; he often explodes violently at her past as a "whore" calls Rocky "disgusting", but then, at one crucial point dances seductively with her in a bar and is very gentle and loving with her and her little sister.
The acting from Foster and Fanning couldn't be more mismatched. Foster is on point as the bitter and dying hitman with an axe to grind and duplicitous intentions toward the beautiful young prostitute he rescued, but Fanning seems to wither under the weight of the role. Her attempts at world-weariness come across like a pixie imitating life, and the words ring shallow. It's Foster who brings her along in each scene of Galveston – and steals most of them.
The film's denouement provides the best material, where Roy is stumbling his way through a workshop looking for Rocky and trying to find a way out. It is both chaotic, intense, and terrifying, with a keen visual sense and vertiginous action. If only the rest of the film were as inventive.
The Video
Galveston hits 4K Ultra HD Blu-ray in an HEVC 2160p (4K) encodement framed at 2.39:1 with HDR10 HDR. The film is one that is often dark and murky, but the 4K transfer, wide color gamut and extended dynamic range help to give it some extra 'pop.' Elle Fanning's vermilion dress at the film's turning point really leaps from the screen, more so than it does on the equally solid Blu-ray. Highlights like headlights and lamps or the shimmer of water in pools and the ocean has great 'pop'.
The Audio
Galveston comes to 4K Ultra HD with an English DTS-HD Master Audio 5.1 mix. The dialogue is clean, which is the main focus of this dialogue-oriented mix. It's front-heavy, but there's a good amount of atmospherics in the surround channels and some discrete effects, particularly in the film's final act that get mixed into the surround channels. Low end extension is minimal.
The Supplements
Only a 'Making Of' and the included Blu-ray with the HD feature film come with this rather barebones release.
The Final Assessment
There's a lot of potential in Galveston. The story is one that draws you in and provides interesting characters. The execution is not always the best and visually, its murkiness takes more away than it adds to the mood. That said, Ben Foster's portrayal is powerful and there are quite a few moments in the film that standout. The 4K Ultra HD release offers the film up as good as can be with a solid HDR presentation.
Galveston is out on 4K Ultra HD Combo Pack & Blu-ray December 11, 2018 from RLJE Films
---
Jean Doumanian Productions | Low Spark Films | RLJE Films
Studios & Distributors
Nic Pizzolatto (as Jim Hammett) | Nic Pizzolatto (based upon the novel by)
Writer
$21.19
MSRP
HEVC (H.265) 2160p (4K) | AVC 1080p (Blu-ray)
Video
1000 Nits
Maximum Luminance
English DTS-HD MA 5.1
Primary Audio
English SDH | Spanish
Subtitles
HDR Effect (If Applicable)
Summary
A dying hitman (Ben Foster) who was setup by his crime world boss rescues a beautiful young prostitute (Elle Fanning), and together they go on the lam with her younger sister to his hometown of Galveston, Texas, while he plots his revenge in this uneven indie crime/thriller, shot with murky visuals and anchored by a strong performance from Ben Foster from director Mélanie Laurent. The barebones 4K Ultra HD release presents the film as good as possible with a solid 4K + HDR10 transfer.
What people say... Login to rate
Be the first to leave a review.
Show more