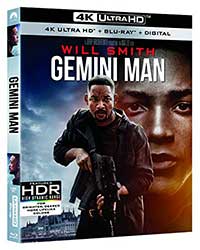 What can be said about Ang Lee's latest film Gemini Man that is already known? It's a visual effects spectacle co-written by David Benioff (Game of Thrones) that stars Will Smith as an aged government hitman, Henry Brogan, in retirement who is forced to square off against a clone of himself.
The plot gets pretty murky from there on in with subplots including government black-ops mercenaries that eerily resemble Blackwater, a nefarious adoptive father (Clive Owen), and some Jason Bourne-style globetrotting and highspeed action sequences. Henry also has with him the young and attractive secret agent Danny Zakarweski (Mary Elizabeth Winstead) who was originally meant to spy on him but was burned and whose life is now in danger as well. Bringing some comic relief to the party is the always consistent Benedict Wong as Baron, an old friend of Brogan's and a pilot who can always get our group where they need to be.
The plot points aren't really the point of Gemini Man. The film exists and feels like it exists – which is the worst part of watching it – merely to spotlight the technical achievements on display. There is an at times freaky, much talked about de-aging process used on Will Smith as his younger self and the High Frame Rate (HFR) filming technique that ramps up the Frames Per Second (FPS) from the standard 24 to 120 (the disc reviewed here provides the film at half this rate, but offers a similar visual result). The result is a smooth, almost hyper-realistic motion (more on that below). In theaters, it also ran in 3D in HFR120. This isn't the first time Ang Lee has used HFR. He did it with Billy Lynn's Long Halftime Walk. Neither time was the film great nor was the technique wholly successful, but Gemini Man seems to be a better fit for it given the numerous high-speed sequences.
Outside of the techniques, Gemini Man offers a confusing storyline with prototypical villains and heroes and an ending that is rather easy to predict. At least the chemistry between the leads Smith and Winstead is enjoyable.
The Video
Gemini Man was originally shot on the Arri Alexa SXT-M and Phantom Flex 4K with Leica Summilux-C lenses in HDCAM (4K/120) (dual-strip 3D) and ProRes 4:4:4 (3.2K/120) (dual-strip 3D). The film ran in select theaters in HFR (High Frame Rate) 120FPS 3D. While the 3D version has not been released on home video (in the US anyway), this 4K Ultra HD release does come in a 2160p (4K) HEVC HFR 60FPS encodement with Dolby Vision HDR. So at least the HFR is sort of persevered – at half the framerate. The end result, however, is still the same sort of hyper-realistic, super-smooth motion often associated with the motion-smoothing settings on your displays, only looking a bit more natural. I don't like the look of it personally and find that it distracts and throws one out of the suspension of disbelief that the standard 24FPS does. That said, the HFR does in fact work to great advantage in the high-speed action scenes.
I would point out at this point that on my 2016 LG OLED display, the only way I could watch this title was to either turn off Dolby Vision on my Pioneer LX500 player and watch in HDR10 at 4K HFR60 or leave Dolby Vision turned on in which case the resolution would be downscaled to 1080p HFR60. The display can only handle Dolby Vision in 4K at up to 30FPS.
Now, onto the HDR. Watching it in HDR10 was still a blast, despite my dislike for the 60FPS frame rate. Putting the HFR aside, this is hands down the release with the greatest picture quality I have even seen on 4K Ultra HD. The detail is astounding. Colors are vibrant thanks to the WCG, and shadow detail is greatly extended with no signs of crush in the blacks. This is definitely a reference disc.
The Audio
Gemini Man comes to 4K Ultra HD with an equally awesome – that's a technical term, by the way – immersive Dolby Atmos audio mix that will blow up your subwoofers and set your surround and height channels on fire. There is a lot of directional panning and excellent balance in this mix with clear dialogue as well.
The Supplements
Gemini Man gets a comprehensive set of "making of" featurettes on the included Blu-ray and an exclusive HFR60FPS featurette on the 4K disc.
Blu-ray with feature film and bonus features
Digital Code
4K Exclusive Feature: Visual Effects Progression Presented by WETA (1.85:1; 4K HFR 60FPS, Dolby Vision)
Alternate Opening (1.85:1; 1080i)

Deleted Scenes (1.85:1; 1080i)
I Found a Plane for Us
Originally Yuri Scene

The Genesis of Gemini Man (1.78:1; 1080p)
Facing Your Younger Self (1.78:1; 1080p)
The Future is Now (1.78:1; 1080p)
Setting the Action (1.78:1; 1080p)
Next Level Detail (1.78:1; 1080p)
The Vision of Ang Lee (1.78:1; 1080p)
The Final Assessment
A below-average film that still maintains a certain level of popcorn fun that is definitely a rollicking ride for the home theater. You will either love or hate the HFR60FPS, but there's no arguing that the overall picture and audio quality are A+.
Gemini Man is out on 4K Ultra HD Combo January 14, 2020, from Paramount
---
The Creative Content: 2.5/5
The Video (overall): 5/5
HDR Effect: 5/5
The Audio: 5/5
The Supplements: 3.0/5
Rating Certificate: PG-13 (for violence and action throughout, and brief strong language)
Studios & Distributors: Skydance Media | Jerry Bruckheimer Films | Fosun Group Forever Pictures | Alibaba Pictures | Paramount Home Media Distribution
Director: Ang Lee
Writers: David Benioff (screenplay & story) | Billy Ray (screenplay) | Darren Lemke (screenplay & story)
Run Time: 117 Mins.
Original MSRP: $34.99
Street Date: 14 January 2020
Aspect Ratio: 1.85:1
Video Format: HEVC (H.265) 2160p (4K) HFR 60FPS | AVC 1080p (Blu-ray)
HDR Format: Dolby Vision (Compatible w/ HDR10)
Primary Audio: English Dolby Atmos (Compatible w/ Dolby TrueHD 7.1)
Secondary Audio: English Audio Description | Spanish (Latin American) DD 5.1 | French DD 5.1 | French (Canadian) DD 5.1 | Italian DD 5.1 | Japanese DD 5.1 | Thai DD 5.1
Subtitles: English | English SDH | Bahasa Malaysia | Cantonese | Spanish (Latin American) | French (Parisian & Canadian) | Italian | Japanese | Korean | Mandarin | Dutch | Thai