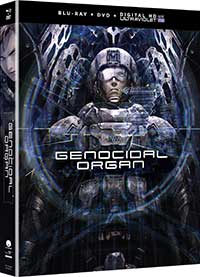 The third and final entry in the anime adaptations of sci-fi writer Project Itoh's trilogy, Genocidal Organ is perhaps the darkest of the triptych as its name suggests. The film is set in a near future after a homemade nuclear destroys Sarajevo and leading world governments transform themselves into surveillance states. The developing nations devolve into a series of wars and genocidal conflicts all caused by a man called "The American". An American Black Ops soldier, Kravitz Shepherd is tasked to track down The American, which leads him to a wanted CEO, John Paul, and his MIT-educated girlfriend Lucie Skroupova. Not only does John Paul leave death and destruction in his wake for his own personal reasons, but he has a theory that genocide has its own language inherent to all humanity, the so-called "genocidal organ".
This visceral wartime film is the grittiest in the trilogy and the one that most reflects real world concerns. The Empire of Corpses was a Gothic horror, Harmony was a futuristic dystopian sci-fi, but this one hits closer to home offering up commentary on the 9/11 terror attacks, the war in the Balkans, and our societies' increasing move toward a surveillance state in the wake of fear and terror attacks.
While the central antagonist in Genocidal Organ, John Paul, does not ever become quite as nightmarish as writer director Murase Shukou likely wished him to be, the skin crawling visuals of the film, which can be strikingly violent, gory and dark, makes up for this.
There is a thread that runs through all of these Project Itoh stories and that is death. They all in one way or another revolve around death, escaping it, avenging it, or rebuilding after it. In this final entry, death is pervasive in this psychological thriller. We are forced to confront the things that drive us into war, cause us to seek vengeance, and think  think about the chaotic world we are a part of. In all, this film is the most poignant and satisfying of the three Project Itoh adaptations.
The Video
Genocidal Organ arrives on Blu-ray in a strong 1.78:1 AVC 1080p encodement from Funimation that is free from any major issues like aliasing and severe color banding. It has crisp line are and good color reproduction.
The Audio
Both Japanese and English tracks come with 5.1 mixes in Dolby TrueHD. While the dynamics aren't great owing to rather low mastering levels and somewhat anemic low-end extension, the atmospherics are well handled and the dialogue is clear in both versions. The English cast is a step above the Japanese cast for this one because of the varying accents and well-delivered performances. If the Japanese voice actors are doing different accents, perhaps my Western ears can't hear it.
The Supplements
The most interesting inclusion is the featurette with the English cast. Everything else rounding out the set are the usual promos, trailers, and TV spots, which are nice to have. UltraViolet and DVD are also welcome bonuses.
Digital HD UltraViolet
DVD
Cast Discussion: Philosophy of the Genocidal Organ (1.78:1; 1080p/24; 00:10:16; English)
Original Trailer (1.78:1; 1080p/24; 00:01:29)
Promo Video (1.78:1; 1080i/60; 00:00:32)
TV Spots (1.78:1; 1080p/24p 00:00:49)
Funimation Trailers
The Final Assessment
The Project Itoh trilogy ends with a visceral study on war, vengeance, and humanity's inhumanity to man in Genocidal Organ. The nightmarish artwork and solid character designs help underpin the quality of the film's philosophical story.
Genocidal Organ is out now on Blu-ray + DVD Combo Pack and DVD from Funimation
[amazon_auto_links id="107389"]
Funimation Entertainment
Distributor
Japanese Dolby TrueHD 5.1
Audio
English Dolby TrueHD 5.1
Secondary Audio
Summary
In a near future where the leading democracies have transformed into surveillance states after a homemade nuclear bomb has wiped out Sarajevo, dark ops soldier Kravitz Shepherd is tasked to hunt down a terrorist known as "John Paul" who is leaving genocidal conflicts in his wake in developing nations an who also theorizes that humanity has a built-in "genocidal organ". This is the final in a trilogy of adaptations of Project Itoh novels and also the most visceral and poignant.
What people say... Login to rate
Be the first to leave a review.
Show more