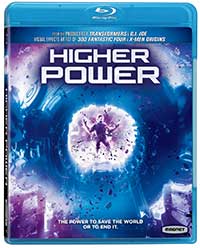 Mathew Santoro, the visual effect artist for 300, Fantastic Four, and X-Men: Origins makes his directorial debut with this indie sci-fi thriller Higher Power. The story follows Joseph Steadman (Ron Eldard, Super 8), a down on his luck father who abandoned his two grown daughters when his wife died from cancer. Steadman finds himself under the control of a mysterious mad scientist (Colm Feore). The "higher power" injects him with advanced cybernetics that allows him to take control of Steadman's eyes and hearing and threatens the life of his daughters to force him into an increasingly violent series of actions. Steadman does whatever he can to save the life of his two daughters on what turns out to be a quest that just may save the world.
Santoro has indeed proven himself as a visual effects artist, but without the big bucks of Hollywood behind him, and stepping into the director's chair, his product leaves a lot to be desired. There's an overriding sense of pretentiousness in Higher Power that is inescapable. Santaro, who also co-wrote the screenplay with Julia Fair, is trying to create an important sci-fi story about humanity here, but it feels hollow. Ultimately, we just get a rambling story about a maniacal villain taking control of a hapless man, beefed up by some okay CGI effects that look stunning for an indie production, but wouldn't cut it for a blockbuster Hollywood production. The unsatisfying and cliché ending doesn't help matters much nor does the complete lack of depth to any of the characters in the film.
The Video
Higher Power was shot digitally on the Canon EOS 5D Mark III with Canon L-Series lenses and the Canon EOS C500, Kowa Prominar and Zeiss Super Speed lenses. It comes to Blu-ray in an AVC 1080p encodement famed at 2.39:1 from Magnolia Home Entertainment's Magnet imprint. It looks generally good for an indie sci-fi film with strong detail and good contrast, but there is some noise and what looks like in-camera posterization, and shadows are a bit mushy. The color palette doesn't 'pop' so this isn't a film that will leap from the screen. There's a 4K Ultra HD Blu-ray release that may improve things as far as color and 'pop,' and there are a lot of highlights in the CGI that can benefit from the HDR.
The Audio
Higher Power comes to Blu-ray with an English Dolby Atmos audio mix that has an abundance of atmospheric effects that surround the listener from all around. The electronic score and sound effects are relentless, and the low-end will rattle the china in the cupboard, so secure it well.
The Supplements
Only the original theatrical trailer (2.39:1; English DD 5.1; 1080p/24; 00:02:18) is included.
The Final Assessment
A visual effects-heavy sci-fi thriller that tries to aim for depth, but ultimately feels shallow and pretentious, Higher Power is a story with a lot of potential and maybe could have been better if placed in the hands of a more experienced director.
Higher Power is out on 4K Ultra HD and Blu-ray August 14, 2018 from Magnolia Home Entertainment
R (for violence and language)
Rating Certificate
Break Media | Campfire | Di Bonaventura Pictures
Studios & Distributors
Matthew Charles Santoro
Director
Julia Fair | Matthew Charles Santoro
Writer
$22.41
MSRP
English Dolby Atmos (compatible with Dolby TrueHD 7.1)
Audio
English SDH | Spanish
Subtitles
Summary
A man who is down on his luck (Ron Eldard), finds himself the unwilling test subject of a maniacal scientist, and must do as he is told in order to save his family -- and possibly the world in this visual effects-heavy feature debut from Matthew Charles Santoro, known for his visual effects work on such films as 300 and X-Men: Origins. Ultimately, however, Higher Power suffers from a lackluster script, boring characters, and lack of a Hollywood budget to allow its effects to be believable.
What people say... Login to rate
Be the first to leave a review.
Show more