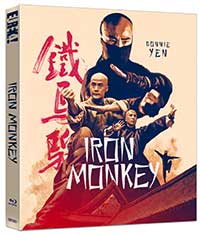 Iron Monkey is the 1993 film directed by Yuen Woo-ping, who would later go on to choreograph The Matrix films. The year is 1858 and in a province in Southern China, peasants have fled to seek the protection of Shaolin monks and sanctuary from floods and famine. The corrupt officials governing the area have something else in mind, however, and they oppress the people with heavy taxes and unjust imprisonment.
Iron Monkey (Donnie Yen, Ip Man, Rogue One) a defender of the defenseless, comes to their rescue, stealing riches from the corrupt overseers and doling it out to all those in need. Of course, this raises the ire of the governor who orders his minions to capture and kill the masked champion known to the people as the Iron Monkey.
The story bears much resemblance to the tale of Robin Hood, and the film predates the much more cerebral and visually elaborate martial arts films that have now come into fashion, such as Hero or Crouching Tiger, Hidden Dragon. It owes far more stylistically to those kung fu films that boomed in the grindhouses here in the States in the 1970s. Its schizophrenic plot, cartoonish characters and low budget production at times seem more than a bit silly and amateurish when taken in lengthy doses.
What Iron Monkey does do successfully, however, is deliver a wallop of marvelously choreographed martial arts action sequences that become increasingly elaborate and more intricate as the film progresses. As the action increases, so does the tone of the film darken and become more serious and interesting to watch, making the film a fulfilling cinematic martial arts experience.
The Video
Eureka brings Iron Monkey to Blu-ray in a brand new 2K restoration that looks gorgeous. The 1.85:1 AVC 1080p encodement shows a little softness and excessive graininess in some scenes, especially the opening and other scenes with plenty of visual effects, but it is mostly a clean and organic presentation with good shadow detail and no issues with noise. Colors look vibrant as well.
The Audio
Eureka Classics brings Iron Monkey to Blu-ray with a Cantonese DTS-HD Master Audio 5.1 mix along with the original Cantonese LPCM Mono mix, Mandarin LPCM 2.0, and two English dubs in DTS-HD Master Audio 5.1 and LPCM 2.0. Apart from the weirdly off dubbing even with the original-language Cantonese, the 5.1 audio mix is good if a little off-putting at times with some oddly placed sound effects in the surround channels during the fight sequences then long stretches where the mix is more front-heavy. Still, it has good dynamics and clear dialogue and manages to surround you in sound effects and atmospherics.  The original mono will be of interest to purists if a little boxy and lacking the clarity of the 5.1 mix.
The Supplements
There's a full of behind-the-scenes 'making of' featurettes on the disc and they included plenty of interviews with the cast and crew and B-footage, but nothing here is new or unique and most is in standard definition.
Interview with Donnie Yen (1.78:1; SD; 00:19:36)
Interview with Producer Tsui Hark (1.78:1; SD; 00:24:36)
Interview with Yu Rong-Kwong (1.78:1; SD; 00:26:24)
Interview with Li Fai (1.78:1; SD; 00:25:21)
Interview with Angie Tsang (1.78:1; SD; 00:19:59)
Iron Fist – The Choreography of Iron Monkey (1.78:1; SD; 00:16:01)
Shadow Boxing with Alex Yip (1.78:1; SD; 00:08:11)
Li Fai and Angie Tsang at the 2003 Wu Shu Championships (1.78:1; SD; 00:09:10)
Original Theatrical Trailer (1.85:1; 1080p/24; 00:04:43)
Limited Edition 'O' Card (First Pressing Only)
Collector's Booklet (First Pressing Only)
The Final Assessment
Passionate fans of the martial arts genre will no doubt want to grab this release up as Eureka's  Eureka Classics imprint reissue of the new 2K restoration has it looking better than ever.
Iron Monkey is out on Blu-ray June 18, 2018 in the UK from Eureka Entertainment
PG-13 (for martial arts action/violence and brief sexuality)
Rating Certificate
Film Workshop | Golden Harvest Company | Long Shong Pictures | Paragon Films Ltd. | Eureka Entertainment
Studios & Distributors
Cheung Tan | Richard Epcar (dubbed version) | Lau Tai-Mok (writer) | Elsa Tang (writer) | Tsui Hark (writer)
Writer
£19.99
MSRP
Cantonese DTS-HD MA 5.1
Audio
English | English SDH
Subtitles
Cantonese Mono | Mandarin Stereo | English 5.1 | English Mono
Secondary Audio
Summary
In this martial arts classic twist on Robin Hood from the '90s, a martial arts master/doctor calling himself Iron Monkey and wearing a mask (Donnie Yen) steals from the rich and the corrupt to give to the poor while another martial arts master/doctor is tasked with hunting him down and bringing him to justice. The film is filled with high-flying choreography and helped lay the groundwork for its star Yen to go on to greater success in more cerebral films like
Hero
and
Crouching Tiger, Hidden Dragon
and the eventual even larger international successes of
Rogue One
.
What people say... Login to rate
Be the first to leave a review.
Show more