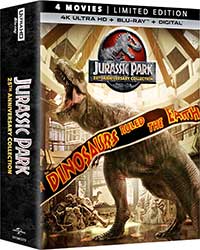 Steven Spielberg's 1993 film Jurassic Park, based on the sci-fi novel by Michael Crichton, broke new ground in what was capable in CGI visual effects with its computer-generated dinosaurs and went on to launch a long-running franchise that has recently been rebooted with 2015's Jurassic World (included in this collection). The original Jurassic Park, which is arguably still the strongest film in the franchise, told the story of a theme park off of Costa Rica where dinosaurs were brought back to life through cloning of their DNA, but due to an error when one of the employees tries to secretly steal some of the embryos from the lab, critical systems shut down and some of the most dangerous animals get loose, including the intelligent raptors and the enormous and deadly T-Rex. This endangers the lives of two of the park founder's (Richard Attenborough) guests – his two grandchildren (Ariana Richards and Joseph Mazzello, two dinosaur experts Dr. Alan Grant (Sam Neill) and Dr. Ellie Sattler Laura Dern) and skeptical scientist Ian Malcolm (Jeff Goldblum) as they are taking a pre-opening tour of the facility.
Spielberg also directed the film's follow-up, The Lost Word: Jurassic Park, which was set on another island off of Costa Rica. The second film only brings back Jeff Goldblum and Richard Attenborough, who appears briefly. The story is vastly different from the first, yet pretty much the same. A team of scientists, including Goldblum and Julianne Moore as Sarah Harding are sent to this second island to study the dinosaurs that are living there freely, but a second team also arrives with a different plan – capture and take them back to San Diego for a new park. Chaos ensues.
Of the original trilogy, Jurassic Park III, the only one not directed by Spielberg, is also the most maligned. Two original cast members return, Sam Neill, and a very brief cameo by Laura Dern. In this third installment directed by Joe Johnston, a married couple, Paul Kirby (William H. Macy) and Amanda Kirby (Téa Leoni) trick Dr. Alan Grant into going with them to the original island where the Jurassic Park disaster occurred so he can help them search for their son who went missing there. The originality begins to wear thin by this third installment and although the visual effects are still top-notch, they are not enough to overcome the lack of the Spielberg touch behind the lens.
Jurassic World rebooted the franchise in 2015 and paired Chris Pratt and Bryce Dallas Howard in the leads as co-workers in the new theme park now running smoothly decades after the original disaster. With Claire (Howard) running a tight ship as her two nephews she hasn't seen in years Gray (Ty Simpkins) and Zach (Nick Robinson) arrive to visit her, disaster strikes. A new, deadly, designer dinosaur made from hybrid DNA of various species escapes its holding facility and a Claire must turn to former Navy-man and raptor trainer Owen (Pratt) to help her save her nephews who are stranded on a tour in the park. Meanwhile, a government contractor (Vincent D'Onofrio) who wants to use the dinosaurs as weapons has a plan to release the raptors to hunt the Indominous Rex so he can test them out – a plan that doesn't go well. Jurassic World ups the ante on the visual effects taking the franchise to a whole new level, but the story is a paint-by-numbers copy of Jurassic Park with a few minor alterations here and there.
The Video
All four films come to 4K Ultra HD with an HEVC 2160p (4K) encodement mastered with HDR10 High Dynamic Range with a maximum 1000 nits and minimum of 0.005 nits. They are all framed at 1.85:1 except Jurassic World which is framed at 2.0:1. The first three films have all been cleaned up beautifully and don't show any source damage, but still look very organic and filmic. While the earlier films shot on 35mm, Jurassic World was shot on a variety of sources including 35mm, 65mm, and 6K digital. When it comes to overall picture quality and even application of the HDR effect, the newest film looks the best, providing the crispest details, inkiest black levels and widest array of colors, but the earlier films also provide plenty of brilliant moments.
The Audio
Each of these four films comes with an immersive DTS:X that is bone crunching, dynamic, and fully encapsulating. The sounds of the roars of the big T-Rex will reverberate through you. The height channels, surround back and surrounds provide plenty of solid effects and atmospherics, like screeching, and alarms, helicopters, and gunfire. The low end just may shatter some windows or crack a few foundations.
The Supplements
This 25th Anniversary Collection comes packed with making of and behind the scenes featurettes that include plenty of interviews and on the set footage. There are also Movies Anywhere digital codes included for each film and Blu-rays with the feature films and special features.
Jurassic Park:
Return to Jurassic Park: Dawn of a New Era (1080p/24; 00:25:25)
Return to Jurassic Park: Making Prehistory (1080p/24; 00:20:16)
Return to Jurassic Park: The Next Step in Evolution (1080p/24; 00:15:03)
Archival Featurettes:

The Making of Jurassic Park
Original Featurette on the Making of the Film
Steven Spielberg Directs Jurassic Park
Hurricane in Kauai Featurette

Behind the Scenes:

Early Pre-Production Meetings
Location Scouting
Phil Tippett Animatics: Raptors in the Kitchen
ILM and Jurassic Park: Before and After the Visual Effects
Foley Artists
Storyboards:

T-Rex Attack
Jeep Chase
Raptors in the Kitchen
Omitted Baby Trike Scene
The Original Ending

Production Archives:

Photographs
Design Sketches
Conceptual Paintings

Theatrical Trailer
Jurassic Park: Making the Game
The Lost World:
Deleted Scenes (1.33:1; SD; 00:07:09)
Return to Jurassic Park: Finding The Lost World (1080p/24; 00:27:40)
Return to Jurassic Park: Something Survived (1080p/24; 00:16:30)
Archival Featurettes:

The Making of The Lost World
Original Featurette on the Making of the Film
The Jurassic Park Phenomenon: A Discussion with Author Michael Crichton
The Compie Dance Number: Thank You Steven Spielberg from ILM

Behind the Scenes:

ILM & The Lost World: Before & After the Visual Effects
Production Archives:

Production Photographs
Illustrations and Conceptual Drawings
Models
The World of Jurassic Park
The Magic of ILM
Posters and Toys

Storyboards:

Stego Attack
The Round Up
Eddie's Death
Death in the Waterfall
Malcolm vs. Raptor
Sarah Harding vs. the Raptors
Getting the T. Rex Off the Island
The Cargo Ship Sequence
The T-Rex Visits San Diego
The Revenge of the T-Rex
Omitted Air Attack
The Original Ending

Theatrical Trailer
Jurassic Park III:
Feature commentary with special effects team
Return to Jurassic Park: The Third Adventure (1080p/24; 00:25:20)
Archival Featurettes:

The Making of Jurassic Park III
The Dinosaurs of Jurassic Park III
The Special Effects of Jurassic Park III
The Industrial Light & Magic Press Reel
The Sounds of Jurassic Park III
The Art of Jurassic Park III
Montana: Finding New Dinosaurs

Behind the Scenes:

Tour of Stan Winston Studio
Spinosaurus Attacks the Plane
Raptors Attack Udesky
The Lake
A Visit to ILM
Dinosaur Turntables
Storyboards to Final Feature Comparisons:

The Lab
The Aviary
The Boat Attack

Production Photographs

Theatrical Trailer
Jurassic World:
Deleted Scenes (2.0:1; 1080p/24; 00:06:08)
Chris & Colin Take on the World (1.78:1; 1080p/24; 00:08:57)
Welcome to Jurassic World (1.78:1; 1080p/24; 00:29:52)
Dinosaurs Roam Once Again (1.78:1; 1080p/24; 00:16:29)
Jurassic World: All-Access Pass (1.78:1; 1080p/24; 00:10:11)
Innovation Centre Tour with Chris Pratt (1.78:1; 1080p/24; 00:02:01)
Jurassic's Closest Shaves – Presented by Barbasol (1080p/24; 00:03:00)
The Final Assessment
This 25th Anniversary collection of Jurassic Park packs a wallop with its awesome DTS:X audio mixes, fantastic UHD with HDR restorations and special features bursting at the seams. With the new Jurassic World: Fallen Kingdom film hitting theaters now, this may be the perfect time to catch up on this blockbuster franchise with this new collection.
Jurassic Park Limited Edition 25th Anniversary Collection is out on 4K Ultra HD Blu-ray Combo Pack May 22, 2018 from Universal
Amblin Entertainment | Universal Pictures Home Entertainment
Studios & Distributors
Steven Spielberg | Joe Johnson (Jurassic Park III) | Jurassic World (Colin Trevorrow)
Director
Michael Crichton (based on a novel by)
Writer
127 Mins. (Jurassic Park) | 129 Mins. (The Lost World) | 93 Mins. (Jurassic Park III) | 125 Mins. (Jurassic World)
Run Time
$79.98
MSRP
1.85:1 | 2.0:1 (Jurassic World)
Aspect Ratio
HEVC (H.265) 2160p (4K) | AVC 1080p (Blu-ray)
Video
1000 Nits
Maximum Luminance
0.005 Nits
Minimum Luminance
English DTS:X (compatible w/ DTS-HD MA 7.1)
Primary Audio
English DTS-HD MA 7.1 | French DTS 5.1 | Spanish DTS 5.1 | English DVS (Jurassic World)
Secondary Audio
English | English SDH | French | Spanish
Subtitles
HDR Effect (If Applicable)
Summary
The three original movies of the Jurassic Park franchise plus the Jurassic World reboot get a major upgrade in 4K Ultra HD with HDR along with fantastic, bone crunching new DTS:X immersive mixes in this new 25th anniversary collection.
What people say... Login to rate
Be the first to leave a review.
Show more