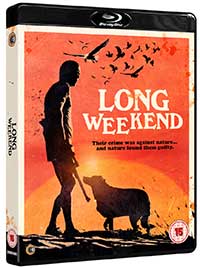 The Australian eco-horror cult classic Long Weekend hit the same year as John Carpenter's Halloween, and while the two films seem completely different, they share quite a lot. They both were shot on limited budgets, they both are in subgenres of the horror category, both were shot in widescreen anamorphic, which was a feat for a small budget production in 1978, and both use marvelous cinematography to help get their points across. Then they diverge.
Long Weekend is a far more psychological thriller with two protagonists who are unlikable from the beginning of the film. Peter (John Hargreaves) and Marcia (Briony Behets) are a married couple from the suburbs who decide to go camping in the wilderness as a last-ditch effort to save their faltering relationship. It is a decision they will quickly come to regret. Neither one is really at home in nature, or even likes it that much. Marcia wanted to leave the couple's pet dog Cricket at home alone with three cans of dog food dished out for her and seemed unconcerned the dog may starve or won't be able to ration her meals. Peter, as we see, tosses his still-lit cigarette out his car window into a dry brush as the couple make their way up the highway to the hidden beach that a group of locals at a pit stop don't know about.
Their time at their camping grounds quickly degenerates into bickering, the killing of an innocent sea mammal, Marcia's attack on an eagle egg, and nature seemingly striking back at them with a vengeance.
Long Weekend is an ingeniously shot thriller that is filled with micro-symbolisms that one may not be able to pick up on the first time through, but a few viewings will reveal a lot. The most revealing of all about this film is how despicable the two lead characters are, from start to finish, with only one saving grace for Peter being his attachment to his dog Cricket. They neither get along with each other nor with nature, and one finds oneself despising both of them while actively rooting for the other big character in this film – nature – to best them both.
The Video
Long Weekend was shot in anamorphic widescreen on Panavision cameras and 35mm film stock. The limited-budget 1978 Australian production hits Blu-ray from Second Sight Films in the UK with an AVC 1080p encodement framed at 2.35:1. While there is slight source damage that can be spotted, overall this is a satisfying transfer with good detail and color one would expect from a 1978 film. Grain looks organic, although some darker scenes tend to get a little coarse and almost tip over into noise.
The Audio
Long Weekend arrives on Blu-ray with the original monaural soundtrack in LPCM 2.0 as well as a 5.1 in DTS-HD Master Audio. The monaural track is a bit boxy and lacking dynamic range, but it is clean, and the sound effects come through perfectly. The 5.1 mix opens things up a bit with mostly some atmospherics in the surround channels and a scene that pans the sound of birds flying around the room. Other than those things and bringing the dialogue forward a bit more, it doesn't change much, and dynamic range is still somewhat limited.
The Supplements
Long Weekend comes with a small but strong slate of specials features, not the least of which is the audio commentary and the film critics discussion "Nature Found Them Guilty" that sheds a lot of light on the hidden symbolisms in the film.
Audio Commentary with executive producer Richard Brennan and cinematographer Vincent Monton
Nature Found Them Guilty: Examining Long Weekend (1.78:1; 1080p/24; 00:24:24)
Uncut 'Not Quite Hollywood' Interviews – These interviews were conducted by director Mark Hartley for his documentary Not Quite Hollywood (2008) (1.78:1; 1080p/24; 00:18:32)
Audio Interviews with John Hargreaves – John Hargreaves discusses acting for the screen. Interviewed by Tony Watts, 3rd August, 1995. (1.78:1; 1080p/24; 00:04:43)
Original Theatrical Trailer (2.35:1; 1080p/24; 00:02:05)
The Final Assessment
Long Weekend is an intense horror/thriller with beautiful visuals that, like another Australian classic, Walkabout, effectively encapsulates the essence of human's against nature. In this case, it shows the ill effects people have on it, and how nature, not being so weak, can strike back with unrelenting vengeance. This Blu-ray release from Second Sight Films is a pleasing release and one for the collectors who love classic horror and the films of Down Under.
Long Weekend is out on Blu-ray 5 November 2018 from Second Sight Films in the UK
---
Dugong Films | The Australian Film Commission | Victorian Film | Second Sight Films
Studios & Distributors
English LPCM 2.0 Mono
Audio
English DTS-HD MA 5.1
Secondary Audio
Summary
A suburban Australian couple whose marriage is in trouble decide to go camping in the wilderness to save their relationship, but instead find their marriage degrading as they come under siege by their surroundings in this marvelously filmed 1978 eco-horror from the land Down Under.
What people say... Login to rate
Be the first to leave a review.
Show more