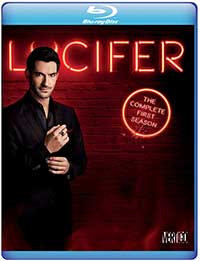 Crime procedurals are a dime a dozen on television, so when there is a new one, there needs to be a darn good twist for it catch anyone's attention. Enter Lucifer, a series that goes to hell and back, or rather, brings the Devil to town, or something like that, to get a new angle on the genre.
Taken from the DC Comics VERTIGO comic book series Lucifer, Lucifer Morningstar (Tom Ellis) is literally the Devil. In defiance of his father, you know, God, and bored with his life as the Prince of Hell for 10 billion years, Lucifer decides to take a vacation from torturing souls in Hell. And where else would the Devil go on holiday but the City of Angels? He brings his loyal servant and bodyguard Mazikeen (Lesley-Ann Brandt) with him to Los Angeles and sets up shop as the preeminent nightclub owner and favor doer, with lots of people ending up owing him favors – you know, that whole thing about selling your soul to the Devil? But when a beautiful pop star is killed before his eyes Lucifer finds himself feeling something – actual feelings, that is. Chloe Decker (Lauren German), a failed actress-turned-police detective whose one claim to fame is a topless role in a B-movie that she can't live down, works the case of the pop star's death, and Lucifer wants to help her out. Chloe is sort of repulsed by Lucifer and Lucifer finds it odd that Chloe is the only person he can't seem to work his mind tricks on (he can usually get anyone to confess their deepest desires). Together, they make odd partners, but can't seem to stop working together. Lucifer starts to find it fascinating working amongst and actually helping humans and this strange man who "believes" he is the Devil intrigues Chloe.
Lucifer is really a basic crime procedural with average investigations of murders, drug deals gone awry, sneaker magnates faking shootouts, and all the usual setups, but it does it with a devilish charm, a tinge of dark humor, and a sexy repartee between the two leads that makes the series engaging to watch. Of course there are the supernatural elements that make it feel like a mash-up of Bones, Sleepy Hollow, and The Mentalist.
The Video
Lucifer was shot in HD on the Arri Alexa with Leica Summilux-C lenses. The Blu-ray from Warner Bros. is encoded in AVC 1080p with the picture at its original 1.78:1 framing. Having watched Lucifer via FiOS in its original run, I can say that this Blu-ray is vastly superior in every way. The video noise and posterization are all gone. Now, the picture is clean and crisp with inky blacks and stable, nuanced shadows. Flesh tones look natural and there are no problems with macroblocking, posterization, edge enhancement, or video noise.
The Audio
Lucifer comes only with an English DTS-HD Master Audio 5.1 soundtrack, but it's a good one for a TV series. There's a fair amount of atmospherics in the surround channels, some discrete sound effects in the surrounds, good dynamics, and clean dialogue. There is also ample low-end to support the contemporary musical soundtrack and gunshots.
The Supplements
The Comic-Con panel and Gag Reel are the strongest extras on what is a rather slight set that is made up of mainly EPK-style promotional material
Deleted Scenes
Character Profiles:

Amenadiel (1.78:1; 1080p/24; 00:01:06)
Chloe Decker (1.78:1; 1080p/24; 00:01:11)
Linda (1.78:1; 1080p/24; 00:01:20)
Dan (1.78:1; 1080p/24; 00:01:01)

2015 Comic-Con Panel (1.78:1; 1080p/24; 00:13:02)
Devilish Duo (1.78:1; 1080p/24; 00:01:31)
Lucifer Morningstar (1.78:1; 1080p/24; 00:00:53)
Gag Reel (1.78:1; 1080i/60; 00:06:13)
The Final Assessment
There isn't really anything new about turning the Devil into a slick, modern-day "gentleman" in fashionable attire who likes sex and tempting humans to act upon their base desires. There also isn't anything entirely original about a crime procedural set in Los Angeles that puts together male and female partners who kind of don't get along but have lots of sexual tension. So what is it that makes Lucifer work? Well, it's just guilty fun and it is a campy take on multiple genres. There's a lot of room for improvement, so keep an eye on this one.
Lucifer: The Complete First Season (TheaterByte Blu-ray Review)
Warner Archive Collection
Studios & Distributors
$39.98
MSRP
23 August 2016
Release Date
English DTS-HD MA 5.1
Audio
Summary
Lucifer can be devilish fun at times, but fans of the comics may be disappointed by what is ultimately a by-the-numbers crime procedural with a few supernatural flourishes.
What people say... Login to rate
Be the first to leave a review.
Show more