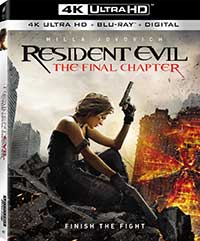 Resident Evil: The Final Chapter begins looking like there may be some potential in this sixth installment of the long-running franchise, but that quickly dissipates after the lengthy prologue laying out the details from the past we're supposed to remember. This feels longer than the yawn-inducing prologue to Underworld: Blood Wars that mired that film in its drudgery. Well, drudgery not-engaged here, but absolute incomprehensible chaos takes its place.
Paul W.S. Anderson returns to write and direct for the fourth time in the franchise's history that his seen his wife Mila Jovovich play the badass female lead Alice, the super-soldier in an ongoing viral outbreak-cum-zombie apocalypse, becoming one of the most iconic female action heroes on the screen. Sadly, that hasn't translated into her character evolving beyond the two-dimensional, ironic given this whole thing is based on a 3DCG video game.
To make a long story short, a virus was unleashed, the so-called "T-Virus", Alice was awakened with no memories, the mysterious Umbrella Corporation has been fighting her, possibly manipulating her, for years, using an AI program called Alicia or "The Red Queen" (a CGI manifestation of a young Alice, played my Anderson and Jovovich's real-life daughter Ever Anderson). The nefarious Dr. Isaacs from Umbrella Corporation leads the charge to stop Alice from bringing down their plans, which, as it turns out, are to wipe out all the parts of humanity they deem unfit to populate the Earth, saving it for the chosen .01% who are cryogenically waiting out the apocalypse brought on by the virus they created. Now Alice is in search of a cure that can stop the last remnants of humanity's colonies from being wiped out, and it will take he right back into the heart of Raccoon City and a confrontation in Umbrella Corp.'s Hive.
Don't stretch your brain too much, Resident Evil has never been about great storytelling or character development, it has always been about the action, and while this film certainly has an overabundance of the latter, it is so poorly edited you better have a bucket on standby for the inevitable motion sickness it will cause.
Anderson is so fidgety with the action sequences they completely lose their impact. Shaky cameras, multiple edits, close-ups that mask the number of people involved in a fight, so many cut-aways you'd be forgiven for losing track of just what point in the fight sequence you are. Add to this the tech layer of this film where the characters have tech embedded in themselves that gives them predictive algorithms so they can plot out multiple future outcomes of a fight. Yes, we have to sit through variations on these action sequences that are sometimes better than the dud that is meant to be the final payoff.
Resident Evil obviously has its followers and if this is truly the final chapter (of that I have my doubts given the open ending), it's a shame it couldn't go out with the big bang that it opened on. Maybe in 5 or 10 years time under new direction and with a new leading actress, this one will be ready for a resurrection from the undead.
The Video
Resident Evil: The Final Chapter was shot at 5K resolution on the Red Epic Dragon with Zeiss Ultra Prime and Angenieux Optimo lenses and a 4K DI (Digital Intermediate) was used in the processing stage, so the '4K' Ultra HD Blu-ray is about as pure as it can get. It comes to disc in an HEVC 2160p encodement with HDR10 high dynamic range. This is a dark looking film, very dark, so don't expect anything to jump out at you. The shadowy, desaturated image is nothing special to look at, but the HDR and wider color gamut does help in very particular ways. Lights really standout in the darkness and so do the numerous tech gadgets that the franchise is known for. When the 'Red Queen' appears, she really 'pops' in vivid color and brightness. The Blu-ray does not bring these things out as much and we get much more darkness and crush on the standard Blu-ray, but it still has good detail with little artifacts.
The Audio
The audio is really where its at on this release. The film ran in theaters with Atmos and Auro 11.1 depending on where and how you viewed it. The English Atmos track on the Ultra HD is wicked, utilizing every channel, including those Atmos overheads for a lot of solid, discrete effects, ambience, and skin-crawling atmospherics. The explosions and gunplay really rumble as well and dialogue is clear as can be.
The Supplements
The brief making of featurettes included on the disc hardly make for required viewing, but they do provide some interview segments and behind-the-scenes footage with the cast and crew. The coolest thing provided is the sneak peek of the next animated RE feature from Capcom, a franchise some argue has been stronger than this live action one.
Digital HD UltraViolet
Stunts & Weaponry (1.78:1; 1080p/24; 00:09:03)
Explore the Hive (1.78:1; 00:04:18)
The Bad Ass Trinity & the Women of Resident Evil (1.78:1; 1080p/24; 00:06:32)
Sneak Peek: Resident Evil: Vendetta (1.78:1; 1080p/24; 00:04:22)
The Final Assessment
Resident Evil: The Final Chapter goes out, perhaps, with a chaotic film more like a poorly put together video game than a well-made movie. The Ultra HD disc does do the very dark film justice with fine highlights and extended colors, but more importantly a rollicking Atmos soundtrack.
[amazon_auto_links id="100171"]
R (for sequences of violence throughout)
Rating Certificate
Capcom Company | Capcom Entertainment | Constantin Film International | Constantin Film Produktion | Davis-Films | Don Carmody Productions | Impact Pictures | Screen Gems | Sony Pictures Home Entertainment
Studios & Distributors
Paul W.S. Anderson
Director
HEVC (H.265) 2160p (UHD) w/ HDR10 | AVC 1080p (BD)
Video
English Dolby Atmos (Dolby TrueHD 7.1 Compatible) (Ultra HD Only)
Audio
English | English SDH | Cantonese | Chinese (Traditional) | Chinese (Simplified) | French | Indonesian | Korean | Malay | Portuguese | Spanish | Thai | Vietnamese
Subtitles
English DTS-HD MA 7.1 (BD Only) | English Descriptive Audio | French DD 5.1 | Portuguese DTS-HD MA 5.1 | Spanish DD 5.1 | Thai DD 5.1
Secondary Audio
Summary
Resident Evil ends (supposedly) on this badly edited, hard to follow, hyperactive story that can hardly focus a camera on a scene, let alone one character. The Ultra HD is fantastic, especially the audio mix, but that's little reward.
What people say... Login to rate
Be the first to leave a review.
Show more