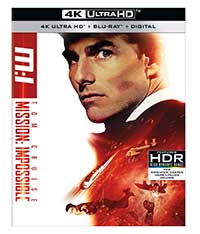 Brian de Palma's 1996 adaptation of the classic television series Mission: Impossible bears little resemblance to its source outside of a theme song, mission recordings that explode, and the character Jim Phelps (Jon Voight) who takes a backseat to his young protégé Ethan Hunt (Tom Cruise).
After he is framed for killing his entire team while on a mission to recover critical classified documents stolen from the government, and branded a traitor, Ethan Hunt determines to uncover the real culprits and clear his name. He puts together a group of off-book rogue agents (Jean Reno, Ving Rhames), and they set off on some undercover cat-and-mouse work to recover the original stolen files and smoke out the traitor.
The story can become a little convoluted, but De Palma's surprisingly tempered pace for this first outing in what is now a very long running franchise, is drenched in high tension and enough visual effects, explosions, and death defying stunts like Tom Cruise hanging from a ventilation shaft by a wire to keep viewers well entertained.
The Video
Mission: Impossible hits 4K Ultra HD in a new HEVC 2160p (4K) encodement with Dolby Vision HDR that is stunning. The movie was originally shot on Panavision Panaflex Platinum cameras with Panavision C-Series lenses using Eastman EXR 500T 5298 35mm film stock, and that film looks crisp and organic here. Some shots do tend to soften a little as a consequence of the production and perhaps time, but overall this is clean and has a high level of detail. The colors and dynamic range thanks to the Dolby Vision are often breathtaking. The scene in Act 1 where Tom Cruise approaches the restaurant/aquarium leaps from the screen with shimmering cerulean blues. Highlights really 'pop' nicely as well. Early in the film as Jon Voight is giving his briefing to the team, you can see the light reflecting off the metal pen clip on his pocket, something that doesn't really standout much on the Blu-ray.
The Audio
The Ultra HD 4K Blu-ray of Mission: Impossible comes with a Dolby TrueHD 5.1 mix, so no new immersive audio track in the form of Atmos or DTS:X here. The mix holds up remarkably well with deep low end for the explosions, clear dialogue and good atmospherics. My one issue with it is that the high frequencies are a bit too tweaked and can become a little fatiguing.
The Supplements
The supplements all reside on the included Blu-ray, which is simply a repackage of the previously available disc from the old format war days as can be seen by the old "Paramount High Definition" promo at the beginning and the lack of any lossless audio on the disc. Also, all of the special features are the old standard definition EPK-style featurettes. UltraViolet & iTunes digital copies are included as well.
Remarkable – 40 Years of Creating the Impossible (1.33:1; SD; 00:11:26)
Explosive Exploits (1.33:1; SD; 00:05:09)
Spies Among Us (1.33:1; SD; 00:08:40)
Catching the Train (1.33:1; SD; 00:02:39)
International Spy Museum (1.33:1; SD; 00:06:31)
Agent Dossiers
Excellence in Film (1.33:1; SD; 00:09:15) – In 2005 the British Academy of Film and Television Arts (BAFTA) honored Tom Cruise with the Stanley Kubrick Britannia Award for Excellence in Film. This tribute was shown during that award ceremony.
Generation: Cruise (1.33:1; SD; 00:03:36) – In 2005 the MTV Movie Awards honored Tom Cruise with the first ever MTV Generation Award. This tribute was shown during that award ceremony.
Photo Gallery
Marketing:

Theatrical Trailers
TV Spots
The Final Assessment
This first entry in the M:I franchise may arguably be its most restrained, and De Palma turns in a sometimes confusing, but no less entertaining thriller dripping in atmosphere that doesn't let the pacing and visual effect take over. This new 4K Ultra HD reissue from Paramount with Dolby Vision may have been better served if it also had a new Atmos mix, but it's no less enjoyable.
Mission: Impossible is out on 4K Ultra HD Combo Pack June 26, 2018 from Paramount
PG-13 (for some intense action violence)
Rating Certificate
Paramount Pictures | Cruise/Wagner Productions | Paramount Home Entertainment
Studios & Distributors
Bruce Geller (television series) | David Koepp (story & screenplay) | Steven Zaillian (story) | Robert Towne (screenplay)
Writer
$31.99
MSRP
HEVC (H.265) 2160p (4K) | AVC 1080p (Blu-ray)
Video
Dolby Vision (Compatible w/ HDR10)
HDR Format
English Dolby TrueHD 5.1
Primary Audio
English Audio Description | French DD 5.1 | Portuguese DD 5.1 | Spanish DD 5.1
Secondary Audio
English | English SDH | French | Spanish
Subtitles
HDR Effect (If Applicable)
Summary
A covert ops agent (Tom Cruise) framed for killing his team while on a mission to recover classified documents decides to put together a team of rogue agents in order to find the real culprits and clear his name. De Palma's adaptation of the Mission: Impossible TV series, which was also the first entry in the film franchise, is more tempered in its pacing than subsequent films, but still carries enough visual effects and action to keep viewers entertained. This new 4K Ultra HD Blu-ray with Dolby Vision is missing a new immersive Atmos or DTS:X audio mix, but it still looks stunning.
What people say... Login to rate
Be the first to leave a review.
Show more