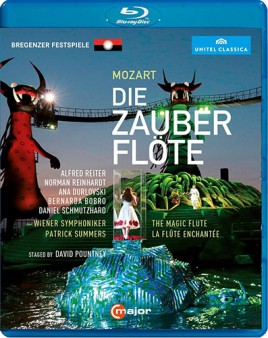 – –

The Performance
[Rating:4/5]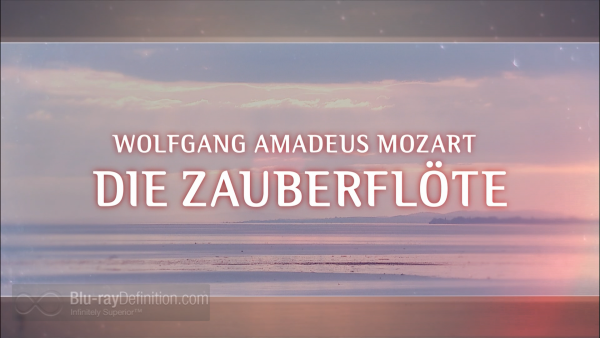 Mozart's penultimate opera, the lighthearted singspiel, Die Zauberflöte (The Magic Flute), has become a favored child in the Blu-ray world with this being its third version in the past five years. Two previous productions have originated in major venues, The Royal Opera House (London) and La Scala (Milan). The current 2013 production comes from the Bregenz Festival, mounted on a floating stage in Austria's Lake Constance. Having seen several Blu-rays of Bregenz Festival opera productions, I expected some nontraditional, occasional over-the-top special effects and we certainly get these here (more about those later).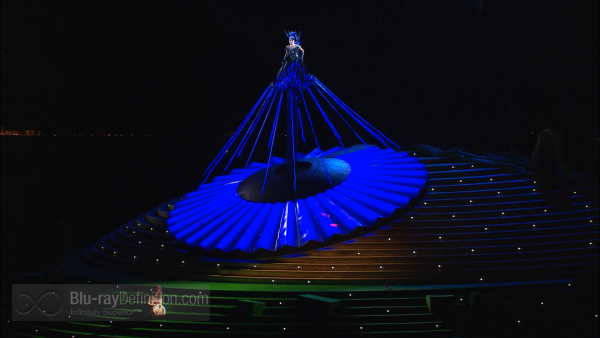 This is a time-honored tale of good versus evil in which love eventually conquers all. Prince Tamino (Norman Reinhardt) is sent on a quest by the Three Ladies (Magdalena Anna Hofmann, Verena Gunz, and Katrin Wundsam) to rescue Pamina (Bernada Bobro), daughter of the evil Queen of the Night (Ana Zurlovski) and the high Priest Sarastro (Alfred Reiter) from the scoundrel Monostatos (Martin Koch). He is aided in his quest by the simple bird-catcher Papageno (Daniel Schmutzhard). Overcoming the forces of darkness with his "magic flute," Tamino wins Pamina and Papageno gets his own true love, the maiden Papagena (Denise Beck).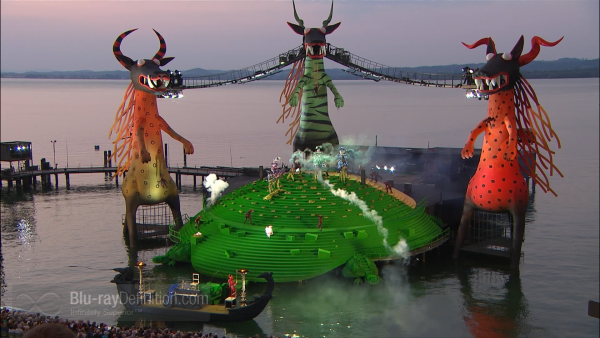 I cannot think of many venues that offer more challenges for audio and video recordists or stage directors than the Bregenz site. Yet, this production seems up to challenge at least from the standpoint of stage business and recording properties. Patrick Summers keeps the Wiener Symphoniker and Prague Philharmonic Chorus well coordinated with the voices on stage that he could only have seen with a video monitor (the pit faces away from the stage). What makes this a most interesting watch is David Poutney's stage direction, the costumes of Marie-Jeanne Locca and the sets by Johan Engles.
Video Quality
[Rating:4.5/5]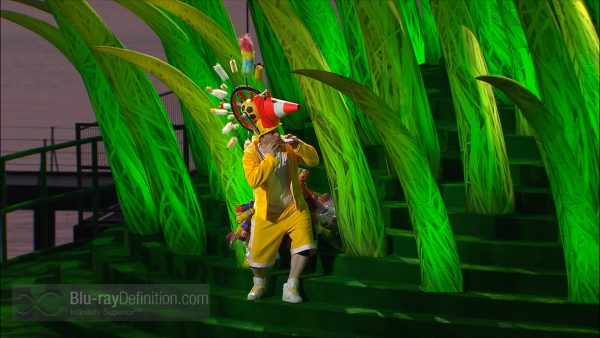 Considering that night falls early during the production, the stage lighting is brilliant and the cameras get some great panoramic and close up shots. The costumes of the singers (and puppets) are never less than interesting and, on occasion, like that of the Queen of the Night, just stunning. Colors are excellent.
Audio Quality
[Rating:4/5]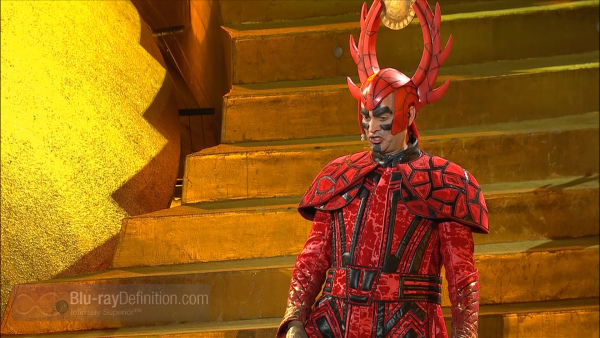 I was amazed by how good an overall balance was achieved between the obviously miked singers and distant orchestra. There are occasional miscalculations in sound level but these are rare. Nifty sound effects abound and the surround version gets these much better than the two-channel alternative, although both are quite effective.
Supplemental Materials
[Rating:1/5]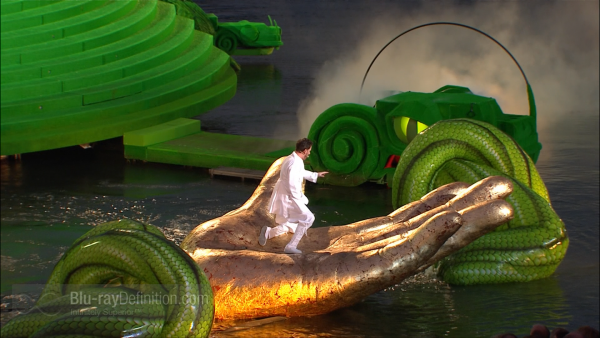 Trailers and a brief booklet is all that we get.
The Definitive Word
Overall:
[Rating:4/5]
This new Blu-ray release of Die Zauberflöte, represents a significant departure from its predecessors in both natural setting and innovative staging, sets, and costumes. Where is falls short of the two previous productions is in the overall vocal performances of its principals. Nothing objectionable, just nothing terribly distinctive happening with most of this cast. The Covent Garden/Colin Davis-directed production scores significant advantages with stars like Simon Keenlyside, Dorothea Roschmann, Diana Damrau, and Franz-Josef Selig. For the best Tamino on Blu-ray, we need to go to the La Scala production featuring a rising star tenor, Samir Pirgu. Nonetheless, this Blu-ray has substantial visual appeal and is certainly one that I am going to enjoy watching again.
Additional Screen Captures
[amazon-product region="uk" tracking_id="bluraydefinit-21″]B00EHDXYJ0[/amazon-product]
[amazon-product region="ca" tracking_id="bluraydefinit-20″]B00EHDXYJ0[/amazon-product]
[amazon-product]B00EHDXYJ0[/amazon-product]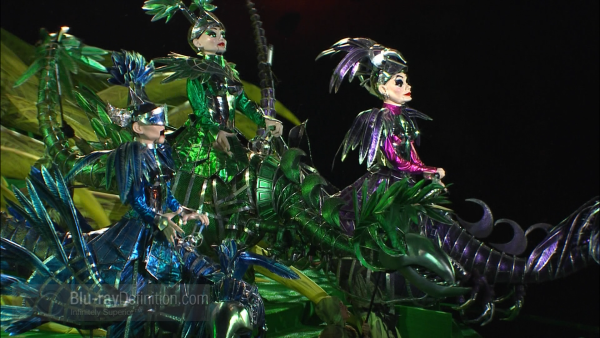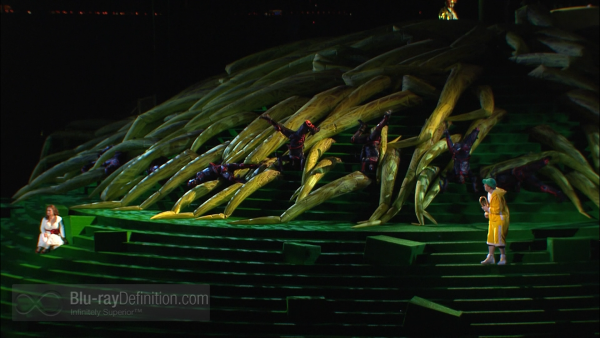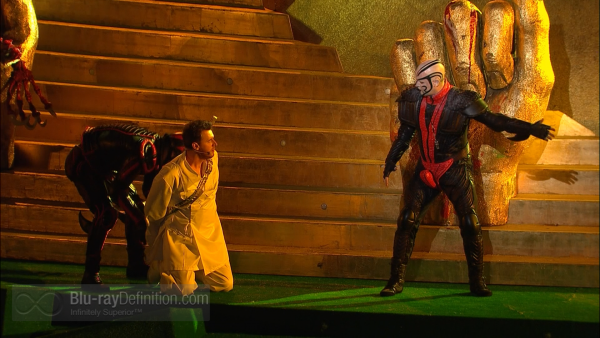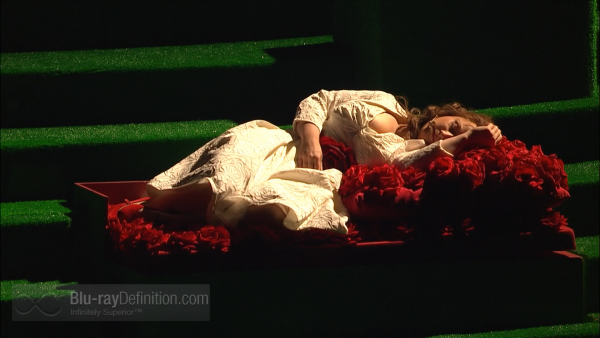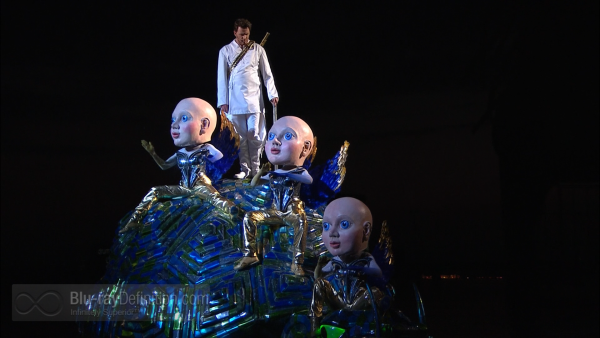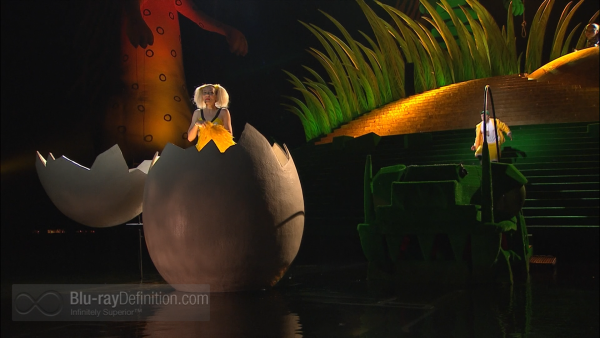 [amazon-product region="uk" tracking_id="bluraydefinit-21″]B00EHDXYJ0[/amazon-product]
[amazon-product region="ca" tracking_id="bluraydefinit-20″]B00EHDXYJ0[/amazon-product]
[amazon-product]B00EHDXYJ0[/amazon-product]