Aspect Ratio: 1.78:1
Video Codec: AVC/MPEG-4
Resolution: 1080p/24 (23.976Hz)

Audio Codec: Japanese Dolby TrueHD 2.0(48kHz/24-bit), English Dolby TrueHD 5.1

Subtitles: English

Subtitles Color: White

Region: A (Region-Locked)

Rating: TV-MA

Discs: 2 (2 x Blu-ray)
Digital Copies: N/A

Run Time: 325 Mins.

Studio: FUNimaion Entertainment

Blu-ray Release Date: January 15, 2013
List Price: $69.98
–
Overall
[Rating:4/5]
The Series
[Rating:4/5]
Video Quality
[Rating:2.5/5]
Audio Quality
[Rating:4/5]
Supplemental Materials
[Rating:4/5]
Click thumbnails for high-resolution 1920X1080p screen captures
(All TheaterByte screen captures are lightly compressed with lossy JPEG at 100% quality setting and are meant as a general representation of the content. They do not fully reveal the capabilities of the Blu-ray format)
–
The Series
[Rating:4/5]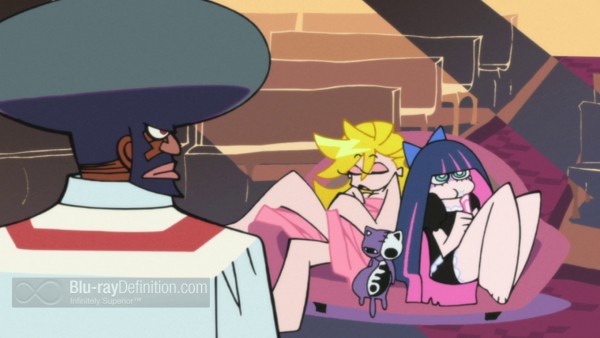 The wild and whacky series, Panty & Stocking with Garterbelt, pays a great homage in its animation style to the the American-style animation such as Power Puff Girls or My Little Pony and so forth. That, however, is where the similarities end. The series is one long sexual innuendo (thus the TV-MA rating), cheap jokes, one-liners, and fantastically funny spoofs on Western cultural icons. Everything from Raiders of the Lost Arc to classic westerns are sent-up, and they are all done with the best of tongue-in-cheek, naughty, raunchy flair.
The story is about the Anarchy sisters, Panty and Stocking, two misbehaving angels who get booted out of heaven because of their bad behavior. Sent down to Daten City, a place on the border between Heaven and Hell, the two must battle evil spirits known as "ghosts," using their lingerie as weapons with the help of a reformed criminal turned perverted preacher, Garterbelt. If they kill enough ghosts they can collect enough Heaven Coins to buy their way back into Heaven. The problem is, they lack motivation and are too easily sidetracked by their vices. The blonde Panty is a major slut who wants to have sex with just about every guy she meets and the goth chick Stocking is addicted to sugary sweets. They also have two demon sisters in their way, Scanty and Kneesocks, doing everything in their power to destroy them.
The language flies freely in Panty & Stocking (read: lots of profanity), but it's cleverly written, sarcastic and intelligent. It mocks religion, the absurdity of mainstream media, Western and Eastern, and is generally liberal with its ridicule — no one or no thing is safe. The animation is often utilized as a tool as well. The creators laughingly mock us and other animated series with their stylized transformation sequence of the Anarchy sisters as they are about to smite their opponents. They switch from the cutsie, cartoonish style to full-on, sexy, realistic looks at an almost fan service depiction of the girls as they peel off their lingerie. And then we're back into the off-kilter, almost chibi-style world of Panty & Stocking again.
Video Quality
[Rating:2.5/5]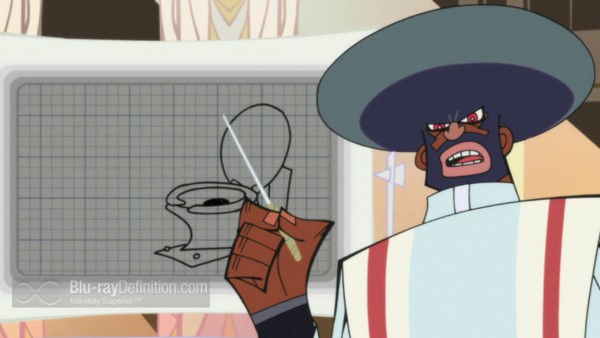 The anime world continues their insistence on releasing productions originally done in standard definition to Blu-ray, as if the people who purchase anime won't notice it's not really high definition and not quite worth the extra ducats. It's not that there isn't some advantage to be gained here – SD material does have more breathing room, is granted a superior codec (AVC/MPEG-4 in this instance) over MPEG-2, and is less heavily compressed, therefore shows less noise, a little more detail, and looks a bit more crisp. It can also be up-scaled using the finest professional video processors, rather than consumer grade, to 1080p/24, if you believe that makes any difference. Here, on this release, Panty & Stocking with Garterbelt still looks like what it is – standard definition. It's soft, it shows video noise in the color fills, and there is definite stairstepping around the edges that can be spotted from time to time. High definition it is not, even if it is a mild upgrade over the DVD edition.
Audio Quality
[Rating:4/5]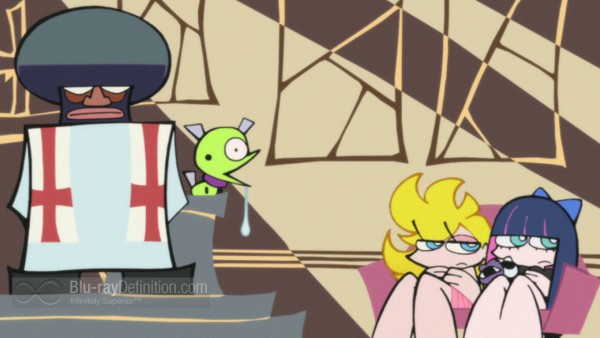 At least the audio side of things does do much better on Blu-ray with these releases, because lossless soundtracks can be provided. Here with have a fine Japanese Dolby TrueHD 2.0 (48kHz/24-bit) stereo track and the English dub in Dolby TrueHD 5.1 (48kHz/24-bit). The English dub is pretty far off from the literal Japanese translation, but it does capture the spirit and humor of the series quite well and the mix is engaging, nicely utilizing the surround channels with lots of atmospherics and discrete panning. It has a fair amount of dynamic range as well and very clear dialogue. As to be expected, the Japanese track is not as spacious and involving, but it is still effective and true to the source. The stereo imaging is quite fine as well as is the dialogue reproduction.
Supplemental Materials
[Rating:4/5]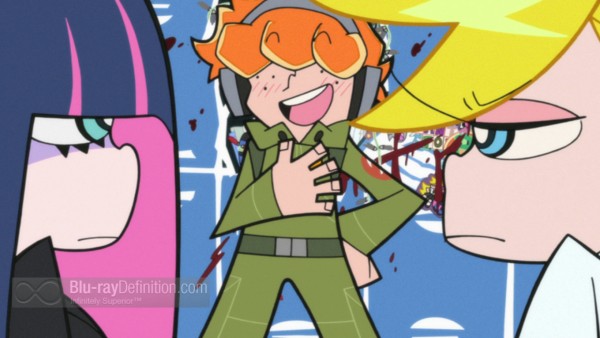 This collection is packed with supplements, including the Panty & Stocking in Sanitary Box OVA.
The supplements:
Panty & Stocking with Garterbelt Revealed: Unrated Cut (1.78:1; 1080p/24; 00:22:54) – The English cast and production crew offer a lighthearted discussion on the series.
Sit Down with Panty and Stocking (1.78:1; 1080p/24; 00:11:56) The discussion continues with eh English cast/crew.
Panty and Stocking in Sanitary Box (1.78:1; 1080p/24; 00:08:45) – Panty & Stocking OVA
Ghost Explosion Collection (1.78:1; 1080i/60; 00:21:41) – A montage of the ghost explosions.
Ghost Explosion Collection Documentary (1.78:1; 1080i/60; 00:40:06) – Go behind the scenes with the production crew as they film the practical effects for the numerous ghost explosions throughout the series.
TV Promotional Video (1.78:1; 1080p/24; 00:01:29)
Official Home Page Commercial Collection (1.78:1; 1080i/60; 00:01:59)
Pre-Airing Commercial Collection (1.78:1; 1080i/60; 00:01:11)
Now Airing Commercial Collection (1.78:1; 1080i/60; 00:01:21)
Post-Airing Commercial Collection 2 (1.78:1; 1080i/60; 00:02:47)
DVD Commercial Collection 1 (1.78:1; 1080i/60; 00:00:33)
DVD Commercial Collection 2 (1.78:1; 1080i/60; 00:04:19)
Talk Live Animated at Loft/Plus One (1.78:1; 1080i/60; 00:23:51) – The Japanese voice actors for Panty & Stocking join the director for a live Q&A.
Making of Lingerie Scene (1.78:1; 1080i/60; 00:10:59)
Outtakes (1.78:1; 1080p/24; 00:16:02) – English voice cast outtakes.
U.S. Trailer (1.78:1; 1080p/24; 00:01:01)
Textless Opening Song – Theme for Panty & Stocking
Textless Closing Song – Fallen Angel
Funimation Trailers
The Definitive Word
Overall:
[Rating:4/5]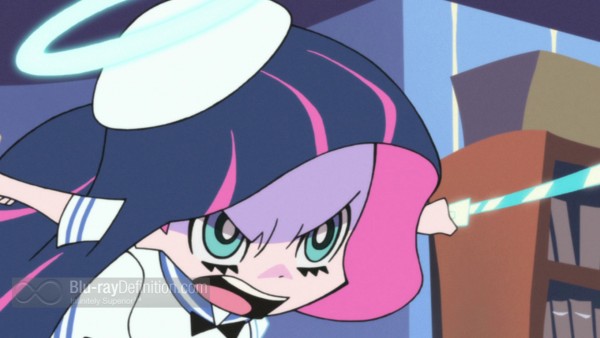 A laugh a minute, raunchy, over-the-top, riot of a series, Panty & Stocking with Garterbelt is at its best when it "keeps it simple, stupid." Even though about half way through the writers begin to introduce some sort of thinly cohesive running storyline that ends the series with a cliffhanger, one can only assume (or hope) that with a series like this, that will be quickly resolved in any second season and it will be on to business as usual. More cat fights, more sex, more absurdity. Recommended if you're looking for something completely different.
Additional Screen Captures
[amazon-product]B009LA1R0M[/amazon-product]
Purchase Panty & Stocking with Garterbelt on Blu-ray at CD Universe
Shop for more Blu-ray titles at Amazon.com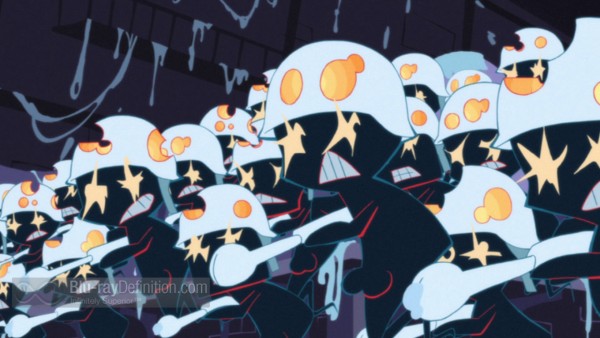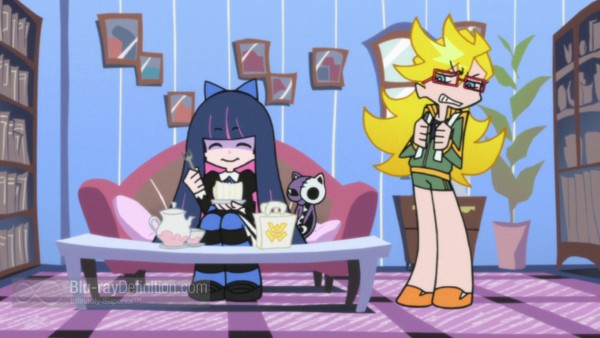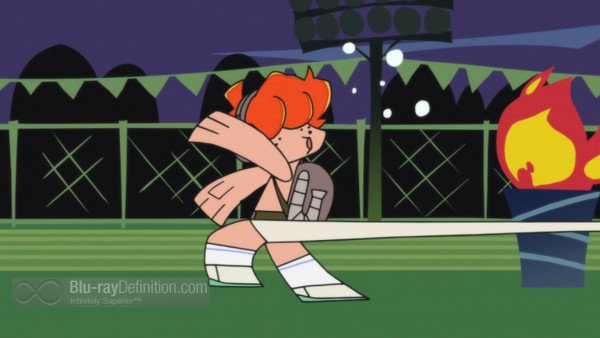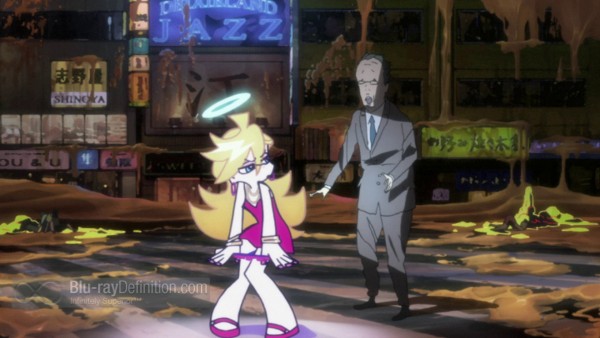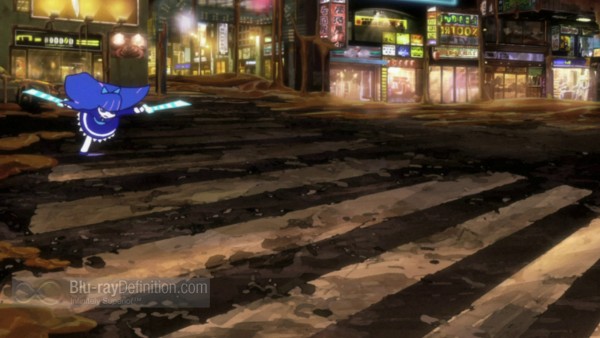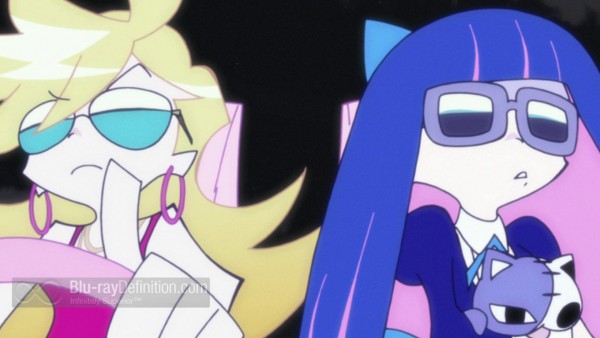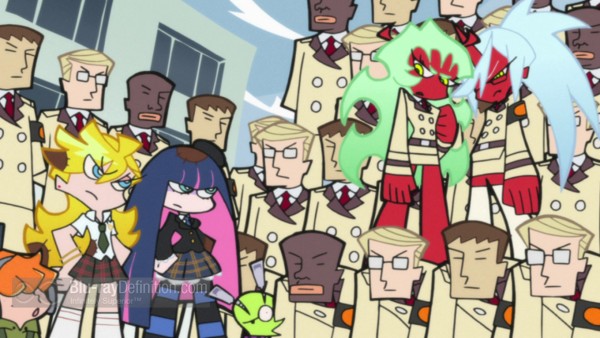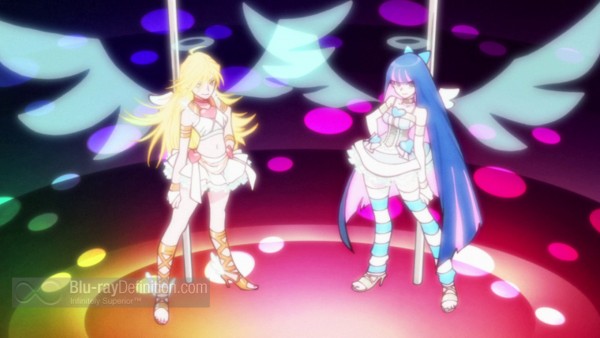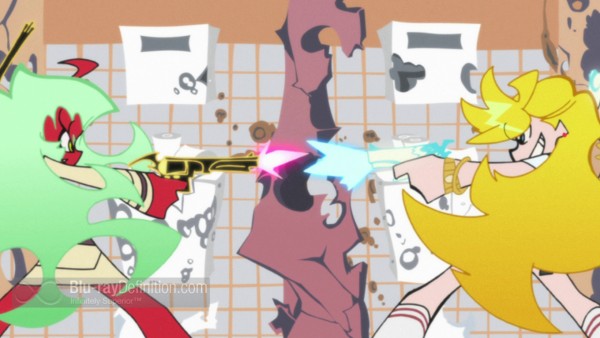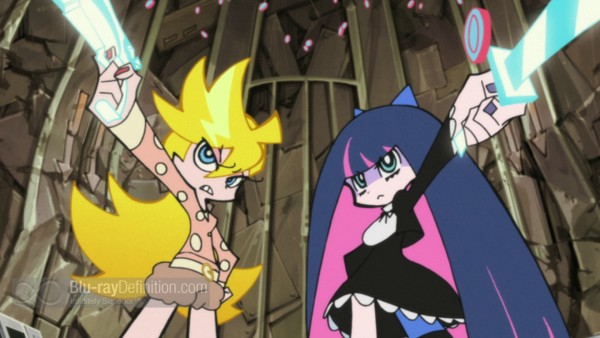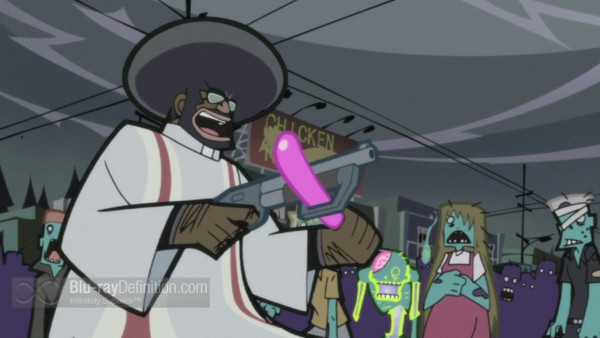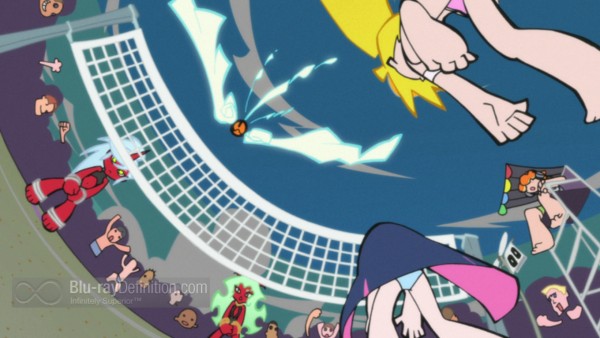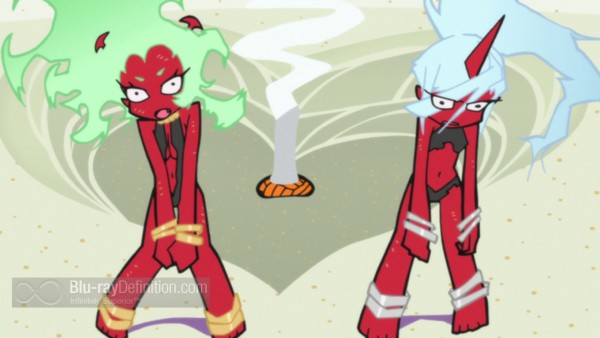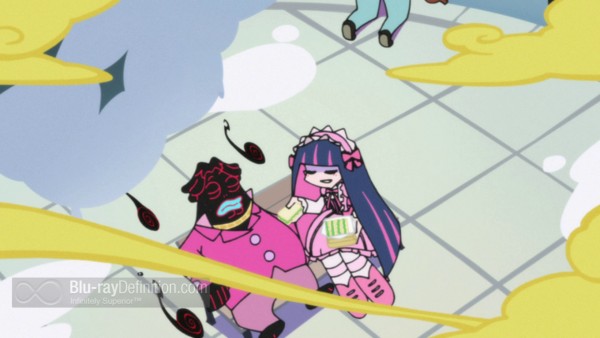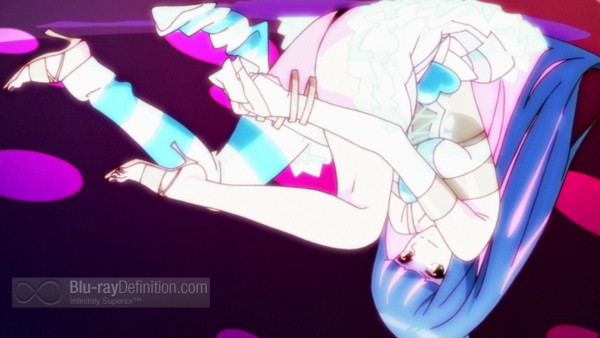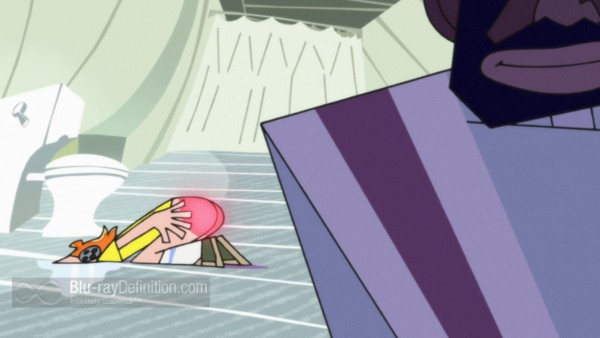 –
[amazon-product]B009LA1R0M[/amazon-product]
Purchase Panty & Stocking with Garterbelt on Blu-ray at CD Universe
Shop for more Blu-ray titles at Amazon.com
Overall
[Rating:4/5]
The Series
[Rating:4/5]
Video Quality
[Rating:2.5/5]
Audio Quality
[Rating:4/5]
Supplemental Materials
[Rating:4/5]
–