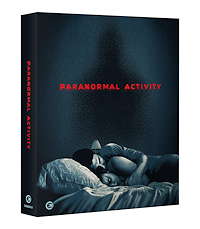 Paranormal Activity is the found footage horror sleeper hit from 2007 that was perhaps one of the first truly successful films of the style to follow in the wake of 1999's The Blair Witch Project.
In this new twist on the haunted house tale, a haunted house quickly starts to trouble twentysomething couple Katie (Katie Featherson) and Micah (Micah Sloat) when they move into their new home in San Diego, CA. Micah sets up an elaborate security camera system in addition to constantly filming Katie with his expensive new camera (otherwise, how else could we have all this found footage) to study exactly what is going on. Katie, who believes a malevolent spirit has been following and harassing her since childhood, wants Micah to leave things alone, but he opens the door to further danger when he refuses to heed her warnings and uses a Ouija board to communicate with the entity.
The power of Paranormal Activity is not so much what happens, but what doesn't happen and what you don't see. It's the dark rooms, the slowly moving bedroom door as the couple sleep through the night, a swinging chandelier, footprints left on the floor, a reflection on a glass door. Director Oren Peli used the small budget to sharpen the fear of the unknown into what would be become an phenomenon and left just enough room in the open ending to create a franchise.

Paranormal Activity (2007)
The Video
Paranormal Activity was shot on the Sony HDR-FX1in the HDV 1080i format initially and was intended to look like low quality "found footage" from handheld cameras and security cameras. There's not much to be done to make this movie look great on these current formats, but this Blu-ray, encoded in AVC 1080p/24 and framed at 1.85:1 presents it as well as it can.
The Audio
The audio mix, offered here in both DTS-HD Master Audio 5.1 and 2.0 stereo, is also nothing too special, but it works. The sound in this low budget affair is mostly room recorded and picks up that ambient room effect, and it can also get a bit muddled at times. The 5.1 mix, frankly, doesn't bring too much to the table as there isn't much in the way of discrete effects in the surrounds or even very deep low frequencies in the LFE.
The Supplements
This is another stuffed limited edition package from Second Sight of a catalogue film that fans will want to snatch up. It's packed with new interviews, two excellent audio commentaries, and collectible art cards, all in a beautiful, rigid slipcase with new artwork.
Limited Edition Contents:
Rigid slipcase with new artwork by James Neal
Softcover book with new essays by Sarah Appleton, Anton Bitel, Shellie McMurdo, and Pete Turner
6 Collectors' Art Cards
Audio Commentary by Oren Peli
Audio Commentary by Mary Beth McAndrews and Terry Mesnard
NEW Breaking Normal: An Interview with Oren Peli (1080p; 00:39:07)
NEW The Marked One: An Interview with Katie Featherston (1080p; 00:29:47)
NEW The Man with the Camera: An Interview with Micah Sloat (1080p; 00:24:58)
NEW The Possessed: An Interview with Ashley Palmer (1080p; 00:16:00)
Alternative Ending (1080p; 00:04:54)
Festival Cut Ending (1080p; 00:07:05)
Deleted Scene (1080p; 00:02:53)
Trailers and TV Spots (1080p)
The Final Assessment
A new millennium horror film that has taken its place among the classics, this new limited edition set from Second Sight will make a great edition to anyone's collection.
Paranormal Activity (Limited Edition) is out in the UK September 20, 2021 from Second Sight Films

---
Rating Certificate: R (for language)
Studios & Distributors: Solana Films | Blumhouse Productions | Paramount Pictures | Second Sight Films
Director: Oren Peli
Written By: Oren Peli
Run Time: 86 Mins.
Street Date: 30 August 2021
Aspect Ratio: 1.85:1
Video Format: AVC 1080p
Primary Audio: English DTS-HD MA 5.1
Secondary Audio: English DTS-HD MA 2.0 Stereo
Subtitles: English SDH