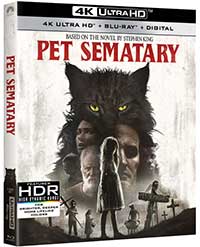 Pet Sematary is the 2019 remake of the 1989 adaptation of the Stephen King novel and film of the same name. This new edition stays pretty close to the original film and to the traditional horror tropes, veering away from what has become a tired gore porn genre of today. While this story of a family moving into a new town, their children coming across strange occurrences while the parents in their more cynical adulthood are quick to dismiss what should be danger signs should be a welcome return to a truly scary and traditional classic genre of horror, the fact that it is a retread of such a classic film gives it a tough job selling itself.
Dr. Louis Creed (Jason Clarke) and his wife, Rachel (Amy Seimetz), relocate from Boston to rural Maine with their two young children. They immediately notice the local children in what appears to be ritualistic garb heading towards a local burial ground. Their young daughter Ellie (Jeté Laurence) goes out exploring and find the burial ground to be a local pet cemetery, misspelled as "pet sematary." When her cat dies, local Jud (John Lithgow) convinces Louis to go out at night and bury the cat the in the eerie cemetery, which the two of them do. That's when things turn strange – the cat returns from dead, now feral, yet Ellie never knows her cat had died. And things only get weirder from there when tragedy a tragedy strikes again and the temptation to use the burial ground's powers is too much to resist.
Pet Sematary is heavy on the atmosphere and directors Kevin Kölsch and Dennis Widmyer keep an amazing sense of terror, suspense, and gloom throughout. The visuals also play a big part in the horror – the creepiness of the burial ground drenched in blue-tinted moonlight and inky shadows, decrepit wooden crosses reaching up like skeletons out of the ground silhouetted by an indigo sky.
Unfortunately, mood can only go so far towards holding one's attention, and this film's predictability and familiarity are its downfall. Its plot twists are telegraphed from the opening scenes and anyone familiar with the original will already know the basics, which spoils the surprise and lack of surprise softens the scares for any horror film.
The Video
Pet Sematary is an original anamorphic digital production shot in ARRIRAW 2.8K and 3.4K resolutions on the Arri Alexa Mini and Arri Alexa SXT Plus cameras with Hawk V-Lite anamorphic lenses. The film was mastered in Dolby Vision HDR with a digital intermediate and arrives on 4K Ultra HD Blu-ray in a 2160p (4K) encodement framed at 2.39:1 with Dolby Vision. The high amount of detail is immediately noticeable and the extended shadow nuance and color gamut from the Dolby Vision does wonders, particularly in the graveyard scenes where the highlights such as flashlights and the moonlight 'pop' brilliantly against the multiple blue-hued shadows.
The Audio
Pet Sematary comes with an immersive, object-oriented English Dolby Atmos mix on both the 4K Ultra HD disc and the Blu-ray Disc. This is fantastic mix perfectly suited to a horror film, with oodles of atmosphere mixed through the surround channels and overhead/height channels. Jump scares really scare, falling down on your head and creeping up from behind.
The Supplements
The special features are numerous, but not especially compelling, although the alternate ending and additional side story-type extras such as "The Tale of Timmy Baterman" are candy for horror fans who love special features and extras. In total we get about ninety-minutes of special features.
Digital Code
Blu-ray Disc w/ special features and feature film
Alternate Ending (00:09:16)
Deleted and Extended Scenes:

Daddy's Too Nervous Too
Your Kids Are Lucky
I Wanted Her to Die
She Didn't Come Back the Same
I'm Leaving in the Morning
Did You Miss Me Judson?

Night Terrors:
The Tale of Timmy Baterman (2.39:1; 1080p; 00:03:04)
Beyond the Deadfall (1.78:1; 1080p; 01:01:22):

Chapter One: Resurrection
Chapter Two: The Final Resting Place
Chapter Three: The Road to Sorrow
Chapter Four: Death Comes Home
The Final Assessment
There have been a lot of great horror films coming out in the past few years that that have both gone back to traditions and flipped the genre, films like Get Out, The Limehouse Golem, The Babysitter, or The Witch, this remake, while it invokes some of the classic horror of its original source, just feels all too contrived and uninspired. That said, the 4K Ultra HD Blu-ray release is brilliant, particularly the Dolby Atmos audio mix which is enough to have you jumping out of your seat.
Pet Sematary (2019) is out on 4K Ultra HD Combo, Blu-ray, and DVD July 9, 2019 from Paramount
---
R (for horror violence, bloody images, and some language)
Rating Certificate
Alphaville Films | Di Bonaventura Pictures | Paramount Pictures | Room 101
Studios & Distributors
Kevin Kölsch | Dennis Widmyer
Director
Stephen King (novel) | Matt Greenberg (screen story by) | Jeff Buhler (screenplay)
Writer
HEVC (H.265) 2160p (4K) | AVC 1080p (Blu-ray)
Video
Dolby Vision (Compatible w/ HDR10)
HDR Format
English Dolby Atmos (Compatible w/ Dolby TrueHD 7.1)
Primary Audio
English Audio Description | German DD 5.1 | Spanish (Castilian & Latin American) DD 5.1 | French (Parisian & French Canadian) DD 5.1 | Italian DD 5.1 | Portuguese (Brazilian) DD 5.1
Secondary Audio
English | English SDH | Danish | German | Spanish (Castilian & Latin American) | French (Parisian & French Canadian) | Italian | Dutch | Norwegian | Portuguese (Brazilian) | Finnish | Swedish
Subtitles
HDR Effect (If Applicable)
Summary
Dr. Louis Creed (Jason Clarke) and his wife, Rachel (Amy Seimetz), relocate from Boston to rural Maine with their two young children where they immediately notice an eerie burial ground for pets, the "Pet Sematary" that purports to hold strange powers in this remake of the 1989 film, itself an adaptation of the Stephen King novel of the same name. Although it is a welcome throwback to classic horror tropes, this film is all too predictable skirting on its atmosphere more than a strong story. The 4K Ultra HD Blu-ray is brilliantly rendered with an Atmos mix that will have you jumping out of your seat.
What people say... Login to rate
Be the first to leave a review.
Show more