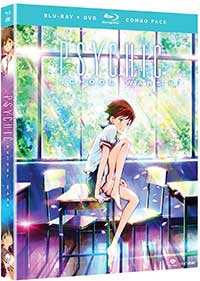 This anime feature film from director Nakamura Ryosuke is taken from the 1973 science fiction novel by Mayumura Taku. It has actually been adapted for the screen, big and small, several times over the years including four television dramas and two live-action films. This latest endeavor produced by Sunrise is the first anime take on the popular novel.
The story here is set in the familiar anime terrain of a middle school and tells of an ostensible transfer student, Kyōgoku Ryōichi, who is actually a time traveler from a future where there has been a disaster causing humanity to abandon the Earth to live on the moon. As part of what is his secret plan to recruit teens from the past with latent psychic abilities and bring them to the future to help save the world where he lives, Ryōichi befriends longtime childhood friends Seki Kenji, an average middle school boy who lives at home with his grandfather and baby sister, and his next-door neighbor Suzuura Natsuki, a boisterous and athletic girl who runs track and has harbored a secret crush on Kenji for years. Little does Kenji know that Ryōichi views him as an enemy that he will soon have to fight. Ryōichi also befriends the very sweet and pretty Harukawa Kahori, a girl who plays the piano and upon whom Kenji has a secret crush on. Kahori develops a crush on Ryōichi and, despite his plans, he begins to develop feelings for her as well.
Somewhere in all of this time traveling, ESP detection, and puppy love, there's a subplot about the students at the middle school, at the urging of Ryōichi, being banned from bringing their cellphones to school, their personalities being altered, and some grand scheme about the future and past being altered that is very, very confusing. I'm sorry to say, but Nakamura and Naito Yuko's screenplay is too messy. I haven't had the pleasure of reading the original novel or seeing any of the earlier adaptations, so I cannot comment on how well they have interpreted it, but I would think the source must be easier to follow than this anime version given how many times people have gone back to it.
I think the main issue is Nakamura could not decide if he wanted Psychic School Wars to be a straight teen romance or a fantasy/sci-fi, so instead it is an uneasy hybrid where the strains of each plot don't ever quite add up. For instance, the big showdown we keep hearing about between Kenji and Ryōichi is preceded by the pair deciding to have a friendly day at the beach together with their girlfriends and that comes after what looked to be a major conflict involving the cellphone confiscations in which Kenji had to "rescue" Natsuki who was being harassed and targeted suddenly by the student council. Why she was being targeted is sort of unclear. It could have been because she didn't show any psychic abilities or it could have been because she saw Ryōichi's time traveling powers. We don't know for sure and that is just one of he many loose ends and confusing  scenarios and threads in the screenplay.
The saving grace of Psychic School Wars is the unbelievably gorgeous animation. This is beautifully drawn animation that is awash in light and shadows, detailed backdrops that look like watercolors and frames filled with falling sakura petals. Any fan of animation will find this film stunningly beautiful, guaranteed.
The Video
The strength, as previously mentioned, of this feature film is its visuals and that animation is beautifully presented on Blu-ray by Funimation in a gorgeous 1.78:1 framed AVC 1080p encodement that is clean, detailed, and wonderfully saturated. There is what appears to be a thin layer of "grain", no doubt artificially applied, that gives the image an organic, filmic appearance. There are no issues here with banding, compression errors or video noise to get in the way of viewing pleasure.
The Audio
Psychic School Wars gets an atmospheric and natural sounding Dolby TrueHD 5.1 mix for both its original Japanese track and the English dub. The sound of its classical-based score and the dialogue are presented with clear and ambient sound that has strong stereo imaging. There is also lush reverberation that carries plenty of whooshing foley effects such as breezes through the cherry trees and the sound of the waves from the ocean or the chatter of the middle school off to the sides. The surrounds are more atmospheric than they are solidly discrete. The low-end is solid, but hardly resounding or ground shaking. Still, I would rate this I very engaging mix that works well with the material. Both casts do an excellent job as well and are quite evenly matched, with some actors doing better than others here and there depending on personal preference. I actually found I preferred Daniel J. Edwards as Kyōgoku Ryōichi the time traveler to Ono Daisuke, more for the tonality of his voice than any knock on Ono's acting skills.
The Supplements
DVD – DVD with main feature in standard definition.
Promotional Videos (1.78:1; 1080p/24; 00:04:12)
Teaser (1.78:1; 1080p/24; 00:00:32)
TV Commercials (1.78:1; 1080p/24; 00:00:34)
Theatrical Trailer (1.78:1; 1080p/24; 00:01:32)
S. Trailer (1.78:1; 1080p/24; 00:01:33)
Funimation Trailers
The Final Assessment
A flawed yet beautifully animated sci-fi romance, Psychic School Wars looks stunning on Blu-ray and has some genuinely heartfelt moments throughout. That said the messy and sometimes cryptic screenplay are what ultimately keep this from being in the upper echelons of anime features.
[amazon_auto_links id="97176"]
Funimation Entertainment
Distributor
Nakamura Ryosuke | Naito Yuko | Mayumura Taku (novel)
Writer
$29.98
MSRP
Japanese Dolby TrueHD 5.1
Audio
English Dolby TrueHD 5.1
Secondary Audio
Summary
Psychic School Wars is an amazingly animated sci-fi romance that is hindered by a messy screenplay. The Blu-ray from Funimation offers flawless picture quality and excellent sound.
What people say... Login to rate
Be the first to leave a review.
Show more