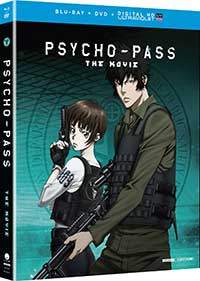 Psycho-Pass the Movie expands the world of this psychological cyberpunk franchise beyond the world of its fragile utopian ivory tower in Tokyo and places it in a nearby territory, SEAUn (The South East Asian Union) where the all knowing, all seeing Sybil system (a powerful computer system that judges people's potential for committing crimes and removes them from society accordingly) has not yet taken hold.
Tsunemori Akane is at the head of Division One of the MWPSB and sent into SEAUn after terrorist attacks on Japan show that her former partner, Kogami may have been involved. Upon her arrival there, Akane becomes embroiled in the domestic disputes of SEAUn during her very unsanctioned pursuit of Kogami, as she soon discovers, is fighting right along SEAUn rebel groups who are trying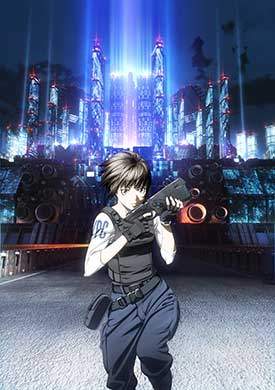 to topple the leader of SEAUn, Chairman Han, and his minion Colonel Nicholas Wong. During the course of his fighting, Kogami and the rebels made a miscalculation, however. When Han signed the treaty with Japan to allow the Sibyl System in SEAUn, Kogami believed that Han, being a dictator would never give up total control and allow the system to be fully implemented, yet he did. Now, he uses it as an excuse to continue to slaughter the rebels. This fact piqued Akane's curiosity. She uses secret technology she smuggled in with her to investigate the SEAUn implementation of the Sybil System and finds something astounding, not only about their system, but about the Chairman and his military officers, which puts her life and Kogami's in jeopardy.
This feature-length film is just another example of what makes Psycho-Pass one of the great sci-fi anime franchises to come along in a couple of decades. I continue to compare it to Ghost in the Shell. While it may not necessarily be a game changer in that it hasn't quite pushed the creative aspects forward as far on the animation side (but it is still extremely beautiful to look at), philosophically, it is one of the best written and most thought-provoking series since GitS. Tsunemori Akane is one of the most compelling female characters to come along in a while, devoid of the clichés that normally drag many anime characters down, both female and male alike. She's not reckless, childish, slutty, angry, dumb, clueless, man crazy, etc. She has actually grown a lot from season 1 through 2, to this feature film, which stands out almost like an annex from the series proper. Seeing her together again with her counterpart Kogami, who brings out more feeling in her and a little less of the icy demeanor, makes her even more of a wonder to watch. On that note, it would be great to see more of Kogami as well in a third season of Psycho-Pass because he helps to stir the proverbial pot emotionally and make what is a somewhat cool and removed series feel a little more humanized.
The Video
Psycho-Pass the Movie looks beautiful in this Blu-ray rendition from FUNimation. It arrives in an AVC 1080p encodement framed at 1.78:1 that captures all the nuances of its sleekly designed digital animation with very few faults save the rare hint of banding. Black levels are deep, contrast is strong, colors often pop nicely, and most of all, the line art looks sharp and well-defined.
The Audio
The film gets two Dolby TrueHD 5.1 mixes, for both the original and superior Japanese voice cast and the English dub. I say the Japanese voice cast is superior here despite the many long passages of heavily accented English dialogue, because, switching over to the English voice cast, it's like they couldn't even be bothered to put any energy or actual character into their performances, meaning, it's a total wash. It's not even like Black Lagoon or Cowboy Bebop even. So, the Japanese performances in Japanese are just better than the English overall. That said the sound on this release is a disappointment. The dynamic range is middling and the mastering level is low. Furthermore the equalization on the mid and high-end frequencies is a bit harsh, so the sound effects like gunshots and explosions when they get loud are a bit fatiguing. This mix could have been really good given there are a lot atmospherics surrounding you and discrete sounds and a tight soundfield to pull you into the film, but given the lack of breadth of the dynamics and the harshness of the sound at times, it doesn't register as one of the better showpieces at all.
The Supplements
If you are a fan of dubs, then the English cast & crew commentary will be of great interest. Even if you don't like dubs much, it's still cool to listen to the English staff's take on this franchise and the film. The set also comes with four collectible art cards that aren't listed on the packaging.
Digital HD UltraViolet
DVD of the feature film
4 collectible art cards
Staff & Cast Commentary
Japanese Trailer #1 (1.78:1; 1080p/24; 00:01:07)
Japanese Trailer #2 (1.78:1; 1080p/24; 00:01:56)
S. Trailer (1.78:1; 1080p/24; 00:01:40)
FUNimation Trailers
The Final Assessment
Psycho-Pass the Movie gets an A for all around writing, animation, and emotional weight. It would be perfect if only there weren't some things that would go over some people's heads who come to this unfamiliar with the series. However, don't feel you need to devour seasons 1 and 2 of Psycho-Pass to appreciate the thrilling story, slick animation and intelligent writing of this movie.
Psycho-Pass the Movie (TheaterByte Blu-ray Review)
3.8 / 5
TheaterByte Rating
Production I.G/FUNimation Entertainment
Studios & Distributors
Motohiro Katsuyuki, Shiotani Naoyoshi
Director
Urobuchi Gen, Fukami Makoto
Writer
$34.98
MSRP
Japanese Dolby TrueHD 5.1 | English Dolby TrueHD 5.1
Audio
Summary
Psycho-Pass the Movie removes its heroine from her utopia, pairs her with an old ally, and once again tackles big philosophical questions about prejudging people's criminal intent. The film is beautiful animated and intelligently written with equal parts drama and edgy action.