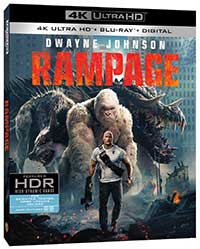 Director Brad Peyton reunites with Dwayne "The Rock" Johnson for another over-the-top action spectacle with Rampage. The last time the two paired up in San Andreas, Dwyane Johnson was taking on a mega earthquake, this time he's a primatologist, Davis Okoye, who has to team up with a geneticist, Dr. Kate Caldwell (Naomie Harris), when three different animals become infected with a dangerous pathogen developed by a nefarious corporation called Energyne.
The pathogen in question was developed using a modified version of CRISPR, the process that allows gene editing. But when the secret Energyne project in space goes haywire, the scientist trying to save the experiments crashes down to earth spreading the pathogen to animals in a South Florida wildlife preserve. One creature infected is George, an albino silverback gorilla who has a bond with Davis Okoye. The pathogen causes George to grow at an enormous rate and lose control of his rage. Two other animals are also infected – a wolf and an alligator. These raise the attention of the U.S. military and a secret government intelligence agency headed by Harvey Russell (Jeffrey Dean Morgan, The Walking Dead) who went them all captured or killed. Meanwhile, the brother and sister team heading up Engergyne in Chicago, Claire Wyden (Malin Akerman) and Brett Wyden (Jake Lacy), have set up a beacon that attracts the three modified animals to the city and also drives them nuts – in other words, they all go on a rampage. Davis and Dr. Caldwell must team up together to save his friend George, the silver back gorilla, from being harmed, and to find a counter to the pathogen to save Chicago from being leveled by the animals and the military.
Rampage is based on the classic 1980s video game of the same name, so it is short on story, but long on action. This is pure spectacle and it delivers on that in large quantities.  The film is a rollercoaster ride that blends comedy and action seamlessly even as it often becomes so ridiculous you can't help but laugh at it rather than laugh along with it.
Peyton keeps the pace steady and the performances are pretty expected. Jeffrey Dean Morgan easily slides into his role as the good guy/bad guy government agent without changing his style much from The Walking Dead, Malin Akerman is slightly camp, but it works in this context, and the Rock is reliably likable and badass.
The Video
Rampage was shot on the Arri Alexa 65, Arri Alexa Mini, and Arri Alexa SXT with Panavision Primo, Primo-V, G-Series, T100, T150, AWZ, and ATZ lenses in 3.4K and 6.5K resolution in the anamorphic format and mastered with a 2K DI with Dolby Vision HDR. It arrives on 4K in an HEVC 2160p (4K) encodement with Dolby Vision. The image looks surprisingly filmic. I would say that considering this is a digitally produced film, they have obviously added a lot of "grain" effect in post-processing to make it look more organic. This works well but can look a bit gritty. They have also gone for a desaturated look. On the 4K Ultra HD, the Dolby Vision brings out more 'pop', especially in the highlights and flames, but overall color is still pretty flat, although not as much as on the Blu-ray. Still, we get excellent detail and overall depth of field.
The Audio
Rampage stomps on 4K Ultra HD with a whopping English Dolby Atmos mix that is thunderous and fills the channels with an onslaught of solid effects, and the swell of the score. The roar of the gorilla George will get inside your head thanks to the height channels – and send chills down your spine. The low end is staggering.
The Supplements
The special features on the Rampage Blu-ray cover the production of the film, its development from video game to screen, the motion capture CGI effects, and more with lots of interviews with cast and crew.
Movies Anywhere – Download or stream the film at you provider of choice (iTunes, Amazon Prime Video, Vudu, Fandango Now, Google Play)
Blu-ray w/ feature film and special features
Not Just a Game Anymore (2.40;1; 1080p/24; 00:06:15)
Deleted Scenes (2.40:1; 1080p/24; 00:10:12)
Gag Reel (2.40:1; 1080p/24; 00:02:43)
Rampage: Actors in Action (2.40:1; 1080p/24; 00:10:45)
Trio of Destruction (2.40:1; 1080p/24; 00:10:08)
Attack on Chicago (2.40:1; 1080p/24; 00:10:23)
Bringing George to Life (2.40:1; 1080p/24; 00:11:53)
The Final Assessment
Rampage is absolutely silly fun, a total popcorn flick that won't be winning any serious awards anytime soon, but hits home video just in time for some satisfying, air-conditioned home theater summertime entertainment.
Rampage is out on 4K Ultra HD Combo Pack July 17, 2018 from Warner Bros.
PG-13 (for sequences of violence, action and destruction, brief language, and crude gestures.)
Rating Certificate
7 Bucks Entertainment | ASAP Entertainment | Flynn Picture Company | New Line Cinema | Twisted Media | Wrigley Pictures | Warner Home Video
Studios & Distributors
Ryan Engle (screenplay by) | Carlton Cuse (screenplay) |Ryan J. Condal (screenplay by) | Adam Sztykiel (screenplay by) | Ryan Engle (story by)
Writer
$44.95
MSRP
HEVC (H.265) 2160p (4K) | AVC 1080p (Blu-ray)
Video
Dolby Vision (Compatible w/ HDR10)
HDR Format
English Dolby Atmos (Compatible w/ Dolby TrueHD 7.1)
Primary Audio
English DTS-HD MA 5.1 | French (Quebec) DD 5.1 | Spanish (Latino) DD 5.1
Secondary Audio
English SDH | French | Spanish (Latino) | Portuguese
Subtitles
HDR Effect (If Applicable)
Summary
A primatologist (Dwayne Johnson) and a geneticist (Naomie Harris) must team up to save Chicago from destruction when a pathogen developed by a nefarious corporation infects three animals, causing them to grow, deform, and go on a rampage. This latest collaboration between director Brad Peyton and actor Dwayne Johnson, based on the classic 1980s video game is just as much of an over-the-top action spectacle as one would expect, and should make for an excellent popcorn flick to thrown on in the air conditioned comfort of your home theater in the summertime with this new 4K Ultra HD release.
What people say... Login to rate
Be the first to leave a review.
Show more