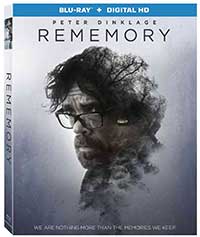 In the indie sci-fi drama Rememory, Peter Dinklage (Game of Thrones) stars as Sam Bloom, a man trying to come to grips with the loss of his rock star brother in a tragic car accident years earlier. Sam can't recall the last words his brother said to him when he was trying to pull him from the mangled car, so it is a twist of fate when brilliant neuroscientist Gordon Dunn (Martin Donovan) invents the Rememory machine that can record people's unfiltered memories and play them back. Sam who apparently knows Gordon, goes to his unveiling of this amazing new device but doesn't approach him. When Gordon is mysteriously killed right after announcing the Rememory device, Sam endeavors to help his widow Carolyn (Julia Ormond) uncover the truth about his death using the same machine Gordon invented.
Written and directed by Mark Palansky who makes his feature film directorial debut, Rememory is packed with high concepts and is a visually beautiful film, but it very quickly begins to head into the territory of melodrama with its overused mood music, hushed voices, and broken, one-dimensional characters. Dinklage does give a standout performance with the little he is given to work with turning his Sam Bloom into someone we really do want to find out more about, unfortunately, by the time we get to the twist ending we're pretty taxed by all the slow-motion, memory flashbacks, and saccharine platitudes on life.
Rememory is caught between wanting to be a sci-fi murder mystery thriller and a drama about coping with life and what memories mean in all of that. Perhaps if Palansky had chosen one path or the other, it would have been a stronger film, because he shows a lot of potential behind the camera and as a writer.
The Video
Rememory arrives on Blu-ray in a 2.40:1 framed AVC 1080p encodement from Lionsgate. Aside from some vague banding in some sky shots, this is a strong transfer with beautiful contrast, deep blacks and bright whites. There are a few areas where some noise can be spotted in the darker scenes, but it hardly takes away from the overall pleasing appearance. This is not a film that really 'pops' with color give the mostly desaturated palette, but it's a fine presentation overall nevertheless.
The Audio
Rememory comes with an English DTS-HD Master Audio 5.1 soundtrack as the sole audio option on the Blu-ray Disc. It's a simple mix that is front-heavy and has some mild atmospherics in the surround channels with the ambient, electronic score getting the most movement and discrete panning. Stereo effects across the front are good, but subtle still and dialogue is clear, which is what you want for a quiet, dialogue-driven film such as this.
The Supplements
There isn't much included here, but the audio commentary is a welcome bonus and the thoughtful featurette on the film and memories is an interesting half-hour watch.
Audio commentary with writer/director Mark Palansky and actor Peter Dinklage
The Memories We Keep (1.78:1; 1080p/24; 00:31:59)
The Final Assessment
Rememory falls in that film purgatory of being neither awful nor awfully good. It's an okay film that makes you think, but also trips itself up with indirection and melodrama. The lead performance by Peter Dinklage and the direction are handled well and the visual style is eye-catching, which bodes well for this first time feature director.
Rememory is out now on Blu-ray + Digital HD from Lionsgate
[amazon_auto_links id="106865"]
PG-13 (for bloody accident images, some violence, thematic material and brief strong)
Rating Certificate
First Point Entertainment | Scythia Films | Strophic Productions Limited | Lionsgate
Studios & Distributors
Mike Vukadinovich | Mark Palansky
Writer
$19.99
MSRP
English DTS-HD MA 5.1
Audio
English SDH | Spanish
Subtitles
Summary
When a brilliant neuroscientist is killed right after unveiling a device that can record people's memories and play them back unfiltered, Sam Bloom (Peter Dinklage) decides to help his widow (Juia Ormond) discover the truth behind his death using the very same device he invented. Peter Dinklage gives a standout performance in this often melodramatic sci-fi thriller from first-time feature director Mark Palansky, who also co-wrote. The Blu-ray from Lionsgate is a solid effort.
What people say... Login to rate
Be the first to leave a review.
Show more