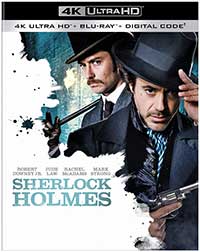 This 2009 big-screen adaptation of Lionel Wigram's comic book series by writer/director Guy Ritchie brings Sir Arthur Conan Doyle's super sleuth, Sherlock Holmes, into a steampunk world of action, The Matrix-esque fight sequences, and visual effects.
Robert Downey Jr. steps into the role of the titular detective while Jude Law plays his faithful sidekick Dr. Watson and Rachel McAdams is on board as Holmes' love interest Irene Adler. The story involves sinister black magic practitioner Lord Blackwood (Mark Strong), whom Holmes and Watson had rescued a helpless woman from just in the nick of time as Blackwood was about to kill her during one of his black magic ceremonies. Just before Blackwood is set to be executed, he asks to see Sherlock Holmes and during their meeting, he vows beyond the grave vengeance on Holmes. When he does seem to return determined to rule over England, Holmes, Watson, and Holmes' love interest Irene Adler, must all try to stop him and save the world.
My initial thoughts when I first saw and reviewed this film back in 2009 were that I didn't care for it much. It is certainly not a traditional take on Sherlock Holmes, but I do see it now more for what it is and that is an update on the character to bring it in line with contemporary action franchises like Jason Bourne, James Bond, and Mission Impossible, but with more emphasis on comedy and a little less on brutal violence than Craig-era 007 or Bourne.
Guy Ritchie does successfully bring the franchise into this era and Robert Downey Jr. is a likeable if irascible Holmes. The kinetic energy imparted by Ritchie's direction, Downey's acting, and the steampunk setting make for some good popcorn fun entertainment that is light on the traditional Holmes cerebral mystery that traditionalists may have been expecting but a good time nonetheless.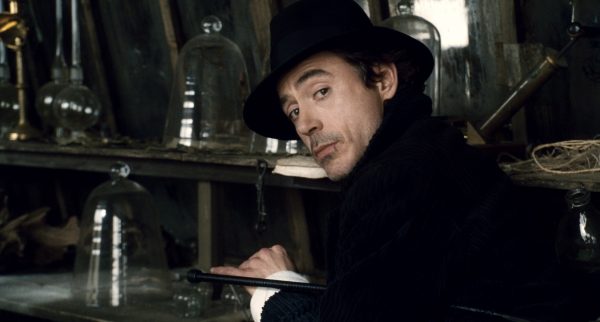 The Video
Sherlock Holmes was shot on an Arriflex 435, a Panavision Panaflex Millennium XL, and a Phantom HD Camera all with Panavision Primo lenses. The original source is CineForm RAW (2K) (Phanton HD Camera) and Super 35 35mm film stock. The 4K Ultra HD Blu-ray arrives with a 2160p (4K) HEVC encodement framed at 1.85:1 with HDR10 that is mastered at a maximum of 4000 nits and a minimum of 0.0005 nits. Has far as detail and the clarity of the source, this remaster looks great and about the same as the original Blu-ray release. Color is similar as well – it's desaturated and bit sepia-toned. The highlights 'pop' as one can see early on in the candlelight in the restaurant where Holmes and Watson meet for dinner with Watson's date or in the streetlights, but there's not very, eye-hurting 'pop' in the highlights, which is good, it looks more natural. The biggest issue is some black crush. The image has always suffered a bit with some crush even on Blu-ray, but it seems to be even more of an issue with this new 4K release. Just look at the lapels on Holmes' black jacket in the restaurant, again, on the 4K disc they basically disappear into his jacket like one amorphous mass most of the time as do much of the lapels on the black dinner jackets, but on the Blu-ray one can spot the lapels from the beginning, though they do partially get lost.
The Audio
The included audio mix on Sherlock Holmes is the same, fantastic DTS-HD Master Audio 5.1 that is on the Blu-ray Disc. It places plenty of sound effects in the surround channels, lots of atmospherics and a balance of the energetic score throughout then channels while dialogue remains clear. The low end is also quite deep.
The Supplements
All special features are on the included Blu-ray Disc, which itself is a repackage of the original Blu-ray release of Sherlock Holmes, so theirs is nothing new included beyond the Movies Anywhere digital code that now accompanies the release.
Maximum Movie Mode – An interactive viewer experience in which the entire film is examined. Includes walk-ons with director Guy Ritchie, focus points, picture-in-picture, storyboard comparisons, still galleries, and more.
Focus Points (31:17) (included in Maximum Movie Mode) can be accessed separately as well.
Sherlock Holmes: Reinvented (14:06) – Witness how Guy Ritchie and Robert Downer Jr. reinterpret the master sleuth.
The Final Assessment
Sherlock Holmes is a fun, action-packed steampunk adventure that updates the Doyle character. The 4K Ultra HD Blu-ray is competent, with good clarity and a filmic appearance, no issues with noise, edge enhancement, or excessive DNR, but there is some slight black crush and the bonus features are all previously issued.
Sherlock Holmes is out on 4K Ultra HD Combo September 1, 2020 from Warner Bros. Home Entertainment
---
The Creative Content: 3.5/5
The Video (Overall): 4.0/5
HDR Effect: 3.5/5
The Audio: 4.0/5
The Supplements: 2.5/5
Rating Certificate: PG-13 (for intense sequences of violence and action, some startling images and a scene of suggestive material)
Studios & Distributors: Warner Bros. | Village Roadshow Pictures | Silver Pictures | Wigram Productions | Internationale Filmproduktion Blackbird Dritte | Lin Pictures | Warner Home Video
Director: Guy Ritchie
Written By: Michael Robert Johnson | Anthony Peckham | Simon Kinberg | Lionel Wigram | Michael Robert Johnson
Run Time: 128 Mins.
Street Date: 1 September 2020
Aspect Ratio: 1.85:1
Video Format: HEVC (H.265) 2160p (4K) | AVC 1080p (Blu-ray)
HDR Format: HDR10
Maximum Luminance: 4000 nits
Minimum Luminance: 0.0050 Nits
Primary Audio: English DTS-HD MA 5.1
Secondary Audio: English Descriptive Audio | French DD 5.1 | Spanish DD
Subtitles: English SDH | French | Spanish