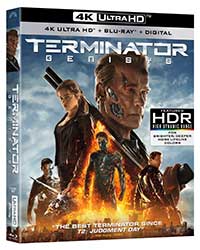 Arnold Schwarzenegger returns to the role that at one time helped make him one of the most famous people on the planet with this action-packed fifth installment in the Terminator franchise, Terminator Genisys.
Director Alan Taylor (Thor: The Dark World) and co. stay pretty close to the blueprint laid out by James Cameron over the first two films, particularly the colossal hit T2: Judgement Day, but they break open the timeline for some tweaking that presumably will set up the next two films in this reboot trilogy. The setup will start faithful fans on familiar ground as resistance leader John Connor selects his trusted right hand man Kyle Reese (Jai Courtney) to travel back to 1984 to protect his mother from cyborgs that want to kill her in order to stop John from being born. But, when Kyle steps into the time machine, he sees John (Jason Clarke) attacked from behind and there's nothing he can do to stop it. When Kyle does arrive in 1984, the timeline has already been altered, John's mother, Sarah Connor (Emilia Clarke, the Game of Thrones star stepping into the role once held by Linda Hamilton) is not the withering damsel in need of protection that Kyle (and John) imagined her to be. She's already battle tested, cynical, and being protected by a "guardian" T-1000 cyborg (Schwarzenegger) she calls "Pops." Now, instead of going to 1997 to stop Skynet from going online and bringing on the electronic Judgement Day, Reese must convince Sarah and Pops that, because of a vision of a memory brought on through his time traveling, they must travel to 2017 instead, and stop the ubiquitous operating system Genisys from ever going online. But the trio must also battle an upgraded T-3000 in a series of scenes that echo the action sequences from the classic Terminator films.
Genisys, an OS invented by Danny Dyson (Dayo Okeniyi), is the key to Skynet's taking over the world, but unfortunately, this storyline and the Danny Dyson character are tragically underused. Danny is abandoned, and Genisys, well, we do get a Genisys storyline, but it involves an evil John Connor, who turns up in 2017, infected by Skynet, and now fighting against his mother and Kyle Reese to ensure the survival of Skynet. Once Sarah and Kyle realize John is against them, they fight bitterly against him alongside the Guardian to bring him down.
Terminator Genisys is filled with references to the old films while also doing what reboots are wont to do these days, change up the sacred mythology of the franchise to breathe new life into an aging franchise. It was done with Star Trek perhaps most successfully. Here, we still get the iconic moments that fans hunger for, such as Schwarzenegger uttering his famous catch phrase "I'll be back," and familiar action motifs, but at the same time, as the aging Schwarzenegger battles hid CGI-enhanced younger self from T2, it becomes painfully clear that, a good thing can't last forever. A number of old age one-liners thrown in here and there and the necessary explanation of why a cyborg looks so old (his technology is fine, but his outer layer of skin is organic, so it ages normally), and we are meant to accept it and move on. Perhaps it is time for Schwarzenegger and/or this franchise to move on as well. Or, do like Star Trek, and really reboot with all fresh faces including a new "Terminator".
The Video
The film was shot in the anamorphic format at 2.8K and 3.4K on the Arri Alexa XT Plus with Panavision C-, E-, G-Series, ATZ and AWZ2 lenses and mastered with a 2K DI. It arrives on 4K Ultra HD in a HEVC 2160p (4K) encodement with Dolby Division HDR. It looks clean and extremely detailed, although the finer details aren't much better than what we see on the Blu-ray that only looks slightly softer. Where the 4K disc excels is in the Dolby Vision that brings extended shadow details, sparkling highlights, and vibrant colors like the blue and red flashes of the police car lights that 'pop' much more vividly than they do on Blu-ray on the Blu-ray 3D.
The Audio
The film comes with the previously released Dolby Atmos mix in this new 4K Ultra HD Blu-ray set. I have heard better Atmos mixes, and, just as when I initially heard this mix in the Dolby TrueHD 7.1 compatible mode before I made the upgrade, it seemed not as aggressive as one would expect a mix for this film to be. Even in Atmos, the height channels seemed somewhat underused and surround and surround back channels didn't carry as much solid sound effects as I would have liked to have heard. Still, there was resounding low end, good clear dialogue and wide stereo imaging.
The Supplements
We get a sweeping set of behind-the-scenes special features with this set covering all aspects of the film's production from the visual effects to putting together the big action sequence on the bridge. These are all worth watching for the information they provide, the b-footage, and interviews.
Blu-ray with Feature Film and Special Features
iTunes Digital + UltraViolet
Family Dynamics (1.78:1; 1080p/24; 00:15:51)
Infiltration and Termination (1.78:1; 1080p/24; 00:25:29)
Upgrades: VFX of Terminator Genisys (1.78:1; 1080p/24; 00:15:07)
Reset the Future (2.35:1; 1080p/24; 02:20:25)
Battle on the Bridge: Multi-Angle Scene Breakdown (1.78:1; 1080p/24; 00:10:05)
The Final Assessment
All overdone old age jokes aside, the film delivers on the action while it also fails to deliver on some storylines, leaving some plot holes here and there. I'm still a little confused about how future John Connor even exists to cause trouble in the past if he is evil and past Sarah Connor and Kyle Reese decide it's too risky to do the nasty to allow him to come into existence. Oh, well, time travel paradoxes and Hollywood. This new 4K Ultra HD Blu-ray takes this film to a whole new level of visual quality and is a serious reference for home theater buffs. Get out the popcorn.
Terminator Genisys is out on 4K Ultra HD Combo Pack June 12, 2018 from Paramount
[amazon_link asins='B07CCZY31D' template='ProductAd' store='theaterbyte-20′ marketplace='US' link_id='209e3c18-6b65-11e8-bc81-cbb6ce57f1fe']
PG - 13 (for intense sequences of sci-fi violence and gunplay throughout, partial nudity and brief strong language)
Rating Certificate
Paramount Pictures | Skydance Media
Studios & Distributors
Laeta Kalogridis | Patrick Lussier | James Cameron (based on characters created by) | Gale Anne Hurd (based on characters created by)
Writer
HEVC (H.265) 2160p (4K) | AVC 1080p (Blu-ray)
Video
Dolby Vision (Compatible w/ HDR10)
HDR Format
English Dolby Atmos (Compatible w/ Dolby TrueHD 7.1)
Primary Audio
English Audio Description |French DD 5.1 | Spanish DD 5.1 | Portuguese DD 5.1
Secondary Audio
English | English SDH | French | Spanish | Portuguese
Subtitles
HDR Effect (If Applicable)
Summary
The leader of the human resistance, John Connor (Jason Clarke) sends Sgt. Kyle Reese (Jai Courtney) back to 1984 to protect his mother Sarah Connor (Emilia Clarke), but the past has changed and Reese finds himself in a different place than the one he has been told about all along. Paramount delivers a reference quality reissue of this uneven entry in the Terminator franchise, but it's one that is still popcorn-worthy.
What people say... Login to rate
Be the first to leave a review.
Show more