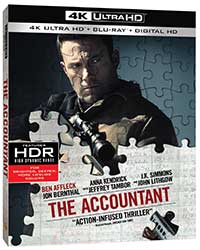 I've been exceptionally hard on Ben Affleck as an actor over the years likening his almost non-emotive style of acting to that of, ahem, Kevin Costner, so seeing him in the role of an autistic savant where he must muster a range of emotions just bubbling under the surface was at first off-putting to say the least. Surprisingly, Affleck does a bang-up job in The Accountant where he plays the aforementioned savant, Christian Wolff.
The film kicks off with what is a rousing action sequence, guns blazing, a man begging for his life. Then we meet the young Christian (played by Seth Lee). He's barely functional, he's rocking back and forth, fixated on finishing a jigsaw puzzle with the pieces places upside down, and his parents are searching for answers to why he is this way. We eventually do find out why. Christian suffers from a form of autism that leaves him often unable to relate to people, but with a high level of mathematical skills. When his mother can't cope with the problems anymore, she leaves Christian and his young brother with their military dad who decides to toughen him up by putting him through boot camp style training, martial arts lessons, and forcing him to confront bullies to the point where, once we meet Christian again (now played by Affleck) he is now capable of functioning in society and keeping his idiosyncrasies somewhat under check, although to people he does come across as rude.
Christian is now working as a strip mall accountant for local mom and pop businesses, but there's more to this than meets the eye. Over the years he has built up a successful shadow business catering to underworld types like arms dealers and drug lords, going in and fixing their books and hunting down lost monies when they get ripped off. He has a dicey and dangerous clientele and the Feds are on to him, only they can't quite place who he is they only know him by the generic name "the accountant".
When Christian takes the seemingly innocuous job with a tech firm run by the philanthropic technology innovator Lamar Blackburn (John Lithgow) to hunt down money that appears to have been stolen by one of its executives, he and the firm's own accountant who first notices the missing funds, the friendly yet somewhat naïve Dana Cummings (Anna Kendrick) find themselves in danger with people trying to kill both of them. Furthermore government agent Marybeth Medina (Cynthia Addai-Robinson) begins closing in on Christian's trail and uncovering his true identity.
The Accountant would have been a nearly flawless film for Affleck if director Gavin O'Connor (Jane Got a Gun) had kept it a slow-burner about this flawed, fish out of water with a unique ability who is shoehorned into the world of mercenaries and underworld crime then becomes the target of a conspiracy himself. Instead, while there are brilliant flashes of drama and thrills, those are too often interrupted by flashbacks to Christian's past to explain the present. That should have been gotten out of the way so the drama and action could propel us to the end. The halfway part of the film lost me twice as The Accountant started to run out of steam just tad from all moving around the timeline.
Still, The Accountant is a solid film that showcases not only Ben Affleck's growth as an actor in this period of his career, but the skills of the actors surrounding him. The performances from the veterans Jeffrey Tambor, J.K. Simmons, John Lithgow, as well as co-star Anna Kendrick, who provides a perfect softening touch to the harsh Christian Wolff, make for an overall pleasing if not perfect film.
The Video
The Accountant was shot on 35mm film stock in the Super-35 format and a 2K DI (Digital Intermediate) was used. The 4K transfer is upscaled from the 2K master and presented in HEVC 2160p with HDR (High Dynamic Range) at 2.40:1 framing. The image looks filmic and organic with lots of texture and grit when need be, excellent depth of field and the HDR is applied nicely. We get loads of visual dynamics although there is some slight crush, possibly inherent to the source, in the darker scenes.
(Editor's Note: For a different take on this film read our own Lawrence Devoe's theatrical review of The Accountant)
The Audio
The Accountant has a rollicking English DTS-HD Master Audio 7.1 mix that is pretty aggressive right from the opening scene with solid discrete sounds placed through every channel and deep low end. Quieter scenes also have excellent balance of the score and atmospheric sounds. Dialogue is clean and always intelligible. I was at first disappointed when I read the packaging and realized this didn't have an Atmos or DTS:X track, but with a 7.1 mix this good, you hardly miss it.
The Supplements
The supplements on here delving into, if ever so briefly, the real issues surrounding people with autism are an interesting watch. Warner also provides their WB Movies All Access app for this. See below.
Standard Blu-ray Disc with main feature and extras
Digital HD UltraViolet
WB Movies All Access – Exclusive in-movie features, actor bios, discover scenes locations, share clips and more! App available for Android and iOS devices.
Inside the Man (1080p; 00:10:38) – Ben Affleck, Anna Kendrick, and others discuss the lead character Christian Wolf.
Behavioral Science (1080p/24; 00:08:04) – Experts discuss the science behind autism and the lead character.
The Accountant in Action (1080p/24; 00:07:14) – A look at the filming and training for the action sequences in The Accountant.
The Final Assessment
Ben Affleck proves himself a solid actor in this accounting thriller surrounded by a cast of veterans as well as the perfectly cast Anna Kendrick. Flaws aside, The Accountant makes for a solid weekend distraction.
The Accountant (TheaterByte 4K Ultra HD Blu-ray Review)
Warner Bros. | Electric City Entertainment | RatPac-Dune Entertainment | Zero Gravity Management | Warner Home Video
Studios & Distributors
$44.95
MSRP
HEVC (H.265) 2160p (UHD) | AVC 1080p (BD)
Video
English DTS-HD MA 7.1
Audio
English SDH | French | German SDH | Italian SDH | Portuguese| Spanish (Castilian) | Spanish (Latino) | Dutch | Chinese | Japanese | Korean | Czech | Danish | Finnish | Norwegian | Polish | Swedish
Subtitles
English 5.1 | English DVS (US) | English DVS (UK) | French (Quebecois) | German | Italian | Portuguese | Spanish (Castilian) | Spanish (Latino) | Czech | Polish lector
Secondary Audio
Summary
A strong cast a surprisingly solid performance from Ben Affleck help to elevate this unevenly directed crime thriller to higher ground. The 4K Ultra HD Blu-ray release provides a rollicking home theater experience.
What people say... Login to rate
Be the first to leave a review.
Show more