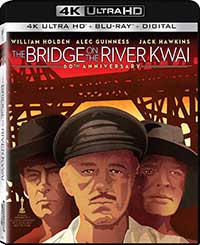 The Bridge on the River Kwai is celebrating its 60th anniversary and was the big winner at the 1958 Academy Awards ceremonies taking home Oscars for Best Picture (Sam Spiegel), Director (David Lean), Actor (Alec Guinness), Adapted Screenplay (Carl Foreman, Michael Wilson, Pierre Boulle) , Musical Score (Malcolm Arnold), Film Editing (Peter Taylor), and Cinematography (Jack Hildyard).
Lieutenant Colonel Nicholson (Guinness) marches into a Burmese prison camp, as his captured British troops whistle "Colonel Bogey's March," a short-lived attempt to maintain their morale. The camp is run by Japanese Colonel Saito (Sessue Hayakawa) whose terse introduction to the new prisoners concludes with the now-familiar  "be happy in your work." All prisoners, officers included, are ordered to build a bridge over the Kwai River that will provide rail service between Rangoon and Bangkok. The Colonel meets fellow prisoner American Navy Commander Shears (William Holden) and the two men immediately locks horns over the subject of escape: Nicholson maintains that an attempted escape, even with little likelihood of success, would breach the terms of their surrender.
Nicholson and Saito have the first of several confrontations over the Geneva Conventions that exempt officers from manual labor. Only the intervention of Medical Officer Clipton (James Donald) prevents the  execution of the British officers who, along with Nicholson, are confined to hot prison huts. Shears finally escapes but, wounded, he falls into the river and is carried downstream to revive in a native village. Later, at a Ceylonese hospital, a pretty nurse (Ann Sears) helps him complete his recovery. British Major Warden (Jack Hawkins) informs Shears that, due to his familiarity with the terrain, he will lead a British commando squad back to the Kwai and destroy the bridge.
The tense standoff between Nicholson and Saito continues. The bridge construction lags far behind schedule and, if not completed on time, Saito will be compelled to perform ritual hara-kiri. The two men reach a mutual understanding: Nicholson will have his bridge-building  experts Captain Reeves (Peter Williams) and Major Hughes (John Boxer) supervise the construction of a new bridge in a better location. The Colonel then wholeheartedly commits his men to a project that will only benefit their enemy. Warden, Shears, and Lieutenant Joyce (Geoffrey Horne) survive their parachute jumps and hack their way through the dense jungle. If they reach their target, there will be a showdown with the Japanese soldiers and, ironically, their captured compatriots.
A classic WW II film if there ever was one, The Bridge on the River Kwai is a character-driven drama, centering on its two main protagonists. Sir Alec Guinness is the quintessential stiff-upper-lip British officer strictly governed by a rigid set of rules. Sessue Hayakawa portrays a man driven by the Bushido code who finds himself caught between his obligation to country and his growing compassion for his prisoners. The odd man out here is William Holden as an "ugly" American who ultimately abandons his self-centeredness for an unlikely shot at heroism.
The Video
The original films for Cinemascope-capable theaters were sourced from 35 mm negatives with aspect ratios of 2.35: 1 or 2.55:1. The 4K Ultra HD restoration did its best with these 60-year old prints and, aided by HDR10  HDR (High Dynamic Range), delivers a stunning color palette. There is intermittent grain and occasional blurring of details, particularly in the dark scenes, but this is still an amazing picture for its age. The 2K Blu-ray actually runs a very close second for its details with colors that are just not quite as brilliant.
 The Audio
There were 70 mm 6-channel, 4-track stereo, and 35 mm mono sources available. The Dolby Atmos enhancement is largely apparent in the train and demolition scenes while Malcolm Arnold's award-winning score seems to have been culled from the stereo sources and has traces of compression. Dialog is a bit boxy but clear.
 The Supplements
Disc One: 4K UHD: Moments (individual complete scenes grouped by subject)
Four Scenes featuring Shears
Four Scenes featuring Nicholson
Four Scenes featuring Saito
Four Scenes featuring the Bridge
Disc Two: 2K Blu-ray
Crossing The Bridge: Feature-Length annotation of the film (2:41:29)
Making of Bridge on the River Kwai: behind the scenes account of the making of the film (53:03)
The Steve Allen Show with William Holden and Alec Guinness (6:30)
The Bridge on the River Kwai Premiere narrated by William Holden (1:50)
The Rise and Fall of a Jungle Giant: an account of the making of the bridge used in the film (6:13)
USC Short Film Introduced by William Holden (15:52)
An Appreciation by Filmmaker John Milius (8:06)
Photo Gallery
Film Trailers
Film Previews of other classic Columbia pictures
A Digital HD download with Ultraviolet is also available.
The Final Assessment
The Bridge on the River Kwai is a self-recommending film that has received an excellent restoration. With a first-rate cast, direction, cinematography, and the earworm Colonel Bogey theme, it receives my highest recommendation.
The Bridge on the River Kwai is out now on 4K Ultra HD + Blu-ray + Digital from Sony.
[amazon_auto_links id="105764"]
The Bridge on the River Kwai (TheaterByte 4K Ultra HD Blu-ray Review)
PG (mild war violence)
Rating Certificate
Columbia Pictures Corporation | Horizon Pictures | Sony Pictures Home Entertainment
Studios & Distributors
Michael Wilson | Carl Foreman | Pierre Boulle
Writer
$30.99
MSRP
HEVC (H.265) 2160p (4K) | AVC 1080p (Blu-ray)
Video
4000 Nits
Maximum Luminance
0.005 Nits
Minimum Luminance
Dolby Atmos (Compatible w/ Dolby TrueHD 7.1)
Primary Audio
English DTS-MA | English, Czech, French, Hungarian, Italian, Japanese, Portuguese, Russian, Spanish DD
Secondary Audio
German | French | Portuguese | Danish | Korean | Dutch | Finnish | Mandarin | Romanian | Italian | Indonesian | Norwegian | Japanese | Polish |Thai | Greek | Spanish | Swedish
Subtitles
HDR Effect (If Applicable)
Summary
A British PoW in a Japanese internment camp must set aside his difference with his Japanese captor to help build a bridge for the enemy even as allied forces are planning to destroy it in this legendary Oscar winner that gets a good 4K Ultra HD makeover and becomes an even more self-recommending release on home video. The film stars screen legends Alec Guinness, William Holden, Jack Hawkins, and icon of the Japanese cinema Sessue Hayakawa among others.
What people say... Login to rate
Be the first to leave a review.
Show more