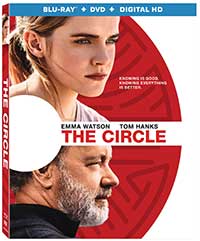 In this parable about our modern social media and technology culture from writer/director James Ponsoldt (The Spectacular Now, TV's Master of None) Emma Watson plays Mae, a young woman who lands a dream job at a social media and technology company called the Circle that's like a combination of Apple and Facebook based in the San Francisco Bay Area. At her job in the company's call center she is rated on each call she handles and every employee is trying his/her hardest to maintain a 100% rating. As she begins to move up the ranks under the tutelage of her friend Annie (Karen Gillan, TV's Doctor Who), Mae is slowly nudged to participate more in events on the company campus like after work get-togethers, or to put more of her personal information up on the Circle's social media sharing platform so the other employees can follow her every move. Complete transparency is preached by the Circle founder Bailey (Tom Hanks) who says "Knowing is good. But knowing everything is better."
Bailey's commitment to transparency and his belief that it will ultimately bring about change and human rights globally is so strong that in one of his regular technology unveilings (think an Apple event) he introduces Sea Change, tiny cameras that can be placed anywhere in the world and linked to the powerful Circle network to show live, Ultra High Definition video feeds of virtually anything in real-time without people suspecting. This is serious Big Brother territory, but Bailey is pushing as the ultimate in transparency that will help lower crime and to topple authoritarian regimes.
At this point, the Circle is starting to look more like a cult than a tech firm, but Mae is getting more drawn into the culture, especially when she decides to go kayaking one night, steals a kayak, and ends up needing to be rescued by a helicopter. Her entire ordeal was seen thanks to the Sea Change cameras. It makes her an instant celebrity and puts her on Bailey's radar. Bailey encourages Mae to go 100% transparent, meaning she will from now on live stream her entire life. Mae agrees, but things do not go so well, especially after she is pushed into using a new global face recognition program to hunt down her old boyfriend Mercer (Ellar Coltrane) with disastrous effects. Slowly Mae begins to see and uncover the darker side of the Circle and the true nature of its founding members.
While this story has a lot of potential the screenplay from Ponsoldt and Dave Eggers, from Eggers' novel, doesn't do much. The characters never move beyond being one-dimensional. Tom Hanks' Bailey could have been a compellingly nefarious megalomaniacal CEO never goes beyond being a caricature of Steve Jobs and Mark Zuckerberg. There's no explanation or reasoning behind his motivation and even though we already know what a great actor he is, he is misused here. In fact, all the actors are misused or poorly used in The Circle. Emma Watson who recently dazzled in Beauty and the Beast here seems rather dispassionate; miscast at best or poorly directed at worst.
The Video
The Circle was shot on the Red Epic Dragon in 6K and 5K resolutions and utilized a 4K DI in the post-processing stage. The Blu-ray arrives in an AVC 1080p encodement framed at 2.40:1. The image is crisp, bright, with natural flesh tones and good nuance in the shadows. This looks like a film that would really benefit from a 4K Ultra HD with HDR treatment given its sci-fi/techy look, but that's unlikely given it tepid reception. There are no real complaints with this Blu-ray as far as compression noise, banding or any other anomalies.
The Audio
The Circle comes with an English DTS-HD Master Audio 5.1 mix as its sole audio option. The film is dialogue-driven so the mix is somewhat front-heavy, but there is a good balance maintained of atmospherics in the surround channels, the tense score, and clear and full dialogue.
The Supplements
There are two worthwhile special features out of the three on this disc. The first is the memorial feature to the late Bill Paxton and the second is the half-hour long making of that has interviews with the cast and crew and some behind-the-scenes footage.
No More Secrets: Completing The Circle (HD, 00:30:56)
The Future Won't Wait: Design & Technology (HD, 00:10:55)
A True Original: Remembering Bill Paxton (HD, 00:13:53)
The Final Assessment
A film with a strong cast (Patton Oswalt and the late Bill Paxton also star) that are poorly directed and a terribly scripted screenplay that seeks to make a point about the pervasiveness of social media and technology in our lives, but fails miserably. The audio and video are satisfying as are the production values, but this is ultimately a forgettable film.
[amazon_auto_links id="103107"]
PG-13 (for a sexual situation, brief strong language and some thematic elements including drug use)
Rating Certificate
Imagenation Abu Dhabi FZ | Likely Story | Parkes+MacDonald Image Nation | Playtone | Route One Entertainment | IM Global | STX Entertainment | EuropaCorp USA | Lionsgate Home Entertainment
Studios & Distributors
James Ponsoldt (screenplay) | Dave Eggers (screenplay) | Dave Eggers (based on the novel by)
Writer
$39.99
MSRP
English DTS-HD MA 5.1
Audio
English SDH | Spanish
Subtitles
Summary
Emma Watson is a woman who gets a dream job at a mega social media and technology company that turns into a nightmarish Big Brother scenario in this mediocre, poorly scripted and directed sci-fi thriller.
What people say... Login to rate
Be the first to leave a review.
Show more