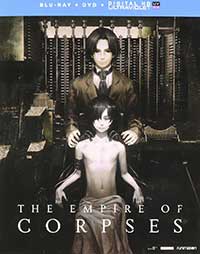 Based on a series of sci-fi novels by Japanese sci-fi novelist Itō Keikaku or "Project Itoh (real name Itō Satoshi), The Empire of Corpses is a dark, sci-fi horror film from director Makihara Ryoutarou and Wit Studio. The film is one of a series of films based on Itō's works.
With zombies so popular in today's creative culture (see The Walking Dead and Z Nation as just two examples), it's worthy of noting and perhaps recalling that, arguably, Mary Shelley gave birth to the movement in a way with her 19th century Gothic horror novel Frankenstein, and, not surprisingly, The Empire of Corpses, takes her protagonist as one of its central figures. The story takes place in an alternate version of the 19th century where Victor Frankenstein has discovered a method of reanimating corpses with souls, but a new method has been adopted where the natural souls are replaced with artificial ones that can be upgraded like firmware. The use of these reanimated corpses has become commonplace in the 19th century particular for labor and warfare. Reanimating corpses with a true, living soul has become a lost science.
Meanwhile, Dr. John Watson has illegally reanimated his colleague and friend Friday, but desperately wants to bring back his soul. The only way to do so is for Watson to find the notes of Victor Frankenstein. Teaming up with M, a member of British Secret Service, Watson makes a deal with the British Crown to avoid being arrested. He will help M. track down the Notes. The journey takes them and some companions, Russian artificial soul engineer Alexei Fyodorovich Karamazov and Captain Frederick Burnaby, through Japan and India, where they not only find themselves attacked by corpse assassins, but also on the trail of former U.S. President Ulysses S. Grant and Victor Frankenstein's original reanimated creation, The One. The One, they will discover, is not just alive after over a century and more intelligent than most humans, but is planning to create the Bride he had been promised by Victor Frankenstein, and a true soul with a process using the Notes from Victor Frankenstein, but it will put Friday in danger.
Dark and moody, even if just a bit convoluted at times, The Empire of Corpses is nothing if not a delicious mixture of cyberpunk and Gothic horror, and psychological drama. It's beautiful animation and visceral, realistic violence is reminiscent of titles like Hellsing Ultimate, especially factoring in the almost over-the-top antagonist that caps the final act. Only a tighter screenplay and a better sequencing in the story arc would make this a better film, but it is certainly superb at taking you on a horrific journey into the darker recesses of its world.
The Video
It's dark, it's gloomy, and it's often a bit "grainy," but this AVC 1080p encodement of The Empire of Corpses looks very good on Blu-ray. Some of the shadows can show small hints of color banding, but the textures and line art are sharp and the contrast is strong.
The Audio
While The Empire of Corpses does suffer from the low mastering levels and somewhat limited dynamic range I often encounter with Funimation Blu-ray releases, it is one of the better sounding titles I have come across from them in a while. I did not encounter many of the other issues, such as the wavering lip sync issues, for instance. Both the original Japanese-language mix and English dub are included in Dolby TrueHD 5.1 and they are decent mixes with lots of atmosphere and deep low-end extension, once you turn the volume up above your average listening levels. There are some solid sound effects panned through the surrounds, and generally, the dialogue is clear. Still, with the overall dynamics having little range and the levels being so low, this one lacks the impact you get from the best sounding, reference titles. Still, I give it a higher mark than most audio mixes from the distributor. The Japanese cast does an outstanding job with the material; they are very eerie. The English cast is one of the better I have heard, despite the fake English accents. They don't sound as canned as usual, and bring a sense of gloom and doom to this film. This is one of the very few anime titles I find myself truly divided on which cast I prefer, since I usually lean toward the Japanese. Here, I have no qualms about recommending the English voice cast for those who prefer dubs.
The Supplements
I'd liked to have an audio commentary from the Japanese filmmakers or at the very least the English cast, but the brief featurette with the English cast is a nice bonus. The rest is the usual slate of promo material and trailers. Funimation also includes a DVD of the feature and UltraViolet.
Digital HD UltraViolet
DVD
Funimation Short: Empire of Corpses (1.78:1; 1080p/24; 00:07:43) – The English cast discuss their roles in The Empire of Corpses.
Promo Video 1 (1.78:1; 1080i/60; 00:01:11)
Promo Video 2 (1.78:1; 1080p/24; 00:01:57)
Original Trailer (1.78:1; 1080i/60; 00:01:13)
FUNimation Trailers
The Final Assessment
A chilling Gothic horror, science fiction film that has two strong voice casts and amazing animation, The Empire of Corpses will fit right in with the zombie-obsessed popular culture today. The Blu-ray release from Funimation gets its right.
The Empire of Corpses (TheaterByte Blu-ray Review)
Wit Studio/Toho/Funimation
Studios & Distributors
Makihara Ryoutarou
Director
Seko Hiroshi, Yamamoto Kōji, Gotou Midori
Writer
$34.98
MSRP
Japanese Dolby TrueHD 5.1
Audio
English Dolby TrueHD 5.1
Secondary Audio
Summary
Gothic horror/science fiction with nightmarish animation and superb voice cast work, The Empire of Corpses fits right in in the zombie-obsessed popular culture.
What people say... Login to rate
Be the first to leave a review.
Show more