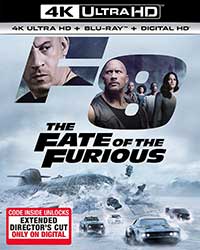 When a dangerous government mercenary who gets his kicks on adrenalin seemingly goes rogue, a team of his former colleagues must stop him before a super weapon he is chasing falls into the hands of a nefarious super villain trying to destroy the world. That is the plot of the latest entry in the "zombie-franchise" from Vin Diesel, The Fate of the Furious – or is it? Actually, it's the plot from xXx: Return of Xander Cage. No, wait, it is The Fate of the Furio…ugh, I'm sooo confused right now.
Yes, these two 2017 action movies starring Vin Diesel are interchangeable. The plots are so close that I had to double check to make sure they weren't actually scripted by the same people (they weren't). Perhaps Diesel starring in both is the only thing that blocked allegations of plagiarism, but if you swap out certain cast members and the obligatory sexy women that adorn each franchise as mere eye candy, each movie is no more than a couple of hours of adrenalin-fueled machismo with highly unlikely action sequences. The Fate of the Furious inserts a sequence where villain Charlize Theron hacks into automobiles tactically planted in office spaces in skyscrapers and then remotely drives them out of the windows, ominously saying, "make it rain". Then there's the final act as the super cars speed along an icy tundra chased by a submarine. By the time we reach that point, after we've already watched Jason Statham take down about a dozen baddies on an airplane while holding a baby in a car seat, we're no longer surprised by the sheer inanity that is this film and what this entire franchise has become.
Theron does her best to impart a sense of menace to her role, but it doesn't quite work in this film and she comes across more camp than scary. Diesel feels like he is just playing it by the numbers at this point in this role. The paycheck must surely still be good on these Furious films, otherwise, why make eight of them, right? Somehow, Michelle Rodriguez is the only one who still feels authentic, but she is adrift in a see of lunacy here and Jason Statham, well, he's doing his usual thing. He may as well be in another Transporter or Mechanic movie with the role he's ben given in The Fate of the Furious.
The Video
The Fate of the Furious arrives on Ultra HD in an HEVC 3840x2160p "4K" encodement with Dolby Vision HDR (compatible with HDR10) and framed at 2.40:1. I viewed in the Dolby Vision format, it was the second disc in Dolby Vision I had the pleasure of watching, the first being Power Rangers, and I found it to be arguably a bit better than the latter as far as 'pop' in the highlights. Explosions really leapt from the screen and colors were very natural. There was a bit of digital noise in the darker areas and some softness, maybe due to this having been up-scaled from a 2K DI and having been shot at 3.4K resolution. This is the area I found it to be inferior to the Power Rangers disc – the overall detail. That said, the staggering amount of extra contrast from the Dolby Vision and vividness make it an strong reference.
The Audio
The Fate of the Furious offers the unusual (for now, anyway) combination of Dolby Vision with DTS:X audio mix. It probably goes without saying that F8 takes full advantage of the immersive audio experience and doesn't take long to do it. The opening drag race sequence in Cuba gets things started with rumbling engines that defy physics coming at you from everywhere, exploding engines, and a car flying off into the sea. The film doesn't slow down after that taking its super cars tearing across frozen tundra, its heroes through prison riots with rubber bullets that shoot at you from all over the room, and even a few moments where Charlize Theron's voice gets the "voice of God" treatment. Low-end is beefy, to say the least, and dialogue is full and clean throughout.
The Supplements
The on-disc video features are the usual combination of EPK-style "making of" featurettes and extended scenes plus a feature commentary with the director. What kicks the ratings up, however, is the inclusion of a code to unlock the Extended Director's Cut on Digital HD and a code to get a free Digital HD movie as well.
Digital HD UltraViolet or iTunes Digital HD Digital Copy + a free Digital HD movie included
Code to unlock Extended Director's Cut on Digital HD Included
Code for a free movie on Digital HD included
Standard Blu-ray of feature & Special Features Included
Feature Commentary with Director F. Gary Gray
The Cuban Spirit (1.78:1; 1080p/24; 00:08:04)
In the Family:

Betraying the Family: Cipher and Dom (1.78:1; 1080p/24; 00:06:35)
Leaderless: A Family Lost (1.78:1; 1080p/24; 00:05:00)
Shaw Family Values (1.78:1; 1080p/24; 00:03:56)
Meet the Nobodys (1.78:1; 1080p/24; 00:05:45)

Car Culture:

The Hero Cars of Fast (1.78:1; 1080p/24; 00:10:24)
Zombie Cars (1.78:1; 1080p/24; 00:05:35)
The Ripsaw (1.78:1; 1080p/24; 00:05:22)

Extended Fight Scenes (2.40:1; 1080p/24; 00:05:03)

Extended Prison Fight
Extended Plane Fight
The Final Assessment
The Fate of the Furious is brain dead action that manages to make superb home theater, but a very poor film. It's instantly forgettable and accidentally funny. You'll be laughing at it, not with it.
[amazon_auto_links id="102543"]
PG-13 (for prolonged sequences of violence and destruction, suggestive content, and language)
Rating Certificate
Universal Pictures (presents) | China Film Co. (in association with) | Original Film | One Race Films | Universal Pictures Home Entertainment
Studios & Distributors
Chris Morgan | Gary Scott Thompson (based on characters created by)
Writer
$44.98
MSRP
HEVC (H.265) 2160p | AVC 1080p (Blu-ray)
Video
Dolby Vision (HDR10 Compatible)
HDR Format
English DTS:X
Primary Audio
English DTS Headphone:X | French DTS 5.1 | Spanish DTS 5.1
Secondary Audio
English SDH | French | Spanish
Subtitles
HDR Effect (If Applicable)
Summary
With a plot practically interchangeable with his other 2017 movie xXx: Return of Xander Cage, this eight installment in the aged Furious franchise shows it may be time for it to be retired, despite the reference-quality Utra HD w/ Dolby Vision and DTS:X release.
What people say... Login to rate
Be the first to leave a review.
Show more