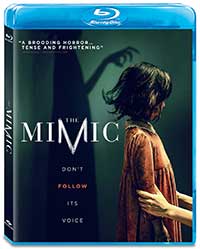 The Mimic (Jang-san-beom) is a South Korean film based on a classic Korean ghost story "Tiger of Mt. Jang". The film from director Huh Jung returns to the classic North East Asian style of horror film that has taken even Western audiences by storm with films like Ring, The Grudge, and Dark Water.
In this story a married couple who is still dealing with the loss of their missing son four years later move with their young daughter to a new home near the eerie Mt. Jang, a place renowned for an old ghost tale about a tiger and shaman who can mimic voices of anyone. When the couple discover a strange little girl in the woods near their home who seems lost and abused, the wife brings her in and takes care of her, and the child soon begins to sound like their missing son – is she human?
The Mimic starts out strong with the creepy young girl with her mysterious past being the strongest part, but it slowly devolves into a string of unlikely scenarios, unnecessary flashbacks that give away too much of what's about to come, and a silly ending. In its favor, The Mimic does have some scary jump scenes in the first act that will have you leaping out of your seat. They tend to fade away, however, for increasingly convoluted action sequences that seem less scary than over-the-top.
The Video
The digital source for The Mimic arrives on Blu-ray in an AVC 1080p encodement from Well Go USA. It looks good with excellent detail and colors, no banding and a fine amount of nuance in shadows.
The Audio
The Korean DTS-HD Master Audio 5.1 mix for The Mimic has good atmospherics and balances the eerie score into the mix well. It also provides good amount of low frequencies that provide the crucial amount of "boom" for the jump scenes.
The Supplements
There's little here to watch, only a few minutes of "making of" featurettes.
Making Of:

Director's Commentary (2.35:1; 1080p/24; 00:01:47)
The Actors (1.78:1; 1080i/60; 00:02:47)

Trailer
The Final Assessment
There was a lot of lost potential in The Mimic. I'd like to see this film remade in the hands of a different director, otherwise this one is forgettable, even if it looks great.
The Mimic is out on Blu-ray June 12, 2018 from Well Go USA
[amazon_link asins='B07CBH6GQT' template='ProductAd' store='theaterbyte-20′ marketplace='US' link_id='88b7fae5-74a3-11e8-a495-bdd957864fc7′]
Next Entertainment World | Studio Dreamcapture | Well Go USA Entertainment
Studios & Distributors
$22.27
MSRP
Korean DTS-HD MA 5.1
Audio
Korean DD 2.0 Stereo
Secondary Audio
Summary
A married couple still suffering from the loss of their young son who has been missing for a few years move to an isolated house near a cave that carries the story of legendary ghost. There they find a little girl in the woods who seems lost and abused and bring her into their home -- then strange things start happening, and they question of the girl is human. The Mimic returns to the classic North Eastern Asian-style of horror films made popular in films like Ring, The Grudge, and Dark Water, but fails to sustain its atmosphere or a coherent story beyond the first half of the film. The Blu-ray from Well Go USA looks and sounds top notch.
What people say... Login to rate
Be the first to leave a review.
Show more