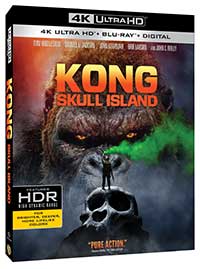 Director Jordan Vogt-Roberts, who thus far has done most of his work on TV comedy series like You're the Worst and Funny or Die Presents… assembles a solid cast of actors for this reboot of well-known creature feature "king" King Kong with Kong: Skull Island. The essentials of the plot are pretty irrelevant to what may as well be a 1950s B-movie matinee, only with much better visual effects.
The film begins with a World War II sequence in which young U.S. soldier Hank Marlow crash lands and is in a fight for his life with a Japanese soldier who as also crashed on the island – that is until Kong appears. Flash-forward a couple of decades and the Vietnam War is raging. A group of scientists lead an expedition to the very same uncharted island in the Pacific with the help of mercenary scout James Conrad (Tom Hiddleston) and a group of U.S. army soldiers led by Preston Packard (Samuel L. Jackson). They not only discover an island that evolution forgot and the now aged Hank Marlow (played by John C. Reilly) who has been living amongst the native population, but the mighty "king" Kong who lashes out aggressively to defend his territory. Packard begins to lose a grip on reality thinking only of avenging the lives of his soldiers taken by Kong like Ahab going after the whale, but there are other even more dangerous pre-historic creatures they need to worry about, and Kong may be the only one standing between them and life.
With its numerous musical cues straight out of every '60s movie or, rather, movie about the '60s you've ever seen and downright humorous dialogue that thinks it's being serious ("An uncharted island? Let me list all they ways you gonna die"), Skull Island is only elevated to big screen status on the merits of its obviously expensive visual effects and expensive cast. The amount of unoriginality in the story is staggering. There's obvious homage being paid to the original Kong films, naturally, but the allusions to films like Apocalypse Now just feel out-of-place, especially when this film is more camp than it is serious drama. The green smoke, the boats down the river, the crazy man in the cave – I have to drop my face into my palm on this.
The Video
Kong: Skull Island was shot on the Arri Alexa XT Plus with Panavision Primo, B- Hybrid, C- and E-Series lenses at 3.4K resolution. A 2K DI (Digital Intermediate) was used in post-production and the film was mastered in the Dolby Vision HDR format. The 4K Ultra HD disc arrives in a HEVC 3840x2160p encodement framed at 2.40:1 with HDR10 high dynamic range. Although the image has been up-scaled to "4K" it looks fantastic – one of the better-looking HDR discs to come to market recently. This one really pops with color. The allusions to Apocalypse Now with the green gas are helped along by the wide color gamut, and the various fires and explosions shine brightly enough to hurt ones eyes. The scene where the expedition first enter the cave with the natives on the island is one of the stunning moments. The torches really 'pop' thanks to the HDR, standing out in the dark. The Blu-ray doesn't 'pop' quite as much. The primaries like greens and reds look dull after viewing the Ultra HD, but it's all relative – on BD the film looks superb as well.
The Audio
Both Ultra HD and Blu-ray get an English Dolby Atmos track. There's also a DTS-HD Master Audio 5.1 mix that is redundant since the Atmos mix is backwards compatible with TrueHD 7.1, which itself is compatible with 5.1 systems. What can I say? This Atmos mix is a stunner with helicopters flying overhead, Kong's growl practically blowing you out of the room, and bombastic low-end. If you want a reference immersive track, this is it.
The Supplements
There are decent slate of special features exploring the making of the film and even one interesting one about Brie Larson's photography in the film.
Digital HD UltraViolet
Standard Blu-ray
Director Commentary
Creating a King:

Realizing an Icon (1080p/24; 00:11:39)
Summoning a God (1080p/24; 000:12:47)

On Location: Vietnam (1080p/24; 00:05:38)
Tom Hiddelston: The Intrepid Traveler (1080p/24; 00:06:53)
Through the Lens: Brie Larson's Photography (1080p/24; 00:02:19)
Monarch Files 2.0 (Companion Archive) (1080p/24; 00:07:58)
Deleted Scenes (2.40:1; 00:03:45)
The Final Assessment
I think I have come to the conclusion that King Kong just doesn't make for good cinema. They've remade the story so many times and it's just never that good. The last Peter Jackson film felt like it went on for a lifetime this one has stunning action with little else to recommend it. The irony is, the visual effects and audio mix are downright stunning on the 4K Ultra HD so if you want to tune out and just go for a wild ride, then this is it.
[amazon_auto_links id="102678"]
PG-13 (for intense sequences of sci-fi violence and action, and for brief strong language)
Rating Certificate
Legendary Entertainment | Tencent Pictures | Warner Bros. | Warner Home Video
Studios & Distributors
Jordan Vogt-Roberts
Director
Dan Gilroy (screenplay) | Max Borenstein (screenplay) | Derek Connolly (screenplay) | John Gatins (story by)
Writer
$44.95
MSRP
HEVC (H.265) 2160p | AVC 1080p (Blu-ray)
Video
4000 Nits
Maximum Luminance
0.005 Nits
Minimum Luminance
English Dolby Atmos (Dolby TrueHD 7.1 Compatible)
Primary Audio
English DTS-HD MA 5.1 | English Descritptive Audio DD 5.1 | French DD 5.1 | Chinese DD 5.1 | Portuguese DD 5.1 | Spanish (Latino) DD 5.1
Secondary Audio
English SDH | French | Chinese | Korean | Portuguese (Brasil) | Spanish (Latino)
Subtitles
HDR Effect (If Applicable)
Summary
Big action and not much else define this B-movie, creature feature reboot of the Kong franchise. The visual effects and audio mix are both stunning in the 4K Utra HD, so if you can turn off your brain, they provide a wild ride.
What people say... Login to rate
Be the first to leave a review.
Show more