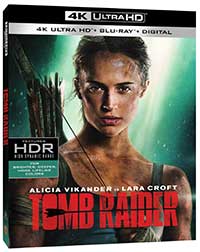 Tomb Raider from director Roar Uthaug (The Wave) is the latest attempt to bring the video game franchise and its iconic female protagonist Lara Croft (here played by Alicia Vikander, Jason Bourne) to the big screen. In 2001 director Simon West first had the honor of adapting the franchise with his Lara Croft: Tomb Raider, which starred Angelina Jolie as the buxom Croft.
This new reboot closely follows the also rebooted video game franchise, which has played down the sexuality of the character and played up her backstory and badassness, which, to be fair, was always the best part about the Tomb Raider franchise, sexy marketing campaigns aimed at pimply-faced teenage boys aside. And like the video game reboot, Lara, in this latest film, loses her famous double handguns for her hiking tools and archery set – and she does no less damage. Alicia Vikander, whose more slender and muscular frame also matches the newly designed Lara Croft whose proportions are more realistic; let's be honest here, even Angelina Jolie, who almost everyone could agree has that sort of unattainable "Hollywood beauty" couldn't possibly attain the insane, only-from-the-mind-of-a-guy-sitting-at-a-keyboard physical proportions of the original Lara Croft.
All of that aside, in this Tomb Raider, Lara's adventurer dad Lord Richard Croft (Dominic West) goes missing and is presumed dead after he goes on a search for the ancient tomb of the woman thought to be the first queen of Japan, and also a witch with dark powers. Years later, Lara, driven to solve the mystery of her father's death, goes looking for him, which leads her to a dangerous island where she unearths secrets best left undisturbed.
This Tomb Raider is definitely grittier than the old films with Angelina Jolie and Vikander is more down to earth and believable as an adventurer than Jolie ever was, but I don't blame Jolie for that, I blame the material she was given and the era. We've come through a period now with many more female action figures at the center of franchises, from the Resident Evil films to the Underworld franchise to even the Mad Max reboot with Charlize Theron stealing the spotlight. Tomb Raider has finally been reworked into a true action franchise and not just an action vehicle with a campy overtone for a big box office draw.
That said, there isn't too much meat to sink your teeth into with this film. It is certainly a spectacle, but it's a spectacle we feel like we've seen many times before and we know where it's leading us. We can overlook some of this as this film feels like it was meant as an introduction to the new cinematic world of Lara Croft, especially given the final scenes. The issues aside, it makes for a satisfying new take on the world of Lara Croft.
The Video
Tomb Raider was shot on the Arri Alexa Mini with Panavision E-, G-, T-Series and Ultra Speed Golden lenses and on the Arri Alexa SXT Plus with Panavision E-, G-, T-Series, Ultra Speed Golden, ATZ and AWZ2 lenses at 3.4K and mastered with a 4K DI. The film arrives on 4K Ultra HD in an HEVC 2160p (4K) encodement with Dolby Vision HDR framed at 2.40:1. It looks fantastic. Detail is clean yet filmic and the Dolby Vision looks gorgeous – scenes in the shadowy tomb or in the jungles at night have incredible nuance with little black crush and lots of 'pop' in the highlights, yet inky blacks.
The Audio
Tomb Raider comes to 4K Ultra HD with a competent Dolby Atmos immersive mix. I've heard better, but also heard far worse. The height channels add a good sense of spaciousness in the final act of the film along with the surround and surround back channels that carry a heavy dose of solid effects. Dialogue is clear and free from clipping and the mix also get good low frequency extension for explosions, punches, and gunshots.
The Supplements
Movies Anywhere – watch digitally at provider of choice (iTunes, Amazon Prime Video, Vudu, Fandango Now, Google Play)
Blu-ray with feature film and special features
Tomb Raider: Uncovered (1.78:1; 1080p/24; 00:07:06)
Croft Training (1.78:1; 1080p/24; 00:06:06)
Breaking Down the Rapids (1.78:1; 1080p/24; 00:05:34)
Lara Croft: Evolution of an Icon (1.78:1; 1080p/24; 00:09:53)
The Final Assessment
This new Tomb Raider reboot will probably not win any Oscars in the top categories, but it's a good enough popcorn movie and makes for great home theater entertainment in this new 4K Ultra HD release. Fans of the video game franchise who have paid attention to changes in the game will likely respond kindly to the reboot as well.
Tomb Raider is out on 4K Ultra HD Combo Pack & Blu-ray Combo Pack June 12, 2018 from Warner Bros.
PG-13 (for sequences of violence and action, and for some language)
Rating Certificate
GK Films | Metro-Goldwyn-Mayer (MGM) | Square Enix | Warner Bros.
Studios & Distributors
Geneva Robertson-Dworet (screenplay & story by) | Alastair Siddons (screenplay by) | Evan Daugherty (story by)
Writer
$44.95
MSRP
HEVC (H.265) 2160p (4K) | AVC 1080p (Blu-ray)
Video
Dolby Vision (Compatible w/ HDR10)
HDR Format
English Dolby Atmos
Primary Audio
English DTS-HD MA 5.1 | English Descriptive Audio | French DD 5.1 | Portuguese DD 5.1 | Spanish (Latino) DD 5.1
Secondary Audio
English SDH | French | Portuguese | Spanish (Latino)
Subtitles
HDR Effect (If Applicable)
Summary
In this cinematic resurrection of the famous franchise, Lara Croft (Alicia Vikander) is the independent-minded daughter of missing head of a global corporate empire and adventurer who finds herself on the same island where her father disappeared. Now, even as she refuses to take her rightful place as heir to his company, she must fight to discover what happened to her father. This new reboot closely follows the changes in the video game reboot from a few year ago and makes the character of Lara Croft grittier and more relatable than previous cinematic efforts. The new 4K Ultra HD Combo Pack with Dolby Vision and Dolby Atmos is fantastic home theater entertainment.
What people say... Login to rate
Be the first to leave a review.
Show more