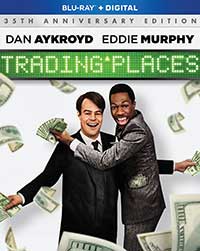 One of the classic comedies from the 1980s, John Landis' Trading Places used on old premise of role reversal to tell the story about a snooty commodities broker, Louis Winthorpe III (Dan Akyroyd), who has everything going for him – wealth, a beautiful fiancée, a cushy job at a top trading house in Philadelphia — and a homeless con artist, Billy Ray Valentine (Eddie Murphy), who have their roles reversed when the owners of Winthorpe's trading firm, Duke & Duke, the two brothers who give the firm its name, decide to do an experiment and place a $1 bet on it.
The somewhat racist Randolph (Ralph Bellamy) and Mortimer (Don Ameche) Duke, heads of the powerful Duke & Duke commodities trading house have an ongoing debate about "nature versus nurture" and what makes a person as successful as they are. Mortimer believes it is strictly in the DNA and being white, naturally gives one a head up over all the other little people. Randolph takes a somewhat more tempered view, he'll grant that DNA is involved, but that nurture also comes into the mix. Their perfect test comes by taking their top employee Louis Winthorpe (Aykyroyd), stripping him of all of his privileges, and swapping his life with street con artist Billy Ray Valentine (Murphy).
After having Winthorpe arrested on trumped up drug charges, stripped of all his cash and fired, the Duke brothers pick up the streetwise Valentine, clean him up and put him in Winthorpe's former position in Duke & Duke. The nurture side of the equation seems to win out, as Valentine cleans up his act and becomes a surprisingly formidable commodities trader whose word others begin to rely on. Meanwhile, Winthorpe, now living with sassy prostitute Ophelia (Jamie Lee Curtis) who is helping him stay afloat, turns to drugs, booze, and crime. But the two men cross paths with each other and get wind of the Duke's devious bet with their lives and soon hatch their own scheme to get even.
Landis' most ingenious innovation with Trading Places was to cast a black actor, Eddie Murphy, in one of these roles, thereby turning the film from a run-of-the-mill fish out of water comedy into an examination on race and status. Murphy was also the rising star in comedy when this film hit, being the breakout from the new cast of SNL and Akyroyd, one of the old guard from SNL, was already known for some inconsistent cinematic fare.
By today's standards, it is difficult to see how this film even makes it past the boardroom given its gratuitous use of female toplessness, the use of the "N-word", Dan Akyroyd in blackface, and refereeing to black people as negroes, but looking at it as a product of its time – and as a film meant to push buttons – it doesn't get much more classic or funny than this.
The Video
Trading Places arrives on Blu-ray in an AVC 1080p encodement from Paramount. Paramount doesn't seem to have done any major restoration here, just a straight reissue of the previous Blu-ray. The 35mm, 1.78:1 framed image with a 1983 vintage looks good for its age, but it's a little rough and grainy in parts. The opening credit sequence and end credits look the worst, but the film does clear up after that and looks generally satisfying.
The Audio
Trading Places only comes with a lossy Dolby Digital 5.1 audio mix as the main track, so there's no audio upgrade on this reissue either. The sound mix is nothing to really speak of other than the dialogue is clear and there's some low-level atmospherics to fill out the sound.
The Supplements
There's nothing new issued with this 35th anniversary edition. For those who have never owned the previous Blu-ray edition, these archival special features will be very interesting watches.
Trivia Pop-Ups
Insider Trading: The Making of Trading Places (1.33:1; SD; 00:18:28)
Trading Stories (1.33:1; SD; 00:07:59) – Excerpts from interviews conducted in 1983 for the film's publicity in Great Britain.
The Deleted Scene with optional commentary by executive producer George Folsey, Jr. (1.33:1; SD; 00:03:09)
Dressing the Part (1.33:1; SD; 00:06:31)
The Trade in Trading Places (1.33;1; SD; 00:05:25)
Industry Promotional Piece (1.33:1; SD; 00:04:18)
The Final Assessment
A classic '80s comedy that still holds up, even as it is very much a product of its time, this 35th Anniversary reissue doesn't bring much new to the table for those who already own this on Blu-ray.
Trading Places [35th Anniversary Edition] is out on Blu-ray June 12, 2018 from Paramount
Cinema Group Ventures | Paramount Pictures | Paramount Home Video
Studios & Distributors
Timothy Harris | Herschel Weingrod
Writer
English | English SDH | French | Spanish
Subtitles
French DD Mono | Spanish DD Mono
Secondary Audio
Summary
Snooty commodities trader Louis Winthorpe III and homeless con artist Billy Ray Valentine (Eddie Murphy) have their lives disrupted and positions reversed by two millionaire brokerage firm owners who, on a whim, decide to use the two men's lives for a bet and an experiment in nature versus nurture. The film was a big step toward SNL breakout star Eddie Murphy becoming a huge 1980s icon. John Landis' film was more than just a comedy, but an examination on race and class. Given its content and subject, it's difficult to see Trading Places making it past the boardroom today, but it remains a very funny classic comedy.
What people say... Login to rate
Be the first to leave a review.
Show more