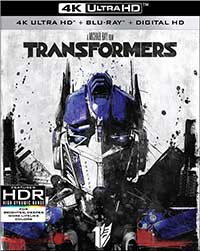 What happens when G.I. Joe figures meet the Transformer figures? Well, for one thing you get a whopping display of Hasbro's action toys, and, for another, you get the beginning of a hugely successful film franchise. Transformers is a classic good versus evil saga. Nonbiologic extraterrestrials (NBEs), the "good" Autobots and the"evil" Decepticons, engage in a fight for survival that threatens Planet Earth. The former are led by Optimus Prime (Peter Cullen), and the latter by Megatron (Hugo Weaving) currently held prisoner of a top secret American "Sector Seven" compound that also houses the AllSpark, a mysterious cube that can confer independent life to electronic and mechanical creatures. Being able to "transform" from huge robots into cars and trucks enables these beings to hide in broad daylight.
Transformers literally blasts off with an explosive attack on a U.S. military base in Qatar that wipes out nearly everyone except for Captain Lennox (Josh Duhamel) and USAF Tech Sergeant Epps (Tyrese Gibson). The scene then shifts to America where high school student Sam Witwicky (Shia LaBoeuf) is selling a collection of artifacts used by his great-great-grandfather, 19th-century Arctic explorer Captain Witwicky (W. Morgan Sheppard). He plans to use the money for a car that turns out to be a rusty Camaro with a mind of its own. Sexy classmate Mikaela Barnes (Megan Fox) becomes Sam's first passenger, love interest, and major role player in what follows.
Optimus Prime tracks down Sam and Mikaela and explains that Sam's grandfather's spectacles hold the coordinates marking the AllSpark's location. Secret "Sector Seven" FBI Agent Seymour Simmons (John Turturro) takes Sam, Mikaela, Agent Maggie Madsen (Rachael Taylor) and hacker-extraordinaire Glen Whitman (Anthony Anderson) to Hoover Dam where Megatron and the AllSpark are being sequestered. Somehow this unlikely group gets involved in the long-anticipated battle royale between the robots, as the fate of the human race hangs literally in the balance.
Transformers offers a skillful blend of adolescent angst, quirky humor, action sequences, and eye-popping visuals that offset the storyline's seemingly endless violence. Shia LaBoeuf is a credible teenager thrust into circumstances beyond his control and gets nice eye-candy support from Megan Fox. The reliable Turturro nails his somewhat off-kilter agent but the real stars are the robots themselves given a range of character voices and some incredibly life-like special effects.
The Video
This film was shot on the Arri Alexa cameras and a series of Panavision lenses. The HEVC 2160p (4K) HDR10 encodement is up-scaled from the 2K digital intermediate, using a Kodak Vision 2383 35 mm source. Outside of a few grainy patches, the picture quality is filmic and the colors and details very natural appearing. Transformers raised the bar extremely high for the CGIs of its era and those used in this film still astound. Cinematographer Mitchell Amundsen, no stranger to action hero movies, provides camerawork that seamlessly blends the special effects with real life shots. An accompanying Blu-ray disc is also quite good although less detailed than its 4K counterpart.
The Audio
The Dolby Atmos soundtrack is tailor made for the exciting action scenes with countless room-shattering explosions, flying objects, and the seemingly endless crunching of sets and props.
The Supplements
There are three discs included, as well as an UltraViolet HD digital download
Disc One: 4K Ultra HD
Commentary by directory Michael Bay
Disc Two: Blu-ray
Feature-length film
Heads Up Display
Disc Two: Special Features
Our World (49:17) (English Dolby Digital Stereo): A four-episode mini-documentary on the making of the film
Their War (1:05:13) (English Dolby Digital Stereo): A four-episode featurette that discusses the origin of the film concept, starting with the toys
More Than Meets The Eye: The Skorponok Desert Attack (8:55) (English Dolby Digital Stereo): The creation of the characters
Concepts (2:12) (English Dolby Digital Stereo): Gallery of background graphics
Trailers
The Final Assessment
Transformers is escapist sci-fi fantasy at its best and the nearly nonstop action gives us a very basic story embellished by a torrent of special effects. The film is generally great looking, and received a number of film organization nominations for technical excellence. A fun way to spend two hours and the movie that has launched a blockbuster franchise.
Transformers is out now on 4K Ultra HD + Blu-ray + Digital HD from Paramount
[amazon_auto_links id="106915"]
PG-13 (intense sci-fi violence, brief sexual humor, language)
Rating Certificate
Dreamworks | Paramount Pictures | Hasbro
Studios & Distributors
Roberto Orci | Alex Kurtzman
Writer
$19.99
MSRP
HEVC (H.265) 2160p (4K) | AVC 1080p (Blu-ray)
Video
1000 Nits
Maximum Luminance
0.001 Nits
Minimum Luminance
English Dolby Atmos (Compatible w/ Dolby TrueHD 7.1)
Primary Audio
English 5.1 DD | English DD 2.0 | Spanish/Portuguese DD 5.1
Secondary Audio
English | English SDH | Spanish | French | Portuguese
Subtitles
HDR Effect (If Applicable)
Summary
Ancient robotic alien races, the heroic Autobot and evil Decepticons, battle each other on earth has a hapless teen (Shia LaBeouf) holds the key to their survival in this stunning kickoff to an over-the-top sci-fi franchise that still continues to astound and amaze its fans.
What people say... Login to rate
Be the first to leave a review.
Show more