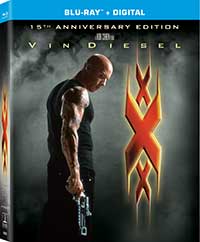 Never mind the title, this 2002 Vin Diesel action vehicle has nothing to do with the adult film industry, although its razor-thin plot and bad acting would fit in pretty good there. Instead, this Rob Cohen-directed romp reunites the previous year's The Fast and the Furious duo for what was billed as an updated James Bond film. Well, it may be a stab at a James Bond film, but more in the silly Pierce Brosnan snowboarding over the side of a mountain on a car door vein than the current, gritty Daniel Craig Bond.
Diesel plays an underground web action sports hero Xander Cage, AKA Triple X who does wild, illegal stunts like stealing asshole congressmen's Corvettes and driving them off bridges while he parachutes out of them and films the whole thing – all while being pursued by the cops. At least, that's how we first meet him. For some reason, the NSA feels it is prudent to kidnap Xander and recruit him to infiltrate an Eastern European crime ring they feel is readying to release a bioweapon called "Chaos 99". Yep, it's really that on the nose.
Leading the NSA op is the scar-faced Agent Augustus Gibbons, played by Samuel L. Jackson who really hams it up for this role. He rides Xander Cage relentless and plays it fast and loose with the rules. After a brief testing period in a fake diner with a robbery scene that Xander passes and then literally dropping Xander and two other candidates from the sky into the middle of a Colombian drug war between the cartels and the government forces, in which Xander again passes by displaying some superhuman, X-Games style dirt bike riding skills, Xander is pressed into action in the Czech Republic. He infiltrates a crime syndicate posing as (who else?) himself to gain information from the top dog Yorgi (Marton Csokas) by pretending to need to purchase millions of dollars in stolen luxury cars. Why this would be exactly, who knows? Since we were introduced to him filming himself stealing luxury cars as stunts and uploading the videos to the web. Don't think too hard. Anyway, there's a beautiful girl (Asia Argento) who may be on Xander's side and maybe not a secret underground lair, a super weapon named "Ahab" and a big scene where Xander takes out a communications tower on the side of a mountain by starting an avalanche and snowboarding down it.
The ridiculousness that is XXX just never ceases and the longer the film goes on, the more incredible – in the worst possible sense – it becomes. If the snowboarding scene isn't one of the pinnacles of 2000's moviemaking excess, I don't know what is. Through it all, Vin Diesel seems to be acting with such a cheekiness that he knows the film is so outrageous, but hey, he's got your money anyway and he's going to take it to the bank 'tude, that it's too much to stomach.
Perhaps the success of the "turn your brain off and enjoy" The Fast and the Furious the year before gave Rob Cohen and Vin Diesel a lot of confidence to go even more overboard with XXX, but it just wasn't a good idea. What's worse, it was a bad idea that somehow spawned now three sequels. There's no accounting for taste, as they say.
The Video
XXX was shot in an anamorphic 35mm film format and arrives on Blu-ray in a fine-looking AVC 1080p transfer to Blu-ray from Sony. There's a thin layer of grain, vibrant colors, nuanced shadows, and no noise or obvious edge enhancement. Explosions 'pop' nicely and the flesh tones look spot on.
The Audio
XXX comes with an English DTS-HD Master Audio 5.1 sound mix that is aggressive and dynamic. It places lots of solid effects throughout the room, has a big low-end and clear dialogue. The rumbling of motorcycles, the growl of the GTO, the whiz of bullets and helicopters hovering his blended well with the agitated score and rock music.
The Supplements
Don't let the abundance of on-disc extras fool you, there is only one new HD featurette included with this "15th Anniversary" release, the Origins of a Renegade featurette, which — surprise, surprise – spends much of its six-and-a-half minutes with the cast of 2017's xXx: The Return of Xander Cage promoting that new movie. The rest are port-overs and the obligatory theatrical trailer. At least an UltraViolet copy tags along.
Digital HD UltraViolet
Commentary with director Rob Cohen
Origins of a Renegade (NEW — 1080p/24; 00:06:27)
XXX: A Filmmakers Diary:

S./Pre-Production (1.33:1; SD; 00:15:27)
Prague/Post-Production (1.33:1; SD; 00:25:26)

Diesel Powered (1.33:1; SD; 00:06:50)
Visual Effects How To's (1.33:1; SD; 00:03:04)
Deleted Scenes w/ Optional Commentary (1.33:1 windowboxed; SD; 00:15:51)
Starz! On the Set – The Making of XXX (1.33:1; SD: 00:14:32)
Agent Shavers' Gadgets Presentation (1.33:1; SD; 00:03:55)
Designing the World of XXX (1.33:1; SD; 00:14:35)
Building Speed: The Vehicles of XXX (1.33:1; SD: 00:06:55)
Avalanche Scene (1.33:1; SD: 00:05:37) – Split screen storyboard and final sequence.
Drug Farm (1.33:1; SD: 00:05:08) — Split screen storyboard and final sequence.
The End Credit Sequence – Raw and Uncut (2.35:1; SD; 00:03:34)
"I Will Be Heard" by Hatebreed
"Adrenaline" by Gavin Rossdale
Theatrical Trailer (2.35:1; 1080p/24; 00:02:34)
The Final Assessment
A mindless action spectacle that extracts all the worst elements of the James Bond franchise up to that point, distills them into an amusement park ride and the X-Games, XXX on Blu-ray is, admittedly, excellent home theater fodder, but terrible cinema.
xXx: 15th Anniversary Edition (TheaterByte Blu-ray Review)
PG-13 (for violence, non-stop action sequences, sensuality, drug content and languag)
Rating Certificate
Revolution Studios | Original Film | Sony Pictures Home Entertainment
Studios & Distributors
$19.99
MSRP
English DTS-HD MA 5.1
Audio
English | English SDH | Chinese Traditional | Dutch | French | German | Greek | Icelandic | Italian | Korean | Polish | Portuguese | Spanish (Castilian) | Spanish (Latin American) | Thai
Subtitles
Czech 5.1 | French (Quebecois) 5.1 | French (Parisian) 5.1 | German 5.1 | Hungarian 5.1 | Italian 5.1 | Portuguese 5.1 | Russian 5.1 | Spanish (Castilian) 5.1 | Spanish (Latin American) 5.1 | Thai 5.1
Secondary Audio
Summary
A mindless actioner with pretentions of being a newborn Bond, this 2002 film celebrates its 15th anniversary with a new, mediocre Blu-ray reissue that has little new material included fine audio and video.
What people say... Login to rate
Be the first to leave a review.
Show more