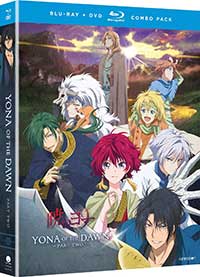 In part one of Yona of the Dawn and what has turned out to be one of the better period fantasy/adventure series to come along in recent years, Princess Yona was hurled out of her happy existence as a sheltered and somewhat naïve teenager living in the castle with her father, the king of Kouka, while under the protection of her bodyguard Son Hak. Her love interest and childhood friend Su-won betrayed and killed her father, forcing her and Son Hak to flee Kouka. After a stay and Son Hak's grandfather, they went to seek an oracle who told them of the legendary dragons who once ruled and united the kingdoms, and suggested they set off to find the dragons' ancestors in order to defeat Su-won and once again unite the kingdoms.
Now, in part two, Yona search for the dragons continues, having already found and converted two to her cause, three more remain to be found and convinced. In episodes 13-24, the remaining dragons not only present a challenge to Yona and Son Hak, but so does Su-won's army that is still in hot pursuit of her. There is also a growing romance budding between Yona and her once bodyguard Son Hak, although he is loath to admit that he could ever have those sorts of feelings for the girl he still considers his princess.
These remaining episodes raise the action quotient for the series and also grow the character of Yona into a very strong, though still at times unsure leader, just as it would be in real life. Watching Yona struggle to become the leader she needs to be under extraordinary circumstances is part of the enjoyment of Yona of the Dawn, but so is the very beautiful animation style. While I wouldn't describe it as groundbreaking, I would call it very artistically appealing with a fine attention to detail in the backgrounds and character designs, creating an ancient world in its own universe.
Part one of the series ended on an open question, and part two does resolve much if not all of what developed in the first half of the story arc, in a satisfying way.
The Video
The AVC 1080p encodement of Yona of the Dawn part two looks very good. I spotted just a little more color banding in a few places, perhaps because there were more scenes in the dark that highlighted this, such as the big sequence on the pirate ships, but ultimately this is a satisfying release with not much at all to complain about.
The Audio
I can't say the audio situation improved any on this part two release and it didn't really expect it to, considering it is the same series and was most likely mastered to identical standards. If you read my Part One review, you'll know I found it to be lacking in dynamic range and overall mastering level, plus had issues with syncing, but these seem to be ongoing issues with me and Funimation Blu-ray releases only. The Japanese audio is provided in Dolby TrueHD 2.0 and that's where you'll find the superior voice performances, but not much of an improvement in sound quality. The English mix is in Dolby TrueHD 5.1 and I'd love to say the 5.1 mix improved on the spaciousness and general engagement of the mix, but with the dynamics so limited, levels so low, and the frustrating lip sync issue, I just can't. On top of all of that, the English cast is just bland.
The Supplements
Another two commentaries are included in this set along with the promotional material and clean animations.
DVDs
Episode 16 Commentary
Episode 24 Commentary
Promotional Videos
TV Spot
Textless Opening – "Akatsukino Yona"
Textless Closing Song – "Yoru"
Textless Closing Song – "Akatsuki"
S. Trailer
FUNimation Trailers
The Final Assessment
A brilliant adventure that is enticingly animated and centered around an amazing female character, Yona of the Dawn is like the anime version of a YA film, only better, much better. Let's hope this turns into a strong franchise.
Yona of the Dawn: Part Two (TheaterByte Blu-ray Review)
Pierrot/FUNimation Entertainment
Studios & Distributors
Japanese Dolby TrueHD 2.0 Stereo | English Dolby TrueHD 5.1
Audio
English Dolby TrueHD 5.1
Secondary Audio
Summary
The open-ended part one wraps up with a fantastic part two of Yona of the Dawn, growing its protagonists, pumping up the action, and continuing the beautiful animation that made the first part a success.
What people say... Login to rate
Be the first to leave a review.
Show more