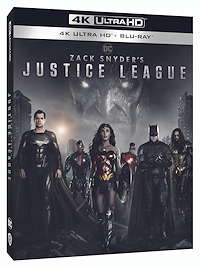 Zack Snyder's Justice League has been discussed at length by this appoint, going over all the details of the differences between this and 2017's Justice League such as added scenes, some resequencing of events, and the redesign of Steppenwolf. The "Snyder Cut" clocks in at four hours, so it is double the length of the 2017 film, and it is worth it.
The world is facing a terrible alien threat in the form of Steppenwolf (voiced by Ciarán Hinds) and his master Darkseid (Ray Porter), who have come to gather three powerful alien artifacts that have lain dormant on Earth and been kept safe by various factions for centuries. They will allow them to wipe out life on the planet and remake it. With Superman (Henry Cavill) dead, there is no one who can stop this threat, so Bruce Wayne/Batman (Ben Affleck) takes it upon himself to gather a group of super powered individuals to face the threat. With Wonder Woman's (Gal Gadot) assistance, Batman gathers three superheroes – Cyborg (Ray Fisher), The Flash (Ezra Miller), and Aquaman (Jason Momoa). They come up with a plan that just may save the world.
Snyder's vision is much more cohesive than the ill-received Joss Whedon version of the film. The decision to hand this film over to Whedon was obviously a bad one. Equally obvious is how much Snyder cares about this material to return to the film three years later and rebuild it in his original, epic vision (originally an exclusive to WarnerMedia's HBO Max streaming service), in not one, but two versions; there is also a black and white version on HBO Max.
The dark overtones and undertones, the brooding cinematography and expanded character development make Snyder's cut of the film a far more enjoyable journey. Despite the dread and the number of villains and the pervading sense of hopelessness that often pervades this film, it all fits into the narrative believably. There is nothing shoehorned in to create a comic book movie. This is an action drama and one that takes you on an engrossing four hour ride.

Zack Snyder's Justice League (2021)
The Video
Zack Snyder's Justice League was shot on various ARRI cameras on the Super 35 (4-perf) film format with one scene shot on the Red Monstro in 8K. It uses a 4K DI and arrives on 4K Ultra HD Blu-ray in its intended 1.33:1 (4:3) aspect ratio in a HEVC 2160p encodement with HDR10. It was mastered with a MaxLL of 597 nits and a MaxFALL of 122 nits. You will notice immediately that this film is not very bright and that is intentional. Nor is this film very colorful. Like many of Snyder's films and the preceding two films in his DCU trilogy, they are desaturated, shadowy, atmospheric. The HDR10 doesn't really 'pop' much at all, especially on the first disc (the film is spread across two 4K discs or two Blu-ray Discs). The second disc, or the last 100 minutes of the film, is both where the action really picks up and the HDR revs up, kicking in with some good specular highlights such as when Batman is crouched looking over Star Labs at night or numerous fight sequences with the Parademons and Steppenwolf as swords clash or glowing beams of energy are shot. Throughout, the detail is spectacular, with a very fine layer of grain that is never noisy and is much finer than what appears on the Blu-ray, which itself looks good, but not quite as refined as the 4K disc. Shadow detail is also very nuanced, even in the very dark scenes there isn't an issue with black crush.
The Audio
Zack Snyder's Justice League is provided with a spectacular English Dolby Atmos audio mix. I did have to raise my normal listening levels a few db over normal, but other than that, I have no qualms about calling this mix stellar. The dynamic range is excellent, offering the most whisper-quiet atmospherics to bombastic sound effects clearly. Sounds are balanced and moved around through the varying sound points for an engulfing mix.  There's plenty of height awareness as well as objects fly over and around the room. And low end is robust. This can work as a reference for those who love a good subwoofer workout.
The Supplements
This comes with one 'making of' supplement that has interviews with the director Zack Snyder as well as members of the cast and crew and some behind-the-scenes footage. Two standard Blu-ray Discs with the feature film and bonus feature are also included. There is no digital copy code included.
Road to Justice League (1080p; 00:24:00)
The Final Assessment
Zack Snyder's Justice League is the superior cut of this film and the 4K disc is the ultimate way to watch it. Highly recommended.
Zack Snyder's Justice League is out on 4K Ultra HD Combo September 7, 2021 from Warner Bros. Home Entertainment

---
Rating Certificate: R (for violence and some language)
Studios & Distributors: Atlas Entertainment | DC Entertainment | DC Films | HBO Max | RatPac-Dune Entertainment | The Stone Quarry | Warner Bros. Pictures | Warner Bros. | Warner Max | Warner Bros. Home Entertainment
Director: Zack Snyder
Written By: Jerry Siegel (Superman created by) | Joe Shuster (Superman created by) | Zack Snyder (story by) | Chris Terrio (story by & screenplay) | Will Beall (story by) | Gardner Fox (Justice League of America created by) | Bob Kane (Batman created by) | Bill Finger (Batman created by) | William Moulton Marston (Wonder Woman created by) | Jack Kirby (Fourth World created by)
Run Time: 242 Mins.
Street Date: 7 September 2021
Aspect Ratio: 1.33:1
Video Format: HEVC 2160p (4K UHD)
HDR Format: HDR10
Primary Audio: English Dolby Atmos
Secondary Audio: English DD 5.1 | English Descriptive Audio | French Dolby Atmos |French DD 5.1 | German Dolby Atmos | German DD 5.1 | German SDH | Italian DD | Spanish (Castilian) DD | Spanish (Latino) | Czech DD | Polish DD
Subtitles: English SDH | German SDH | Italian SDH | French | Spanish (Castilian) | Spanish (Latino) | Dutch | Chinese (Simplified) | Chinese (Traditional) | Korean | Danish | Czech | Finnish | Hungarian | Norwegian | Romanian | Polish | Swedish